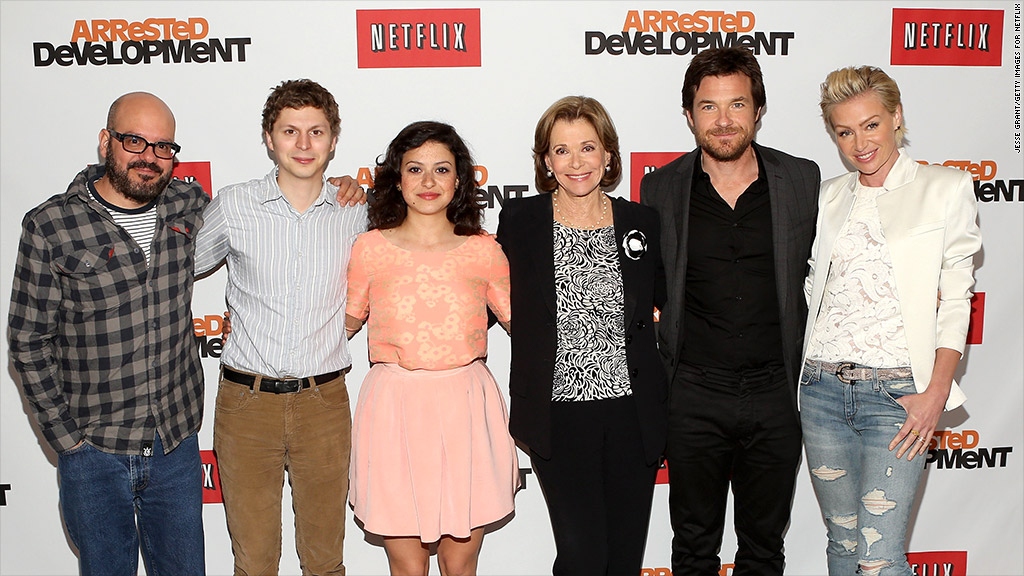 Fox's early cancellation of "Arrested Development" played out like a rock star dying in his prime: It catapulted the show into cult-favorite status, leaving fans wondering what could have been.
Netflix tried to answer that question with a revival of the series, but critics and investors aren't thrilled.
Netflix (NFLX) released all 15 episodes of season four on Sunday, and unlike the rest of Netflix's foray into original programming -- completely new series like Kevin Spacey's "House of Cards" and Ricky Gervais' "Derek" -- the "Arrested Development" reboot came with a built-in fan base of millions.
The company is betting a lot on original series, and "Arrested Development" is one of the brightest stars in its lineup. But shares of Netflix were down as much as 6% in midday trade Tuesday, the first trading day after the episodes were posted online.
This may be just a "sell the news" reaction after Netflix's months of marketing the revival, which included pop-up banana stands (a series in-joke) in cities across the globe.
Or investors may be focusing on the largely mixed to negative critics' reviews. In short, the existing fan base that brought Netflix so much publicity also led to sky-high expectations. The New York Times was particularly scathing: "Chalk one up for the Internet: It has killed 'Arrested Development.'" Variety scoffed that the new season "plays a bit like a reunion special."
Related story: Netflix stock goes bananas
Others were kinder, arguing that Netflix and show creator Mitch Hurwitz are trying something that hasn't been done before. The Guardian's Hadley Freeman wrote that the new season "takes some getting used to .... I didn't adore the show in the way I instantly adored the first three series, but I was admiring it, and even enjoying it in a new way."
But Netflix may need glowing reviews -- at least from streaming subscribers, given that getting more customers to sign up is ultimately the point.
Netflix doesn't release its own viewing stats for shows, but Internet networking company Procera Networks (PKT) compiled data from a few unnamed service providers that use its equipment.
On one DSL network, 36% of devices watching Netflix on Sunday watched at least part of one episode of "Arrested Development" -- "a staggering number that indicated a huge success" for the release, Procera said. On a separate cable network, Netflix peak traffic jumped 10% in volume on Sunday over the previous Sunday.
The stats, albeit shadowy, are positive signs for CEO Reed Hastings' plan to leverage original programming into Netflix's future success. The company is even considering issuing debt in order to raise capital for more series.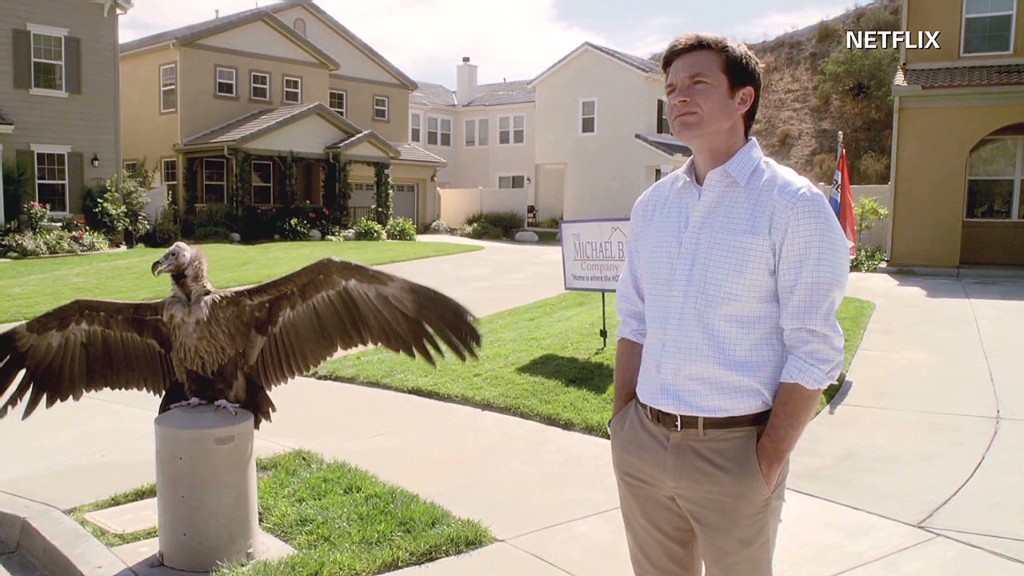 The premiere of "Arrested Development" follows shortly after the splashy February debut of "House of Cards," for which Netflix paid a reported $50 million per season. Some analysts have expressed concern about that high price tag, and others have scoffed at Netflix's choice to release all episodes at once. Some fear that a consumer could subscribe for just a month and cancel after watching the show.
But investors appear bullish on Netflix's original series strategy, even with Tuesday's decline. The stock hit a 52-week high earlier this month, and it's up an astounding 213% in the past year. With a run-up like that, Netflix is under pressure to prove that its new shows will boost its subscriber base.