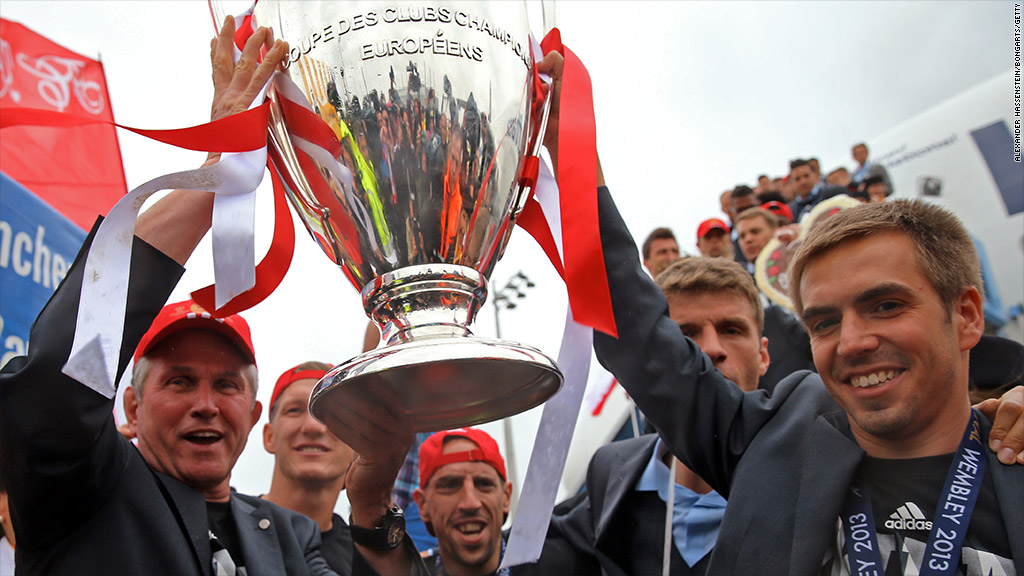 Bayern Munich has won another title to add to its status as soccer champions of Europe - the most valuable team in world sports.
The German club leapfrogged rival Manchester United (MANU) to take top spot in Brand Finance's annual survey after beating Borussia Dortmund to win the Champions League last week.
"Impressive financials and a growing international reputation for quality football has seen Bayern's brand value hit $860 million, demoting United to second place," the brand valuation agency said.
Bayern's brand value rose by 9% over the previous year, while Manchester United's fell 2%, hurt by an early exit from the European Champions League and the retirement of iconic manager Alex Ferguson.
"United's loss of the top spot may prove temporary but to reclaim the title (new manager) David Moyes must rapidly prove he can sustain his predecessor's success," Brand Finance said.
Manchester United is now worth $837 million, followed by Spain's Real Madrid on $621 million and FC Barcelona on $572 million. Dortmund is in 10th place, worth $260 million.
The world's most valuable sports team brand outside soccer belongs to the Dallas Cowboys, worth $510 million, according to a Brand Finance analysis of American teams late last year.
Related: Manchester United: The business of soccer
The English Premier League is still more valuable than its German equivalent -- five of the top 10 spots in the brand table are occupied by English teams -- but escalating player wages, poor financial management and the alienation of fans could undermine that success.
"The cheap tickets, high attendances, democratic ownership structure and financial prudence of the Bundesliga now looks like an attractive alternative, particularly now it is delivering world beating, fluid football," said Brand Finance CEO David Haigh.
Brand value reflects the estimated cost a third party would have to pay to license the use of the brand, and is based on analysis of metrics such as team performance, revenue, squad value, attendance and the utilization of stadiums.
This year's report was compiled last week on the correct assumption that Bayern would defeat Dortmund in the Champions League final at London's Wembley stadium.