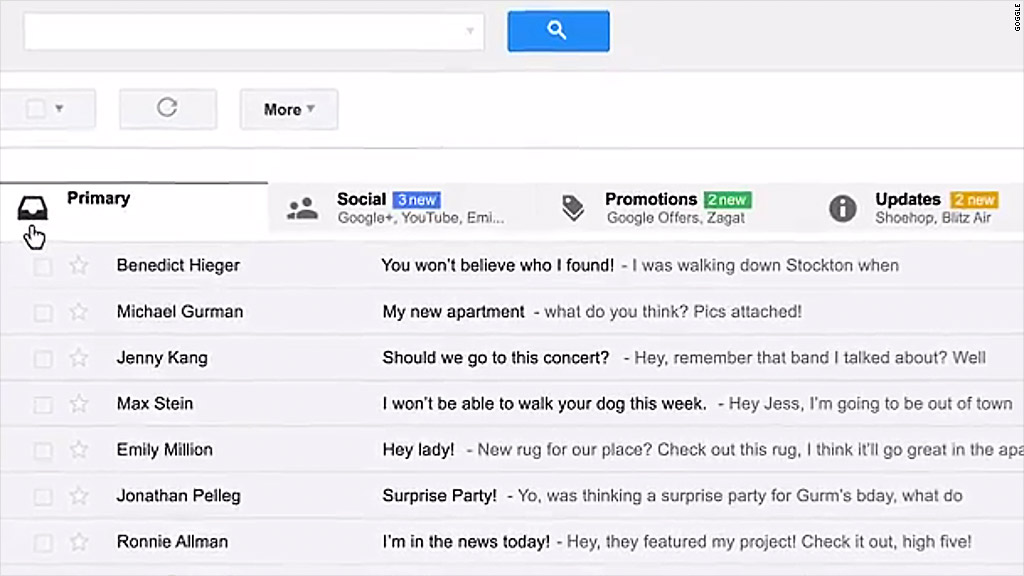 Over the next week, millions of Gmail users will notice that something's changed. Just like the web browser containing it, Gmail will have tabs.
But it won't be tabs for handling different accounts. Instead, the tabs will represent the new auto-sorting powers Google's Gmail has been granted in an attempt to make your email more useful. You might say it's an evolution of the spam blocker.
Leveraging years of data collection from Gmail accounts, Google (GOOG) will be able to take notifications from services like Facebook (FB) and Twitter and file them away in a folder titled Social. Groupon (GRPN) deals and the never-ending onslaught of email from Fab will be tucked away in the Promotions folders.
All those bills, receipts, and nagging reminders you don't really want to deal with? Updates folder. And for those who still use message boards and mailing lists, there's a folder for any emails from that corner of the internet.
The amount of email we all get has gone way up. But as our methods of communicating electronically have become more varied, we receive far fewer emails we actually care about -- emails that can get lost in the flood of knockoff Cialis offers.
With the updated Gmail, which Google unveiled earlier this week, what should theoretically remain is an inbox of email you actually want to look at.
Google has tried for years to supply tools to make email less painful. It introduced the aforementioned spam filters, a Starred email folder, and an auto-populating Priority Inbox, all in an attempt to reduce the noise. But aside from the spam filter, people haven't really latched on to any of the other solutions. And even with the spam filter, most people still have way too many emails.
When Mailbox, an app built on top of Gmail, was released for Apple's (AAPL) iOS earlier this year, it stood out for its simplistic approach and painless way for filing non-urgent mail.
Google is wise to build some of that sorting into the core experience of Gmail, but it's even smarter to move a step ahead and automate the process. Few companies arguably have more data and insights on the type of mail people really want to engage with, and if anyone is audaciously qualified to attempt such a feat, it's Google.