U.S. stocks ended a volatile session higher Thursday as investors brace for a key report on the job market.
The Dow Jones industrial average rose 80 points, or 0.5%, after falling more than 100 points earlier. With that comeback, the Dow avoided what would have been its first three-day losing streak this year. The S&P 500 gained 0.8% and the Nasdaq rose 0.7%
Stocks came under pressure in midday trading as the U.S. dollar weakened against other currencies. The dollar fell 3% versus the Japanese yen before regaining some ground. It fell more than 1.5% versus the euro and the U.K. pound.
Traders said the weakness in the dollar was driven by speculation that Friday's report on the U.S. job market could fall short of expectations. But trading has been choppy overall recently as investors wrestle with concerns about the global economy and an uncertain outlook for Federal Reserve policy.
U.S. stocks fell sharply Wednesday, with the Dow closing below 15,000 for the first time since May 6.
Click for data on commodities, currencies and bonds.
Volatility is back. CNNMoney's Fear & Greed index has moved within a few points of the level that signals "extreme fear" in the market.
Over the past month, the CBOE market volatility index, or VIX (VIX), has surged more than 40% and has nearly erased all of its losses for the year.
"We're going to continue to see volatility in the market," said Ben Schwartz, chief market strategist at Lightspeed Financial. "There's a lot of uncertainty."
Schwartz noted that June is typically a bad month for stocks, adding that many investors are in the midst of repositioning their portfolios for the second half of the year.
"We're looking to see what the Federal Reserve is going to do, and what the [economic] numbers are going to look like over the next week or two," he said.
Related: Dimon says expect 'scary' markets
Jobs in focus. Analysts say Friday's report could be particularly important given the questions about how long the Fed will continue its bond-buying program.
The government said Thursday that initial claims for unemployment benefits totaled 346,000 in the week ended June 1, down 11,000 from the previous week.
Jim O'Sullivan, chief U.S. economist at High Frequency Economics, reduced his forecast for Friday's report to a gain of 150,000 jobs from 195,000 jobs. He pointed to disappointing reports this week on the services industry and hiring by employers in the private sector.
The private sector continued to add jobs in May, according to this week's report from payroll processing firm ADP, but the pace was slower than economists had hoped.
Related: Apple, the ultimate defensive stock?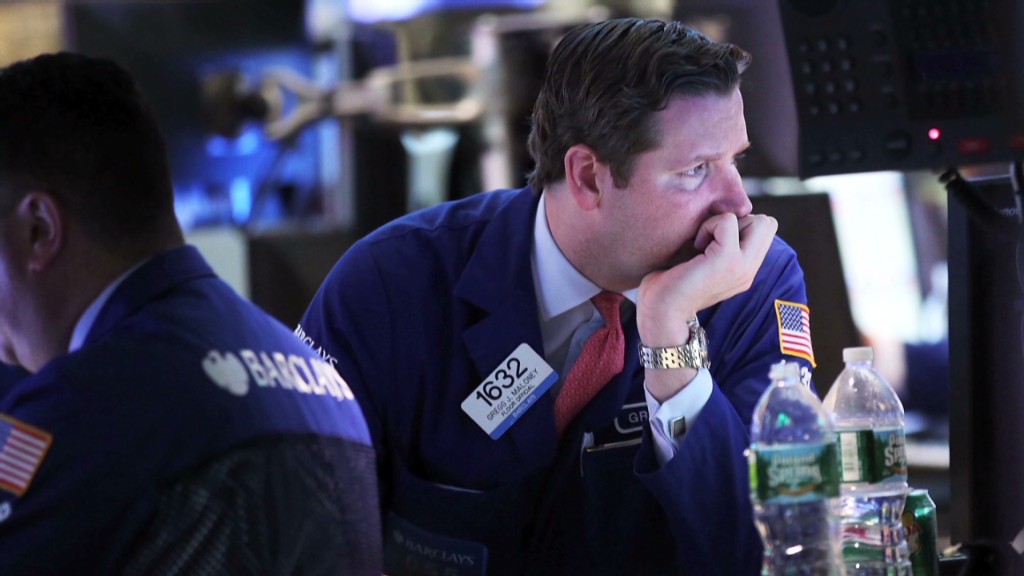 On the move: Shares of SodaStream (SODA) rose on speculation that PepsiCo (PEP) may be trying to buy the soda maker. But the stock pared earlier gains after PepsiCo CEO Indra Nooyi told CNBC the rumors were untrue.
Limited Brands (LTD), which owns Victoria's Secret and other apparel brands, said same store sales rose 3% in May. That was slightly below forecasts, putting pressure on the stock.
J. M. Smucker Company (SJM) said earnings jumped 25% during its fiscal fourth quarter, but sales fell 1% on price cuts made last year.
Shares of LightInTheBox (LITB) rallied in their U.S. stock market debut. The online retailer of "lifestyle products" based in China, raised $79 million through an initial public offering that priced in the middle of its estimated range.
Related: Fear & Greed Index slips into fear
European stocks ended lower, with markets in London, Paris and Frankfurt falling more than 1%. The European Central Bank and the Bank of England both left their main interest rates unchanged, as expected.
European investors showed little reaction to monetary policy announcements, though the euro surged to a four-week high against the U.S. dollar.
Asian markets ended the day in the red. Japan's Nikkei index fell by another 0.9%, after dropping nearly 4% in the previous session. The Tokyo index has fallen more than 17% since May 22, when it hit its highest level in five and a half years.