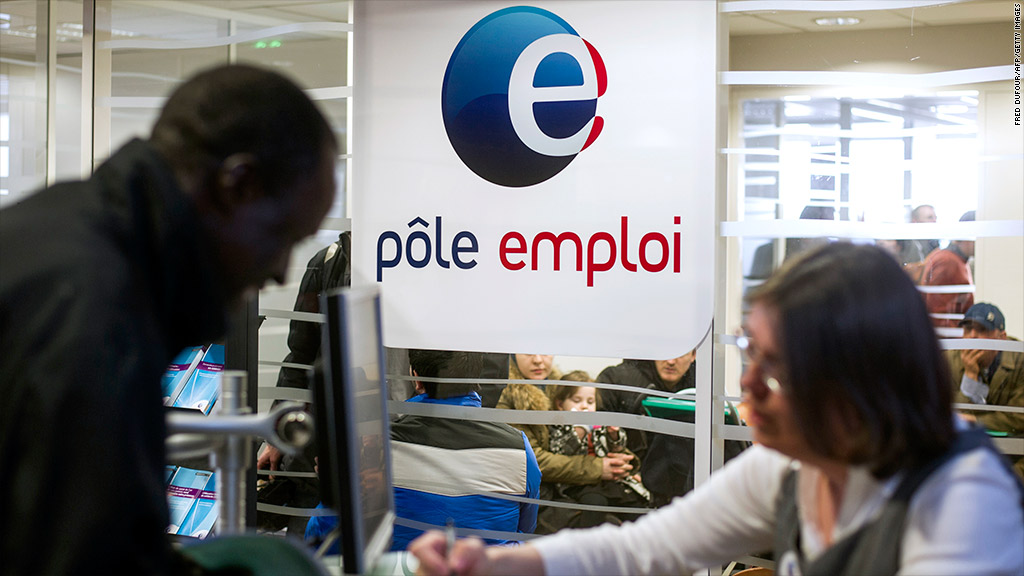 The unemployment rate in France continues to climb, hitting 10.4% in the first quarter of 2013. That's the highest level the country has seen since early 1998.
Including French territories and islands, the unemployment rate was 10.8%, according the latest unemployment estimates from France's national statistics agency, INSEE.
The French government has been struggling with a sluggish economy and rising unemployment for years.
A report released last month showed French gross domestic product shrank by 0.2% in the first three months of the year, which put the country back in recession.
"There are lots of internal issues that France needs to grapple with," said London-based Tom Bewick, chief economist at the International Skills Standards Organisation. "It needs to reform its labor laws so that its labor market is far more efficient."
Related: U.S. employment is still near a 30-year low
Bewick said the French state has imposed far too many regulations on the labor market, and that it's a difficult country for entrepreneurs compared to its neighbors.
The latest employment figures come just days after the European Commission gave France and five other countries more time to meet budget deficit targets.
The countries were given one or two-year extensions to give them time to reform labor markets, restore growth and boost government revenues.
Related: France to relax austerity as recession bites
The EU's economic commissioner Olli Rehn said France should use this breathing space to focus on reducing labor costs.
Unemployment in the troubled eurozone region as a whole hit a record high of 12.2% last month, according to the latest report from Eurostat. Spain and Greece are facing the highest-ever levels of unemployment -- roughly 27% in both countries.
Meanwhile, France's INSEE warns that the latest French unemployment figures are only an estimate, since the agency was using some new procedures to collect and measure the data in the latest quarter. The report didn't have a breakdown of youth unemployment.