Federal budget cuts are taking a big bite out of the unemployment checks for the long-term jobless.
Precisely how those cuts are being carried out varies by state. Most are enacting an across-the-board reduction for all federal unemployment insurance recipients, but some are ending the program early or slashing benefits only for new enrollees.
And in some states, recipients should brace for an upcoming shock. The places that took the longest to implement the cuts will need to compensate by slicing off a bigger chunk of recipients' remaining checks.
Federal unemployment insurance, which kicks in when state benefits run out, is one of the programs caught up in the forced budget cuts known as sequester. An estimated 3.8 million people will see their federal payments reduced this fiscal year, which ends in September.
Federal benefits can last up to 47 weeks. State benefits, which last up to 26 weeks, are not affected.
The overall cut equals about 10.7% of each recipient's benefits this year, or an average of about $450 per person.
Some states began trimming their payments right after sequestration began in March. For others, the hit is still looming.
Maryland, for instance, is not enacting the cuts until the end of June because it had to reprogram its computers and retrain its staff, said David McGlone, acting assistant secretary of the state's Division of Unemployment Insurance. The state will reduce federal benefits for all recipients, though it hasn't yet announced the size of the cut.
"We want to make sure our claimants get consistent payments," McGlone said. "We feel something is better than nothing. We know people have bills to pay."
Related story: Poor hit hardest by Washington budget cuts
The cuts can be substantial. Residents in states where the cuts took effect in early June saw a reduction of nearly 17% in their checks, for instance, while those in states implementing the change in early July will likely see more than 22% of their checks disappear, according to estimates by the federal Department of Labor.
As of this week, only 40 states and the District of Columbia have carried out the sequester cuts, according to the agency.
"With each passing week, the percentage increases," said George Wentworth, senior staff attorney at the National Employment Law Project, an advocacy group.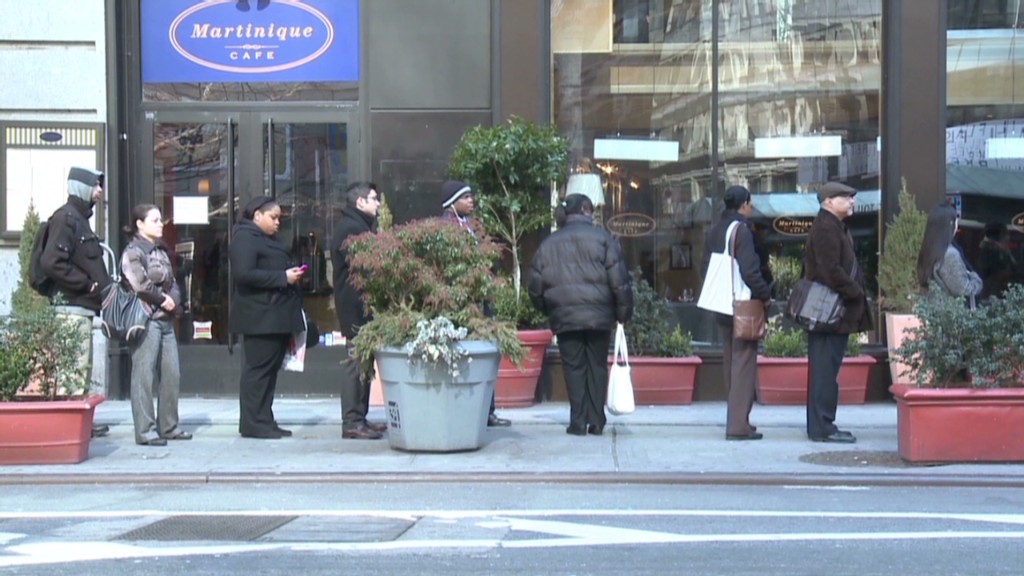 Here's what states are doing:
Uniform reductions: 33 states plus the District of Columbia. All recipients of long-term jobless benefits will see a reduction in their payments. The amount each check will be cut depends on when the states implement the changes. Some 18 states had it in place by March 31, so they only trimmed 10.7% from each check over a six-month stretch. But Connecticut, for example, is starting its program in mid-June and will cut benefits by 19.2% for the remaining three months of the fiscal year. And beneficiaries in Nevada will see a roughly 30% cut starting in late July.
Grandfathering: 12 states. Only those applying for federal benefits for the first time or applying for a new tier of benefits are affected.
Federal unemployment insurance is broken up into as many as four tiers, and beneficiaries must apply to move into the next tier. In states taking this approach, the cuts for each beneficiary are often deeper because the reduction is being absorbed by fewer people. In New Mexico, for instance, those applying for the first two tiers of federal benefits will see their checks reduced by 25%. The change will first affect an estimated 2,100 people who will file for benefits in the first few weeks of June.
Pause: Two states, Missouri and South Carolina. Recipients skip one week of federal benefits in each of three months.
Ending early: Two states, Florida and Maine. Beneficiaries stop receiving checks several weeks early.
Terminating program: One state. North Carolina residents will not receive federal benefits after June 30 because lawmakers' recent overhaul of the state unemployment system rendered the state ineligible to receive federal benefits.
Benefits are not the only thing being trimmed. Federal funding for states' administration of their unemployment programs is also being cut by 5.1%.
That's leading at least one state to reduce its services.
In California, the sequester cuts exacerbated an existing underfunding problem. California responded by rolling back the service hours at its unemployment insurance customer service centers. Calls are now only being answered from 8 a.m. until noon, instead of until 5 p.m.
What happens to federal unemployment insurance funding after the government's fiscal year ends in September? It's an open question at the moment.
All of the long-term unemployed are set to lose their federal checks in the 2014 fiscal year. The program is scheduled to terminate unless Congress extends it once again, as it has done since the program was enacted in 2008.