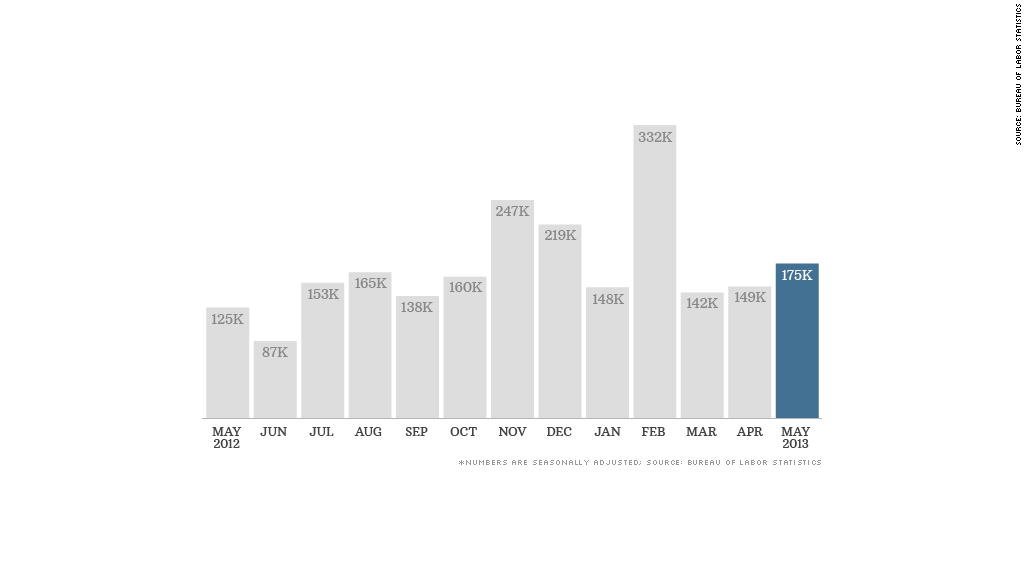 Employers are hiring at a restrained pace as jitters about the economy linger.
The U.S. economy added 175,000 jobs in May, according to the Department of Labor. Hiring at that rate isn't terrible, but it's unexceptional at this point. It marks a slight improvement from April, when a revised 149,000 jobs were created, but still falls in line with average job growth over the last three years.
Economists called it "lackluster," "par for the course," and "unremarkable."
"The U.S. labor market continues to recover. All in, the May report was decent but not fabulous," said Jennifer Lee, senior economist with BMO Capital Markets.
Revisions to March and April figures show that the economy added 12,000 fewer jobs than originally reported during those months.
Even so, the May report was slightly stronger than investors had expected, and stocks headed higher in morning trading. Economists surveyed by CNNMoney had expected the report to show 158,000 jobs were added in May.
Meanwhile, the unemployment rate ticked up to 7.6% from 7.5% in April. That minor rise came as 420,000 people joined the labor force -- an encouraging sign that some formerly discouraged workers may be re-starting their job searches.
What's keeping hiring at a ho-hum pace?
Businesses are citing concerns about the cost of health care reform rules, set to go into effect next year, as a major unknown keeping them on the edge.
"Fear of not knowing exactly what the rules are is holding hiring back," said John Silvia, Wells Fargo chief economist. "Once everybody knows the rules, they'll all want to play the game."
Related: Federal Reserve: Recovery still 'modest' and 'moderate'
Uncertainties also surround the broader economic impact from across-the-board government budget cuts underway now, and weakness in foreign economies like China and Europe, which is subduing demand for U.S. goods and services abroad. These concerns are leading firms to prefer temporary or part-time workers, said Scot Melland, CEO of Scot Melland, CEO of Dice Holdings (DHX), a company that runs several job search sites.
"Companies have work they still need to get done, but they don't have enough confidence in the forward-look of their business to make those full-time positions," he said.
Indeed, the monthly jobs report showed a gain of 25,600 temporary jobs in May.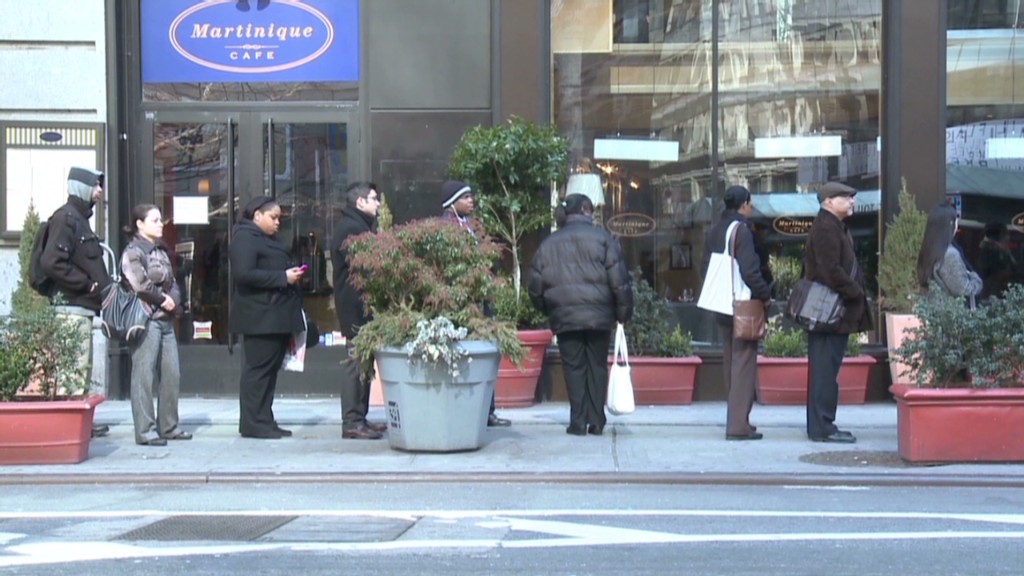 Restaurants and bars added 38,000 jobs. Other strong sectors for job growth included retail, which added 28,000 jobs, and education and health services, which added 26,000 jobs.
Construction added 7,000 jobs, falling in line with other signs of an ongoing housing recovery.
Meanwhile, the federal government cut 14,000 jobs and manufacturers cut 8,000 jobs.
Related: Employment is still near a 30-year low
Overall, the U.S. economy lost 8.7 million jobs in the financial crisis, and has since gained back 6.3 million jobs. The employment-population ratio was unchanged, showing that 58.6% of adults over age 16 have a job. That rate has barely budged over the last three years -- and the last time it was hovering so low was 30 years ago.
Since job growth continued at a slow pace in May, the newest data is unlikely to change the Federal Reserve's current stimulus policies. The central bank is looking for "substantial improvement" in the job market before it starts winding down its controversial program of buying $85 billion in Treasuries and mortgage-backed securities each month.