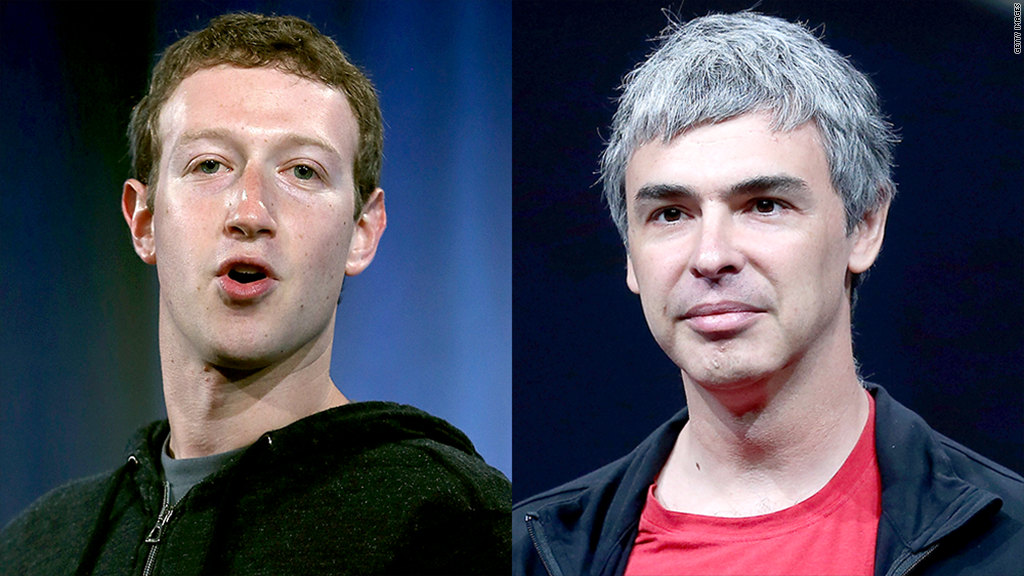 Two of the biggest names in the tech world responded publicly Friday to reports that the government has been given direct access to their companies' servers as part of a sweeping surveillance program.
Facebook CEO Mark Zuckerberg and Google CEO Larry Page penned strikingly similar blog posts in response to reports from The Guardian and The Washington Post that a secret National Security Agency program known as PRISM allows the government to monitor emails, photos, search histories and other data from some of America's biggest Internet companies.
According to the newspapers, a top-secret government document describing the program says it uses "collection directly from the servers" of Microsoft (MSFT), Yahoo (YHOO), Google (GOOG), Facebook (FB), PalTalk, AOL (AOL), Skype, YouTube and Apple (AAPL).
Zuckerberg called the reports "outrageous," saying Facebook "is not and has never been part of any program to give the US or any other government direct access to our servers."
Writing along with Google Chief Legal Officer David Drummond in a blog post titled "What the ...?", Page said reports "that suggest that Google is providing open-ended access to our users' data are false, period."
Related: Tech company & telecom reactions to PRISM
The other tech companies named in the reports have also denied having knowledge of PRISM or giving the government direct access to their servers.
The reports come on the heels of the revelation earlier this week by the Guardian of a top-secret court order requiring Verizon (VZ) to hand over "metadata" from phone conversations to the government on a daily basis.
Zuckerberg said Facebook has "never received a blanket request or court order from any government agency asking for information or metadata in bulk, like the one Verizon reportedly received." Both he and the Google executives said their companies review every data request they get from the government to ensure legality.
Analysts are puzzling over the apparent conflict between the newspaper reports and the tech companies' denials. The Post altered its article on Friday, removing a line saying that the tech companies "participate knowingly in PRISM operations."
Who knew what about the PRISM spying program: 3 theories
President Obama acknowledged the existence of the surveillance programs on Friday but didn't go into detail about their mechanics.
"I think on balance, we have established a process and procedure that the American people should feel comfortable about," Obama said. "[T]hese programs are subject to congressional oversight and congressional reauthorization and congressional debate."
For their part, both Page and Zuckerberg called for greater transparency generally on surveillance issues.
"It's the only way to protect everyone's civil liberties and create the safe and free society we all want over the long term," Zuckerberg wrote.