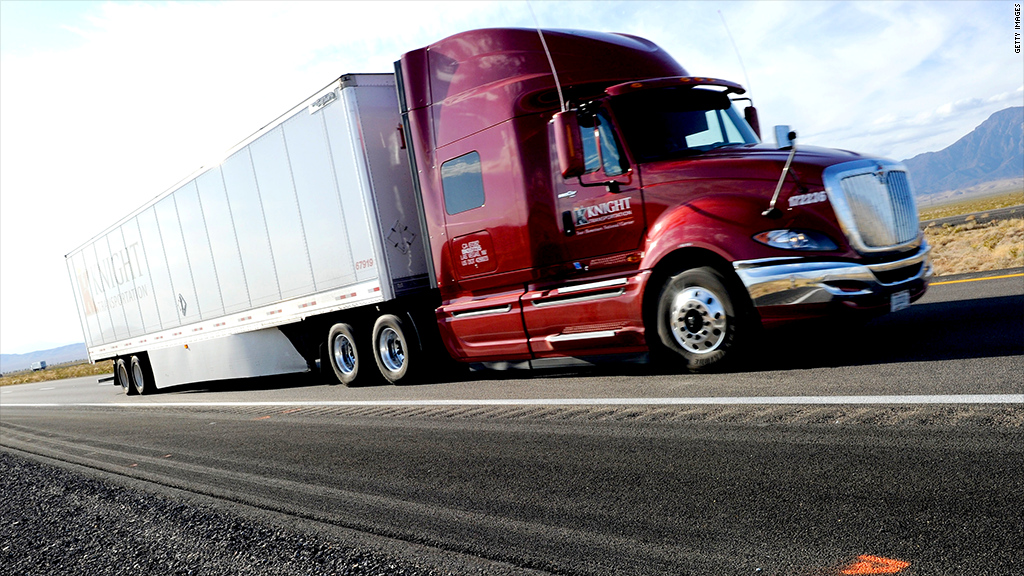 Trucking companies have already been facing a labor shortage for years. New federal regulations may make it worse.
New rules, set to go into effect July 1, will mean truckers cannot drive more than 70 hours in 7 days. Truckers had been allowed to drive 82 hours under the former rules.
Trucking companies hired about 40,000 workers over the past 12 months, according to the Bureau of Labor Statistics. But the largest companies are still recruiting aggressively.
Werner Enterprise (WERN)offers a $5,000 sign-on bonus for some jobs, and Swift Transportation (SWFT) is trying to lure military veterans by offering them free tuition for its driving school.
Roz Wilson, a senior analyst with the Delcan Corporation, estimates trucking companies have a shortage of about 30,000 workers. Reducing hours could create a need for an additional 100,000 drivers.
Related: Government proposes rules for self-driving cars
Turnover for long-haul truckers is dramatic, averaging about 98% in 2012. Some are opting for higher paying jobs in construction and the shale oil industry, while others are retiring, Wilson said. Companies simply can't hire enough new workers fast enough to make up for the exodus, she said.
But safety advocates argue it's not the restrictions, but poor working conditions, that are the reasons for the labor shortage.
"Drivers are over-worked, underpaid and have high health and safety risks," said John Lannen, executive director of the Truck Safety Coalition. "With so many people unemployed, you have to ask yourself, why can't they hire and retain people?"
Related: America's most dangerous jobs
The Truck Safety Coalition wants drivers to be restricted from driving more than 10 hours in any given day, whereas the new rule allows for up to 11 hours a day, as long as the total doesn't exceed 70 hours in a week. The group also advocates for drivers to be paid by the hour, instead of by the mile, or per delivery.
Median pay for a tractor-trailer truck driver is about $38,000 a year, according to the Bureau of Labor Statistics.
"Obviously, we want truck drivers to be safer and get compensated in a better way, and I think it would be good for everyone," Lannen said.
Crashes related to large trucks have been declining since the 1970s. About 3,800 people were killed and 88,000 people were injured in crashes involving large trucks in 2011, according to Department of Transportation figures.
Still, neither the industry nor safety advocates are pleased with the new rules.
The Truck Safety Coalition thinks the new rules aren't strict enough, whereas industry group the Truckload Carriers Association says the regulations will be a blow to their business. Both sides have even filed lawsuits in an appeals court in Washington DC, aimed at altering the new regulation.
"It's safe to say, nobody's really happy with the rules," said David Heller, director of safety and policy for the Truckload Carriers Association. "We're still hoping for the courts to rule against the government."