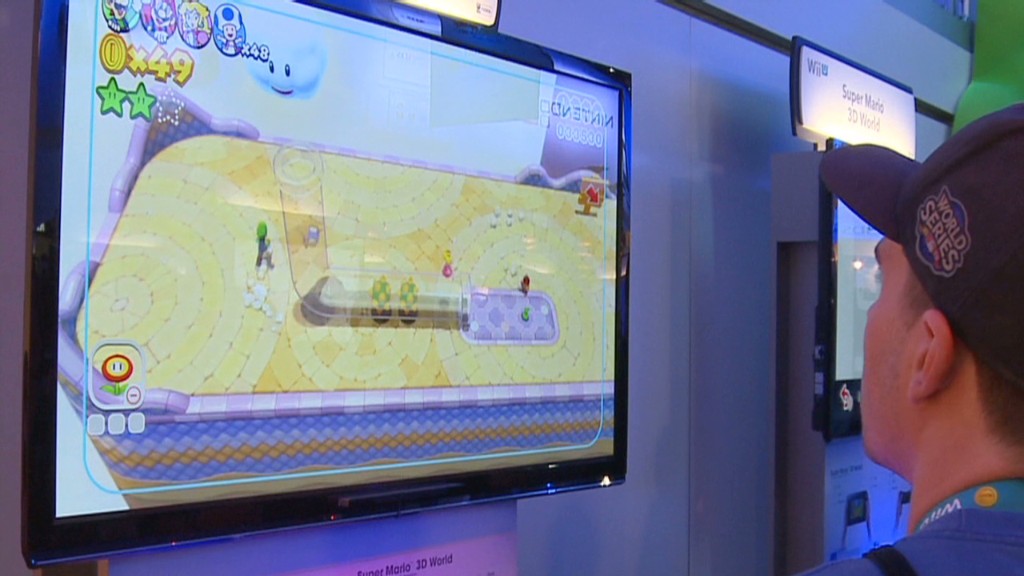 Since the days of the Nintendo 64, the masses have flocked to Nintendo's systems on the strength of its games.
Nintendo is still focused on a content-first strategy -- even though that's creating some short-term problems since there aren't that many Nintendo games for its new Wii U console just yet.
But Nintendo isn't concerned so far.
"We think it's pretty simple. As long as we focus on getting our great first-party content out there, we believe the hardware sales will follow," said Nintendo of America President Reggie Fils-Aime in an interview with CNNMoney at the Electronic Entertainment Expo in Los Angeles.
Fils-Aime pointed out the parallels between the launch of the Wii U and Nintendo's handheld console, the 3DS. He noted that once the must-have games arrived for the 3DS, sales quickly picked up. (Though it didn't hurt that the 3DS also received a redesign featuring a bigger screen.)
"It was probably a year and a half ago that I was sitting in a meeting like this answering questions about how the 3DS would survive against the iPhone. Now look at how it's doing," Fils-Aime said.
Related: Nintendo's big problem
And while plenty of games are coming to Wii U before the end of the year, including "Mario Kart," "Donkey Kong Country," and "Pikmin," "Super Smash Brothers" will not arrive until next year.
Making matters worse, new games featuring Nintendo's Mario and Zelda characters may not turn out to be big blockbusters. "The Legend of Zelda: The Wind Waker" is a HD remake of the 2002 game that originally appeared on the Gamecube console. "Super Mario 3D World" is a direct sequel to the "Super Mario 3D Land" game that appeared on 3DS and is not necessarily a follow up to the "Super Mario Galaxy" games featured on the original Wii console.
In other parts of company business, Fils-Aime says Nintendo is still very interested in exploring what it can do with digital distribution. When asked about Nintendo's plans for its Virtual Console, Fils-Aime said that he wants to see more older Nintendo 64 games featured,
But until all new games arrive on the Wii U later this year, Nintendo will be stuck in a sales drought.