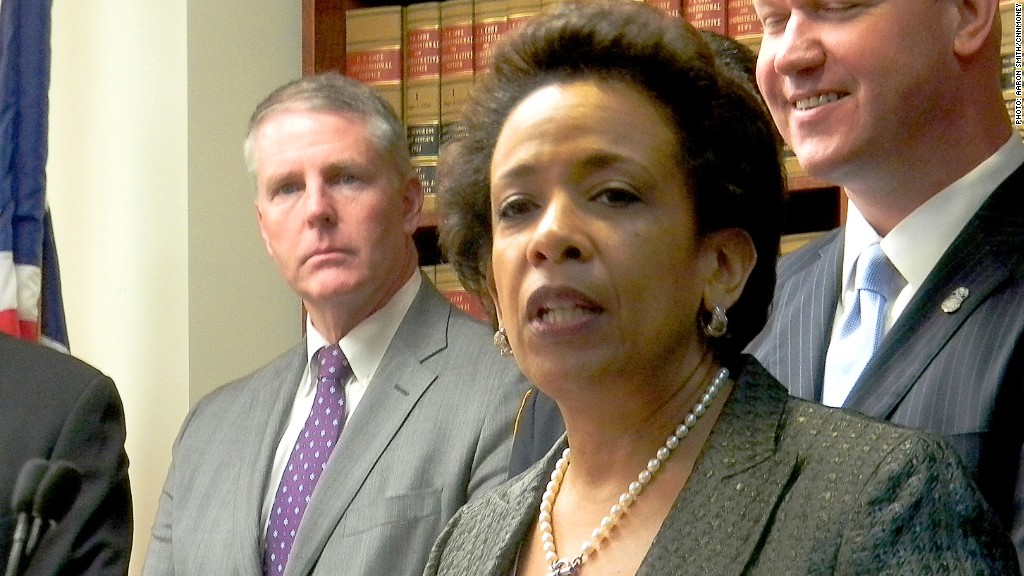 Federal authorizes seized 14 7-Eleven stores in New York and Virginia, and indicted nine owners and managers, charging them with stealing identities and exploiting more than 50 undocumented immigrants.
Farrukh and Bushra Baig, a married couple who owned or managed a dozen of the convenience stores, along with seven other owner-managers, were charged with identity theft, conspiracy to commit wire fraud and concealing and harboring undocumented immigrants, Loretta Lynch, U.S. Attorney for the Eastern District of New York, said Monday .
"From their 7-Eleven stores, the defendants disbursed wire fraud and identity theft, along with Slurpees and hot dogs," Lynch said at a Brooklyn news conference.
She said the 7-Eleven defendants allegedly forced the immigrants to work 100 hours a week and pocketed the majority of their pay, while also forcing them to live in and pay rent in boarding houses that the defendants owned. This "plantation system" allegedly went on for more than 13 years, she said.
Ten of the stores are located on New York's Long Island and four are in Virginia. Lynch said the stores are now operating under the direct management of 7-Eleven, after the authorities moved to have the franchises forfeited. The Feds also seized five houses on Long Island owned by defendants.
James Hayes Jr., special agent in charge of the U.S. Immigration and Customs Enforcement's Homeland Securities Investigations, said federal agents are investigating an additional 40 7-Eleven stores.
Related: Bernie Madoff, king of the thieves
In a statement, a 7-Eleven representative said "7-Eleven is aware of today's activity against local franchise owners and has been cooperating with federal authorities during their investigation." Attorneys for the defendants were not immediately available for comment.
The defendants are accused of using stolen identities from 20 victims to mask the true identities of their undocumented workers to 7-Eleven Corp. The stolen identities include an eight-year-old child and three dead people. Lynch said that a single identity would sometimes be used to fraudulently represent more than one person.
Most of the defendants, including the Baigs, are naturalized citizens, authorities said, and all of them live on Long Island. The defendants are from Pakistan or the Philippines, and allegedly exploited people from their own home countries, said the authorities. Victims alerted the authorities to the alleged crime, despite their own vulnerable situation in the U.S.
"Some workers, despite their illegal status, came forward to authorities," said Lynch, adding that the future of the cooperating victims is unclear. "Every case is going to be looked at individually."
Authorities have arrested all but one of the defendants. Lynch said Azhar Zia, 49, of Great River, N.Y., is a fugitive from justice.