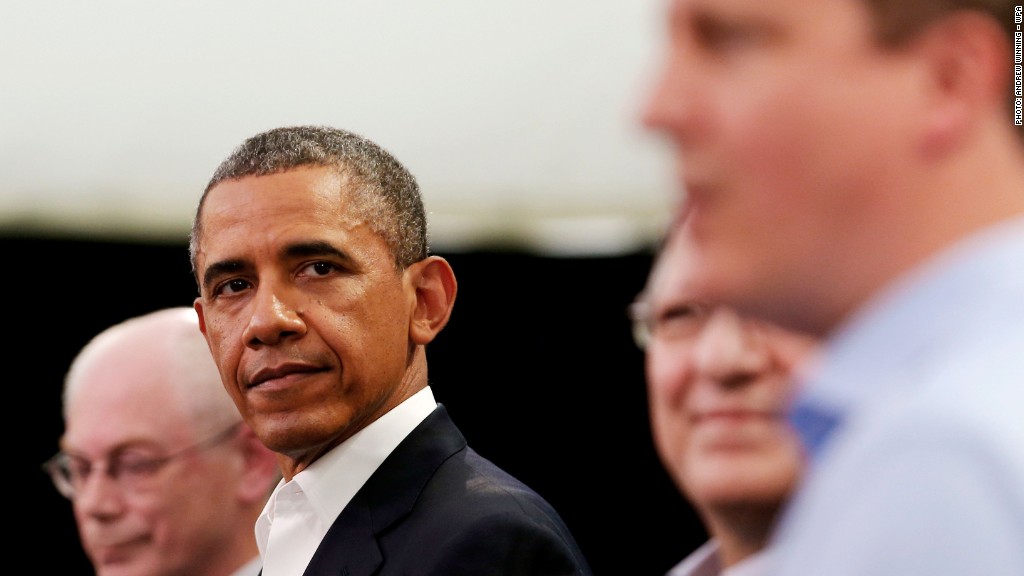 The U.S. and Europe announced the start of negotiations on a transatlantic trade and investment pact, which has the potential to add about $420 billion a year to the global economy.
Under pressure to find new ways of stimulating demand to end recession in Europe, accelerate sluggish growth in the U.S. and bring down unemployment, President Obama and EU leaders said much was achieved in starting formal talks but plenty of hard work lay ahead.
"It's a testament to the leadership and political will of everyone here that we've reached this point," said U.K. Prime Minister David Cameron. "We must maintain that political will in the months ahead -- this is a once in a generation prize and we're determined to seize it."
The announcement came at a meeting of the leaders of the G-8 -- the world's leading developed economies -- in Northern Ireland. The U.S. will host the first round of negotiations in Washington next month.
A comprehensive EU-U.S. trade deal would be the biggest of its kind and could add $160 billion to annual European income, $125 billion to U.S. income and $133 billion to other economies.
Together, the U.S. and EU account for about half of global economic output, and trade some $1 trillion in goods and services each year, supporting about 13 million jobs on both sides of the Atlantic.
A free trade deal could create as many as two million new jobs at a time when southern Europe is blighted by record unemployment and the U.S. is struggling to create enough new positions to bring its own jobless rate down significantly.
Related: Steel fight adds to EU-China trade tension
Plans to announce the start of negotiations were nearly derailed last week when France insisted that movies and music be excluded from the discussions, fearing U.S. media could overrun French-language products.
EU officials hammered out a compromise, which takes the audio-visual services industry off the table for now but lets the European Commission seek to broaden its negotiating mandate once talks are underway.
But the spat shows how tricky the talks will be. Other thorny topics are likely to include agriculture, aviation and public sector contracts.
Officials hope the talks will be completed in 18 months to two years but insist a deal won't be rushed for the sake of it.
Obama said the bid for a transatlantic deal enjoyed broad support in Congress and the business community, and he was hopeful that a comprehensive agreement was within reach.
"It is important that we get it right, and that means resisting temptation to downsize our ambition or avoid tough issues just for the sake of getting a deal," he added.
The new transatlantic push comes as Europe's trading relationship with China -- its second biggest partner after the U.S. -- grows increasingly tense following a series of disputes.