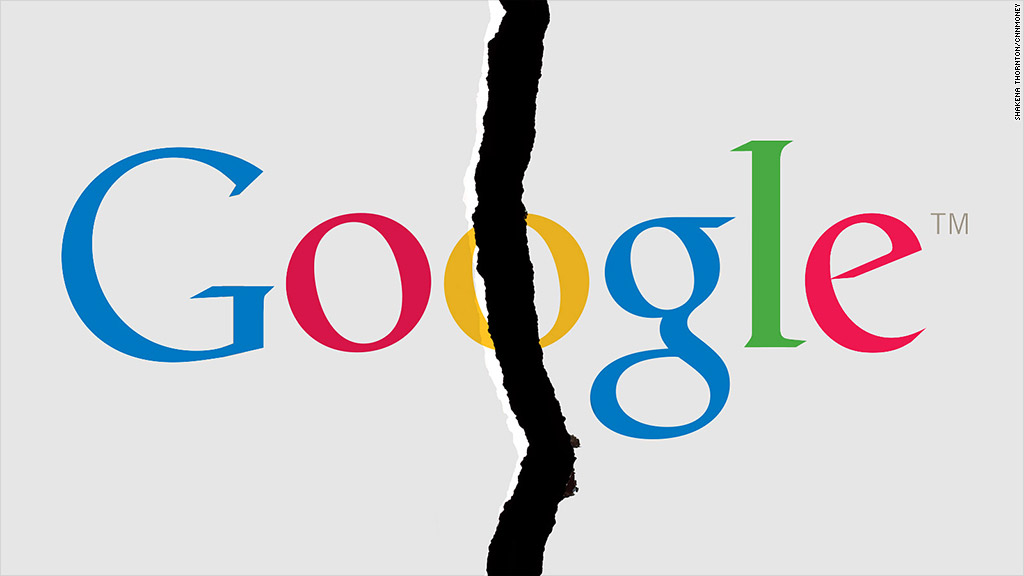 It has been more than a year since Google announced a bizarre stock split -- which would allow the company to issue more shares. The move got held up due to a legal battle, but the split is finally closer to reality after Google settled a case with shareholders this weekend.
The settlement dials back some of the biggest objections shareholders had with the split, but Google (GOOG) got off relatively unscathed.
At first glance, the stock split sounds typical enough: Google will give current shareholders two shares for every share they own, and the price of Google's stock will be cut in half. But the deal comes with a crucial twist -- the new Class C shares will hold no voting powers.
That will essentially give the company's founders -- CEO Larry Page, Chairman Eric Schmidt and co-founder Sergey Brin -- even more say in the company's management decisions. The company already has a dual-class share system, with the founders' stock holding 10 votes per share. That currently gives Google's power trio 64% of the voting power over the company's shares, according to a recent regulatory filing.
The stock split was first announced in April 2012 and approved by shareholders in June 2012 -- not surprising, considering it had the backing of Page, Brin and Schmidt.
Corporate governance advocates were aghast, and a group of shareholders sued, arguing that the terms of the agreement were unfair.
Related story: Google's wacky stock split gives founders more clout
On Sunday, Google's board approved a settlement with the shareholder group. As part of the deal, Google promised to consider using stock with voting rights as part of any future acquisitions rather than stock with no voting power. And if Brin and Page start to sell their stock, Google will consider abandoning the multi-class stock concept.
Google will file the proposed settlement agreement to a court for final approval, and then stockholders will be given a chance to review it.
In a letter to shareholders released at the time of the split's announcement, the company's co-founders said they're concerned that day-to-day dilution from stock grants and acquisitions will undermine that structure.
"We have put our hearts into Google and hope to do so for many more years to come," Page and Brin said in the letter. "So we want to ensure that our corporate structure can sustain these efforts and our desire to improve the world."
Google has been criticized by some investors for spending too freely on far-off projects like space elevators and driverless cars and also for lacking a winning social networking strategy.
The company has repeatedly urged patience, noting that many ideas will fail, but many more will -- and have -- become huge revenue drivers, including display, video and mobile advertising.
Most shareholders have little reason to complain. Google's shares hit an all-time high last month. And even though the stock has pulled back in recent weeks, the stock is still up 25% year-to-date.
By way of comparison, shares of Google rivals Apple (AAPL) and Facebook (FB) are both down in 2013. Google's stock has also outperformed search competitors Yahoo (YHOO) and Microsoft (MSFT)by a wide margin over the past five years.
But if Google splits its stock soon, it may also miss the chance to hit a key numerical milestone. The stock is currently trading at about $885 a share and some analysts think Google could top $1,000 before long.
If Google splits at current levels, shares would fall back into the $400s. A stock split does not impact the actual value of the company, however.