The Obama administration is running out of time to get its state-based health insurance exchanges ready for enrollment in October, according to a government watchdog group.
The Centers for Medicare & Medicaid Services, which is overseeing the exchanges' launch, still has many key tasks ahead to create the federally run exchanges for individuals and small businesses, the Government Accountability Office said in a review released Wednesday. Some of those tasks are behind schedule.
"Much progress has been made, but much remains to be accomplished within a relatively short amount of time," the GAO wrote. Whether the administration's efforts will be enough to get the exchanges ready for a "timely and smooth" launch less than five months from now "cannot yet be determined," the agency said.
The administration, however, says it is almost done finalizing and testing the technology needed to support the enrollment process.
"We have already met key milestones and are on track to open the marketplace on time," said Joanne Peters, a spokeswoman for the Department of Health and Human Services, which oversees CMS.
Related: Businesses could shun Obamacare exchanges
Under the Affordable Care Act, also known as "Obamacare," individuals and small business employees will be able to sign up for health insurance for 2014 through state-based exchanges. CMS will operate individual exchanges in 34 states. It will also manage the small business initiative, known as the Small Business Health Options Programs (SHOP), in 33 states. In some of those states, the federal government will partner with state agencies to manage the effort.
An estimated 7 million Americans are expected to enroll in the individual exchanges by 2014, according to Congressional Budget Office estimates. CBO anticipates an additional 2 million participants in the small business program.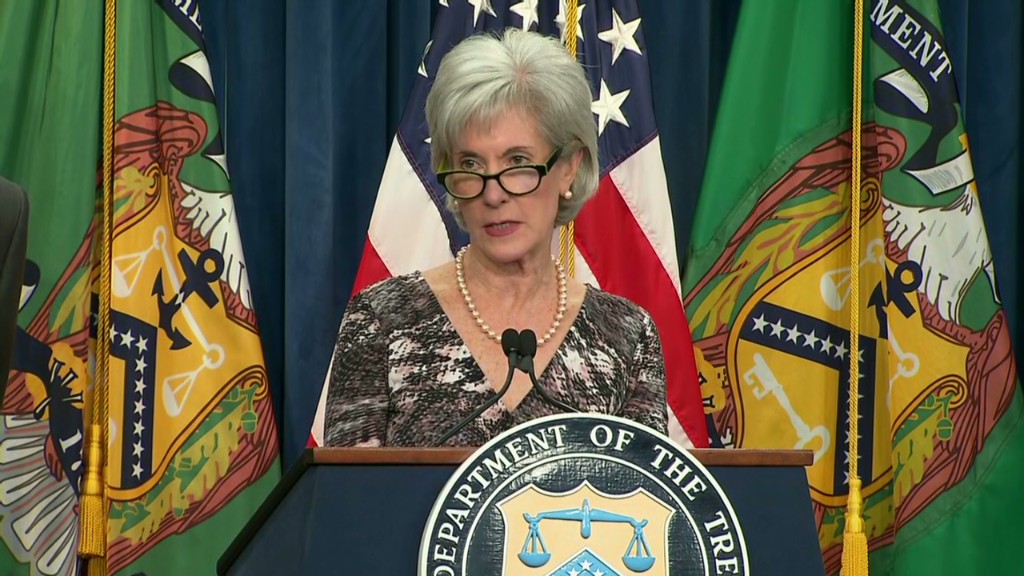 Getting Obamacare enacted was a major political hurdle, but it could prove to be equally challenging on the technical front.
To get the system to work, CMS is developing a data hub that must provide near real-time access to various federal and state agencies' records to determine whether enrollees are eligible to participate in the exchange or in Medicaid, and whether they qualify for federal subsidies. The exchanges must also interact with insurers' computer systems to get people signed up.
Several key tasks associated with the data hub, including final testing among the partners, haven't yet been done, the GAO found. The certification of insurers' health plans and the inclusion of plan information on exchange websites has not been completed. Funding for a key customer assistance program has been delayed by two months.
Some states are also behind schedule on their implementation plans.
CMS has already spent nearly $400 million on contracts to establish the federally run exchanges, and estimates it will need almost $2 billion to operate them in fiscal 2014, which begins in October. The president's budget requests $1.5 billion, with the remaining money coming from fees charged to insurers.