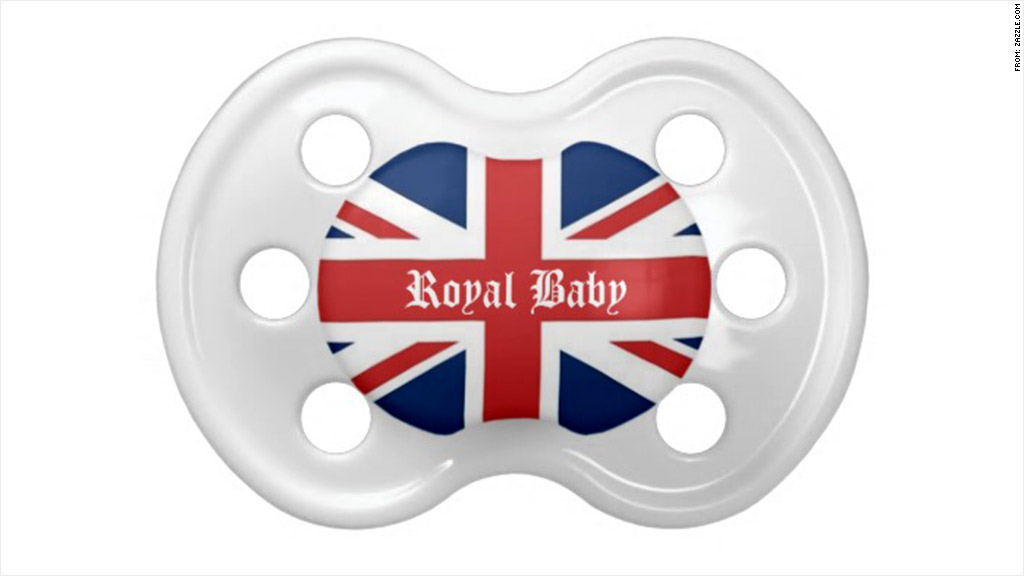 The future heir to the British throne is still weeks away, but the U.K. economy is already bracing for a royal baby bump.
When Prince William and the Duchess of Cambridge welcome their baby in July, sales of Union Jack pacifiers, "I heart my Uncle Harry" bibs and, of course, celebratory bubbly could pump an estimated 240 million pounds, or $380 million, into the economy, according to the Centre for Retail Research.
In true British style, the report said 60 million pounds of that will go toward alcohol, as royal watchers are expected to pop three million bottles of Champagne and sparkling wine to celebrate the future prince or princess.
CRR anticipates that another 56 million pounds will come from souvenirs and collectables, like the guardsman onesies and childrens' books, which British retailers have already started selling.
Related: Royal wedding? A royal pain
The third in line to the throne, who is due July 13, is also expected to spark a craze around whatever normal baby products Duchess Kate chooses to outfit the heir in.
Sales of prams, or strollers, are expected to rise by 13% in the year following the royal birth, as the culture of "keeping up with Cambridge" spreads to the baby goods world. CRR said whichever pram Duchess Kate chooses will likely roll right out of stores.
"The 'Kate effect' has already taken the fashion world by storm with each of her choices flying off the shelves within moments of her leaving the house," said Joshua Bamfield, CRR's director. "This trend will follow for the heir's baby...rattles, first bike and so on."
It's no wonder that royal baby mania -- and spending like kings to commemorate it -- is sweeping the U.K. CRR estimated that Wills and Kate's wedding boosted the U.K. economy by more than 500 million pounds. It's hard to imagine, but that was an even boozier occasion; an estimated half million bottles of champagne were downed.