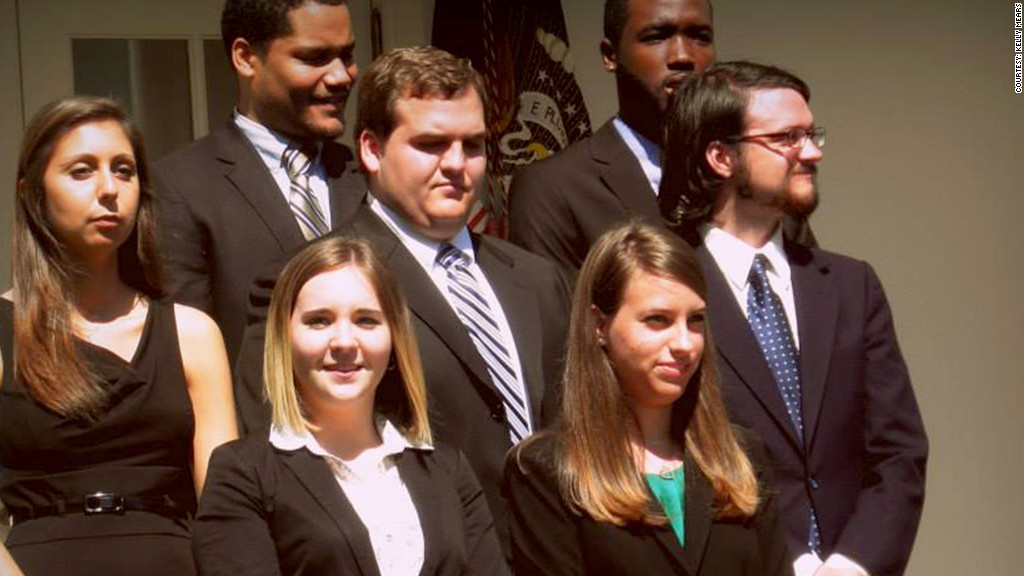 When Kelly Mears graduates from Union College in the summer of 2015, she will have $100,000 in student loans.
Armed with a political science degree, Mears will join more than a million Americans who have racked up breathtaking amounts of student debt.
Mears is also one of 7 million undergraduates caught in the middle of a debate in Washington over government-subsidized student loans, as interest rates are set to double to 6.8% from 3.4% on July 1.
"It just seems to be a part of the growing American experience to go to school, graduate and work off that debt for the rest of your life," Mears said.
Super-borrowers with $100,000 of student loan debt aren't the norm. The average student graduates with $27,000 of loan debt.
The New York Fed said those who borrow $100,000 or more are about 3.1% of borrowers nationwide. But it's easy to see how students get there, with four years of private college tuition running $116,000 on average, according to the College Board.
Related: Student loan mess: What's at stake
At Union, a small liberal arts school in Schenectady, N.Y., tuition is $58,000 a year, according to its website.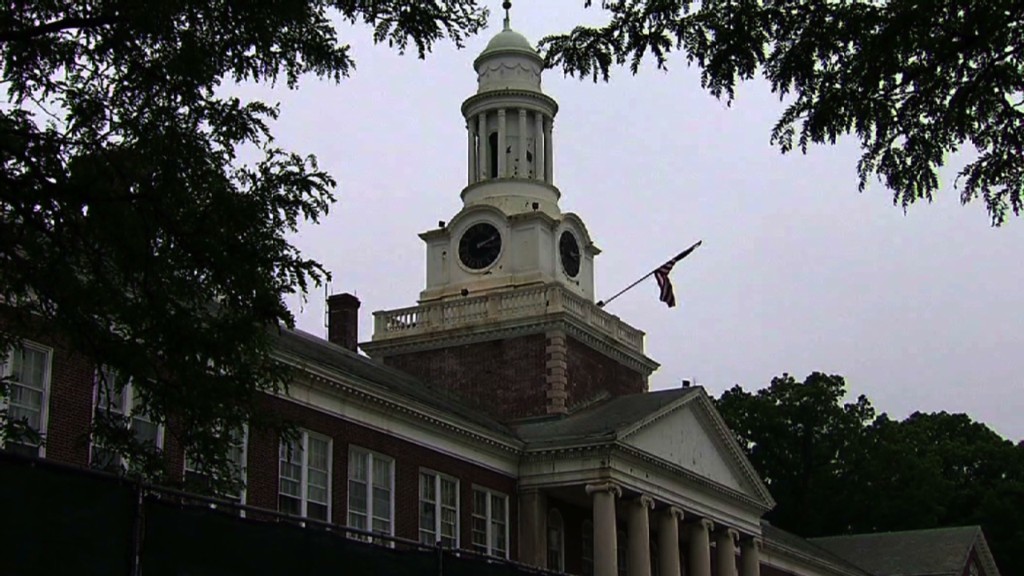 When Mears was ready for college, her parents had just lost their home to foreclosure in Murrieta, Calif. But Mears fell in love with Union College when she started in 2011.
The South California native was attracted by the college's claim that it was affordable, and that it gave out lots of financial help. Mears mistakenly believed that she would qualify for more financial help than she ended up getting.
The school awards more than $60 million in financial aid to students from federal, state and other agencies, as well as from the school's own pockets, said Union College spokeswoman Christen Gowan.
"We consistently meet the full, demonstrated financial need of our students," Gowan said. She didn't comment on Mears' case, because the college has a policy against discussing the individual financial situations of its students.
Related: Colleges with biggest bang for your buck
Mears found out she didn't qualify for help, because of her family's middle class income. Her dad has worked for the California Highway Patrol for more than 20 years.
Despite the heavy loan burden, Mears says she doesn't regret her choice because she enjoys the small class sizes. She has no plans to leave Union College.
"I was in the classroom of 20 kids in an entry level course, and 8 kids in a higher level courses -- that's absolutely worthwhile," she said.
She also spent the last few months studying in Washington D.C., receiving college credit while interning at the People for the American Way, an advocacy group. This fall, she'll study political science in Athens, Greece. These opportunities are included in her tuition and are a big part why Union College is worth graduating with $100,000 in debt, Mears said.
With her parents and grandparents footing part of the bill, Mears has $66,000 in loans only halfway through her college education. While a majority of the loans are from private banks, $12,000 are government loans.
Any future subsidized loans she takes in her junior and senior year of college will end up being more costly for Mears if rates go up on July 1. She expects to take another $8,000 for the next two years, which would mean an extra $1,600 in interest payments.
Related: Don't double my rates
Financial advocates advise families to have tough talks about ways students can avoid mountains of debt upon graduation.
"It's not that students shouldn't have college dreams and go to the college of their choice," said Allesandra Lanza, spokeswoman for American Student Assistance, a nonprofit that gives graduates free advice on managing loan debt. "But students need to think about the long term: What are my likely career goals and what's my monthly salary and what are my likely loan payments going to be?"
For Mears, there have been lots of sacrifices. While friends have gone to amusement parks, or Cape Cod in Massachusetts or even Canada for Spring Break, she's opted for cheaper options, like visiting homes of friends from the East Coast. She can't afford the $500-plus plane tickets to visit her family on the other coast.
Related: Business majors most likely to be underemployed
This summer, she's dog-sitting and babysitting while interviewing for summer jobs. Her employer during the winter break, the retail store Kohl's (KSS), isn't hiring.
She's also taking time to figure out a five-year plan, including what she'd like to do after graduation. She hopes to work in advocacy of human or women's rights.
"One thing I do know for sure, is that grad school is off my list for things to do for now," Mears said. "Financially, it doesn't seem in my future."