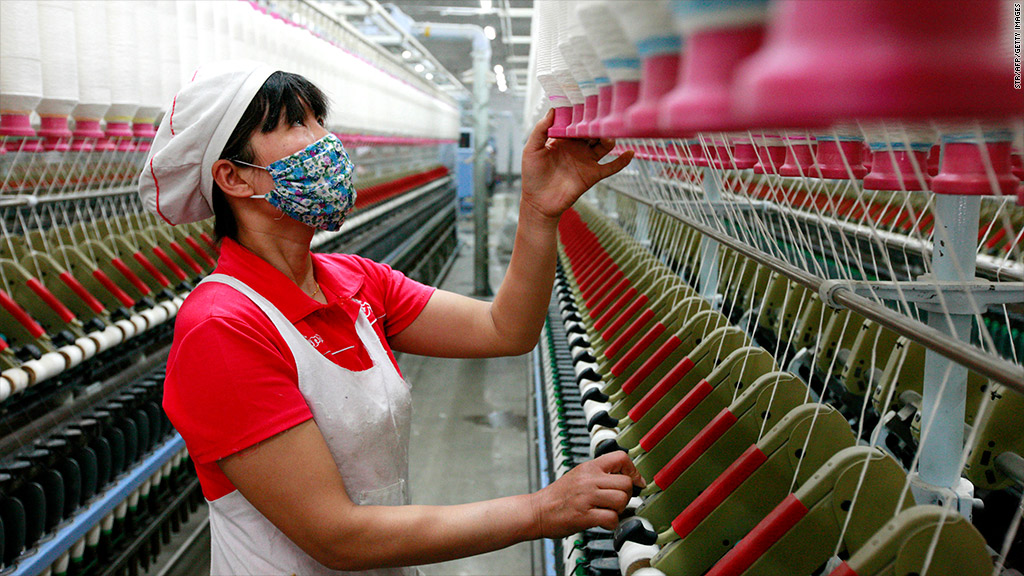 China's factories are faltering again, pointing to slowing growth in the world's second-biggest economy.
HSBC said Thursday that its "flash" index of manufacturing purchasing managers' sentiment fell to a nine-month low of 48.3 in June, as new export orders dropped sharply and production contracted for the first time in eight months.
Slower growth in China's vast manufacturing sector, seen as an economic bellwether, could raise pressure on the country's central bank to try to stimulate the economy even as it tries to contain an explosion of credit.
The factory report was much weaker than analysts were expecting and reinforces concern that second quarter growth in China will slow from the 7.7% rate seen in the first three months of the year.
Some economists believe the rate of growth may even dip below 7% in the second half of the year -- well below China's official 2013 target of 7.5% -- given the new government's emphasis on reform rather than short-term stimulus to support the economy.
"While reforms can boost long-term growth prospects, they will have a limited impact in the short-term," noted HSBC chief China economist Hongbin Qu. "As such, we expect slightly weaker growth in the second quarter."
Related: Chinese indicators present muddled picture
China will publish second quarter GDP figures on July 15 and some analysts believe the government won't consider measures to boost growth before then.
"We believe the government is committed to tolerating short-term pain to achieve its policy objectives -- containing financial risks and secure sustainable growth in the long term," noted Zhiwei Zhang, an economist at Nomura.
The International Monetary Fund last month cut its growth forecast for China to 7.75%, and raised concerns about a rapid expansion in credit, questioning the quality of investment and ability of borrowers to repay loans.
Many analysts worry that the expansion of credit is not translating into growth and is increasingly dominated by unregulated lenders such as trust companies, securities dealers and underground operators that make up the shadow banking system.