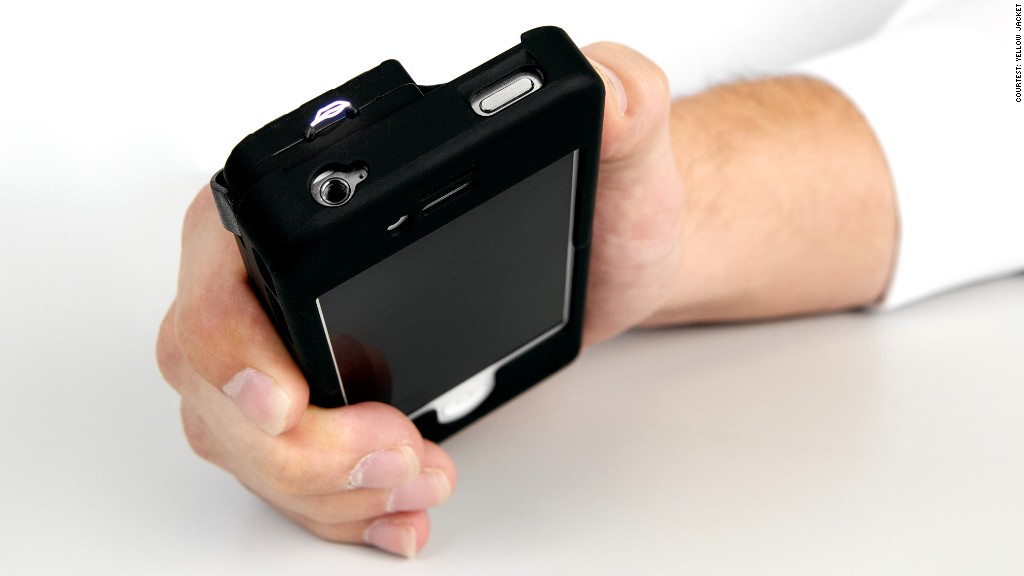 Former Army soldier Seth Froom vividly recalls when he was robbed at gunpoint in his own house in 2011. With his face to the floor and an iPhone in his hand, he watched helplessly as his home was ransacked.
"I kept thinking what I could have done to stop this," said Froom. Two years after that traumatic event, Froom and his college buddy Sean Simone had invented a solution that has the potential to make millions -- an iPhone case that doubles as a 650,000-volt stun gun.
Touch the device to someone and it can deliver a shock that causes significant discomfort, ranging from mild to extreme pain, Simone said. To prevent an accidental discharge, users first have to flip two safety switches and then press an activation button, he said.
Yellow Jacket, the company Simone and Froom founded, has sold thousands of the cases since February through retail stores and its website. The cases, which retail for $139.99 each, aren't sold in states where stun guns are banned, and customers must be 18 or older.
The cases fit iPhone 4/4S models and come in black, white, pink and yellow. More options are coming later in the year.
Million-dollar ideas: The Mason Jar cocktail shaker
The roots of Simone and Froom's business partnership go back six years. The two, now both 24, met in 2007 as freshmen at Louisiana State University, where Simone was a business student and Froom was studying architecture. They soon found they shared an entrepreneurial spirit and would often talk about starting a business in the future.
His junior year, Simone launched a networking group called SeNSE to help young entrepreneurs in Louisiana. By then, Froom had left college to join the Army. But the friends stayed in touch, many times just to bounce business ideas off each other.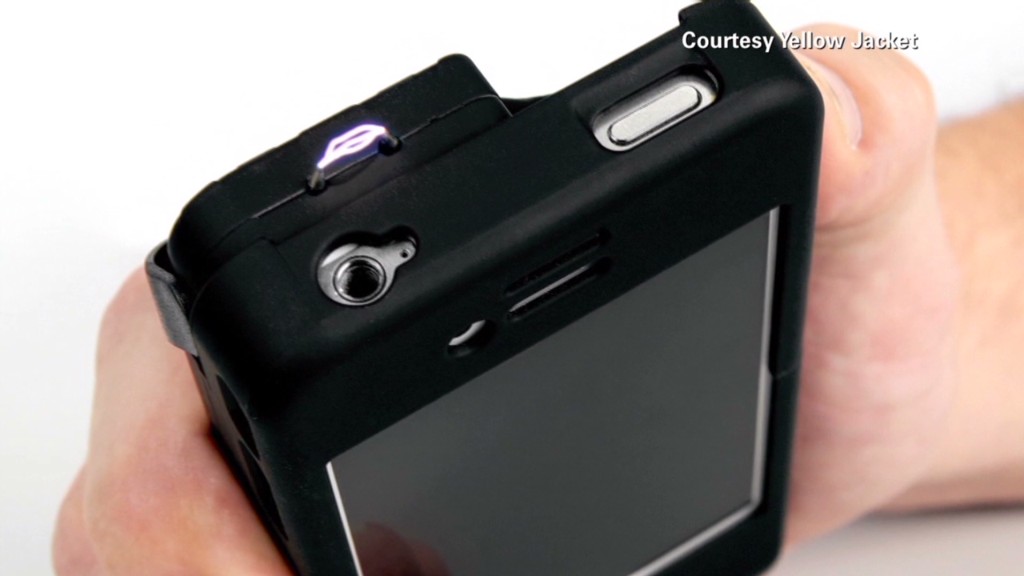 In January 2011, Froom took temporary leave from the military so he and Simone could try to develop an idea they had for an RFID tracker that would help people find misplaced personal items. But that business idea never got off the ground.
In August, Froom was robbed in his home. He thought a lot about that day, and how the robber yanked the iPhone out of his hand but left the case behind.
That one detail triggered an idea. What if he could turn a smartphone case into a defensive weapon? Froom used his design background to develop the concept. Simone laughed when he first heard the idea, he said, but soon he was on board.
Together they finessed the concept and its design. They pitched the idea at a business competition at LSU the following year, and won $5,500. That money went to filing a patent application for the case and preparing a marketing video.
Related: 10 best states to start a business
They soon needed more startup capital. They approached crowdfunding site Kickstarter, but were turned down "because our product is a weapon," said Simone. In June 2012, they took their campaign to rival Indiegogo, and in 45 days, reached their target of raising $100,000.
They found a manufacturer in China, and started selling the cases earlier this year. Sales have already reached nearly $250,000.
The Yellow Jacket case has a built-in charger for the iPhone. Last month, Yellow Jacket won an MFi (Made for iPhone) development license, essentially an Apple (AAPL) seal of approval for iPhone, iPad and iPod accessories.
Yellow Jacket also has had preliminary talks with Apple to identify potential new customers for the cases -- they're now thinking of creating a model targeted to law enforcement.
They also plan to expand beyond Apple, expecting to launch versions for Samsung's Galaxy S3 and S4 models in September. Those cases will feature a stun gun that detaches -- an innovation they plan to roll out for the iPhone 5 case they're developing as well. The new products could push sales over $1 million by the end of the year, Simone said.
Said Simone, "There are so many possibilities and so much room to grow."