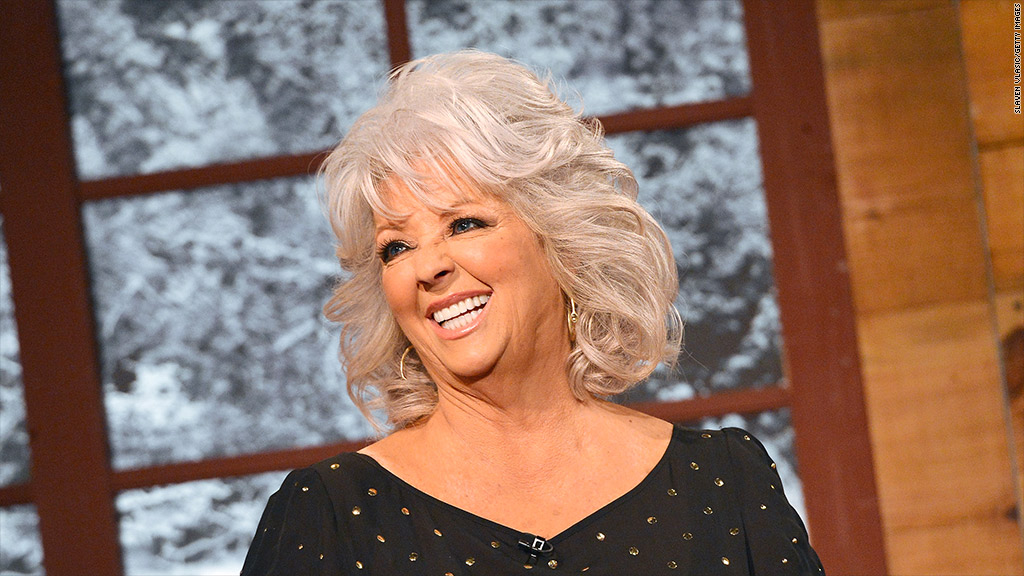 Advance orders for Paula Deen's new cookbook have surged since the Food Network and Smithfield Foods axed her for using a racial slur.
Orders for "Paula Deen's New Testament: 250 Favorite Recipes, All Lightened Up" surged on Amazon (AMZN) by nearly 1,300% in the last 24 hours.
The cookbook was ranked 115th on Tuesday, compared to a ranking of 1,592nd on Monday
"Paula Deen's New Testament" is not available until October.
Another cookbook, "Paula Deen's Southern Cooking Bible," jumped 114% to Amazon sales rank 350, from 750 in the prior 24 hours.
Deen's agent did not immediately return a message from CNNMoney about the book sales.
Scripps Networks Interactive's (SNI) Food Network announced June 21 that it would not renew Deen's contract after reports emerged that she admitted, during a court deposition in May, using racial slurs.
"Yes, of course," said Deen, when asked by a lawyer if she had ever used the "N word."
Deen's television contract expires at the end of June, ending her 11-year relationship with the Food Network.
Related: Men's Wearhouse: Why we fired Zimmer
Pork producer and former Deen sponsor Smithfield Foods (SFD) cut its ties on Monday.
"Smithfield condemns the use of offensive and discriminatory language or behavior of any kind," said Smithfield vice president of investor relations Keira Lombardo, in a statement to CNN. "Therefore, we are terminating our partnership with Paula Deen."
Deen's 14 cookbooks have sold millions of copies. She also sells cookware and decorating supplies via her website and owns seven restaurants, including The Lady & Sons and Uncle Bubba's Oyster House, both in Savannah, Ga.
Brian Warner, managing editor at CelebrityNetWorth.com, estimates Deen's wealth at $10 million.
Related: Controversial T-shirt destroys business
Deen, who uses the Southern greeting "Hi y'all" conspicuously on the air and on her website, apologized via video:
"Your color of your skin, your religion, your sexual preference does not matter to me, but it's what's in the heart and my family and I try to live by that," she said. "I offer my sincere apology to those that I have hurt and I hope that you forgive me because this comes from the deepest part of my heart."