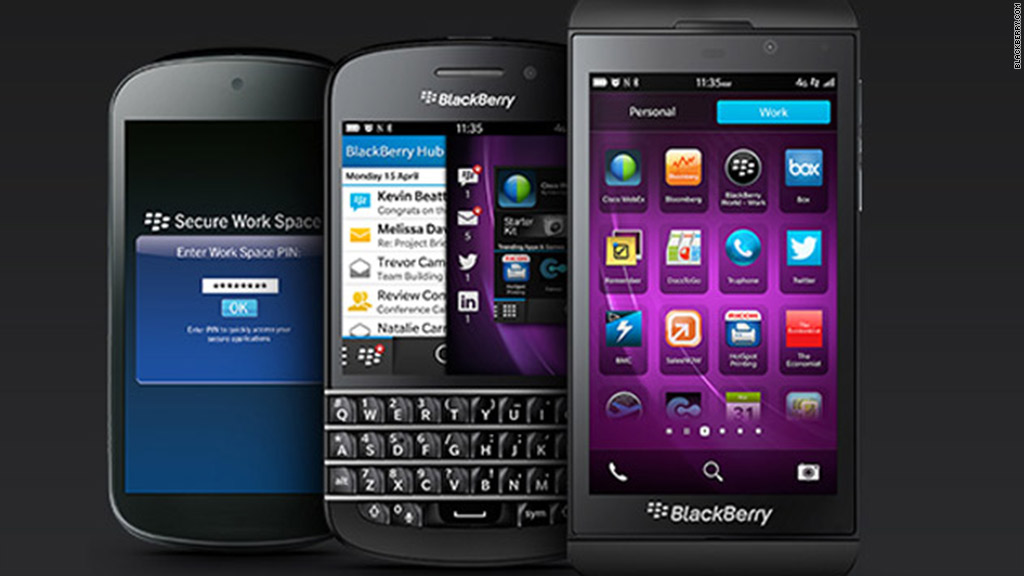 After losing the smartphone market to Apple and Google a few years ago, BlackBerry is looking to keep some skin in the game.
Now a distant fourth (behind even Microsoft) and fading fast on the hardware side, BlackBerry is hoping its acclaimed security software might be its ticket to success -- even if it means supporting rivals' devices.
BlackBerry on Tuesday introduced a new service called "Secure Work Space," which allows enterprise iPhone and Android users to toggle between personal and corporate modes.
Secure Work Space is aimed at giving companies control over the data that flows over their networks, even on a user's personal phone. Corporate email, calendars, contacts and intranets are cordoned off, and IT departments can add or remove other apps from that corporate section without affecting any personal information.
That separation ensures, for example, that users can't copy a message from the corporate profile and paste it into the personal one. Just as crucially, malware infecting the personal side of the phone won't make its way into corporate data.
The setup is similar to BlackBerry Balance, which comes standard on BlackBerry 10 devices.
Related story: You're going to love the BlackBerry Q10 (or hate it)
BlackBerry will provide an update on sales of the Z10 and other BlackBerry 10 smartphones on Friday. Though some analysts are optimistic, no one expects the new line of devices will launch BlackBerry back to the smartphone forefront anytime soon -- or, truthfully, ever.
But if Secure Work Space takes off, it could help BlackBerry (BBRY) regain some of the corporate market that it lost so publicly and painfully.
"Conceptually, it does make sense -- BlackBerry did well securing email, and now they're securing a workspace," said Cowen & Co. analyst Matthew Hoffman.
But as BlackBerry has declined, competitors like Apple (AAPL), Google (GOOG) and Microsoft (MSFT) have worked hard to improve their own security capabilities. Samsung launched its own "Knox" system for the new Galaxy S4, which works much like Secure Work Space.
Still, there's room in the market for a trusted multi-platform solution -- an Oracle (ORCL) of mobile devices.
Hoffman isn't convinced that BlackBerry will be the only company in the field, but BlackBerry still has the chance to become that trusted solution. Despite all of its troubles on the hardware side, BlackBerry's reputation as a company dedicated to security endures, as CEO Thorsten Heins has made sure to play up the company's history in the space.
A full switch to software would be "messy," though, Hoffman said. "[BlackBerry would] be taking 95% of its revenue, hardware, and saying, that doesn't matter -- now we're going to focus on this 5%. It would be a pretty big corporate transition to become software-only."
BlackBerry dipped a toe into this field back in 2011, when the company launched an experimental product that allows corporate IT staffers to manage multiple mobile devices -- including iOS and Android -- through the same interface. At the time, the company insisted that it wasn't shifting its strategy away from hardware.
Two years later, however, BlackBerry is still struggling on the device side and sorely needs a bright spot. If security software can be successful for BlackBerry, a bit of a strategic shift could be a smart move.