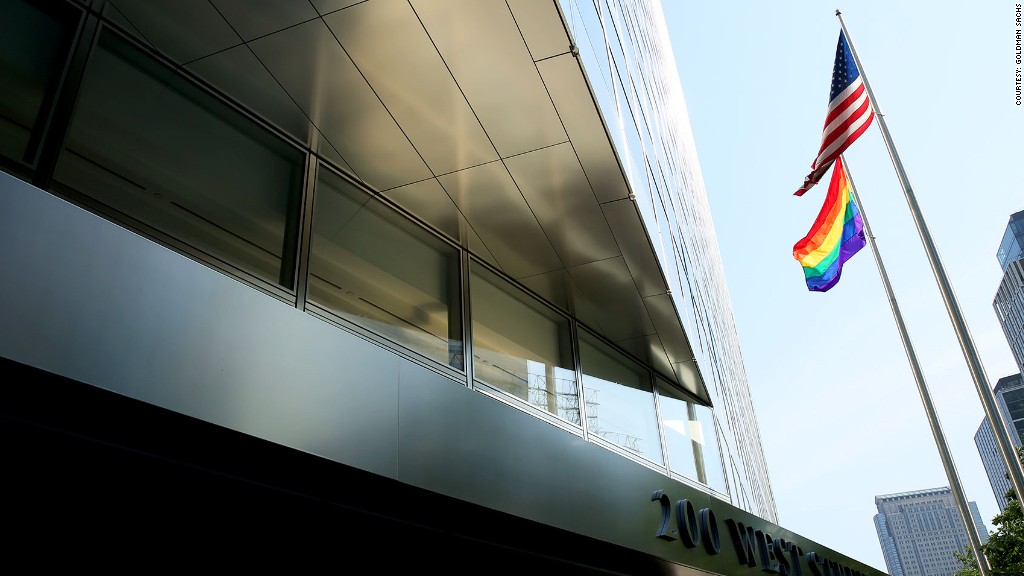 With a rainbow flag hanging outside of its Wall Street headquarters, investment banking firm Goldman Sachs was quick to express support for Wednesday's Supreme Court decision overturning the Defense of Marriage Act.
"We strongly support the Court's affirmation today of marriage equality," the firm tweeted within hours of the ruling.
Goldman (GS) is one of many Wall Street firms to publicly promote workplace inclusion of lesbian, gay, bisexual and transgender employees. It also joined hundreds of companies -- including Starbucks (SBUX) and Google (GOOG) -- that had filed a brief with the Supreme Court in opposition to DOMA.
"Today's decisions help define who we are as a people, whether or not we are part of the group directly affected," CEO Lloyd Blankfein said through the company's Twitter account Wednesday.
Citigroup (C) also cheered the court's ruling, noting in a company statement that it promotes a work environment where "diversity is embraced" and "differences are valued and respected," while the CEO of credit rating firm Moody's called the ruling "a significant step forward in ensuring workplace equality."
Related: Which states allow same-sex marriage?
Meanwhile, Google showed its support through a hidden "easter egg" on its site that displayed a rainbow flag around the search box whenever anyone typed the search term "gay" or "marriage equality" in honor of Gay Pride Month.
Fellow tech giants, Apple (AAPL), eBay (EBAY) and Microsoft (MSFT), released statements in support. "Today's decision turns the page on a law that made it more difficult for us to treat all of our employees, regardless of sexual orientation, equally," Brad Smith, Microsoft's general counsel said in a statement.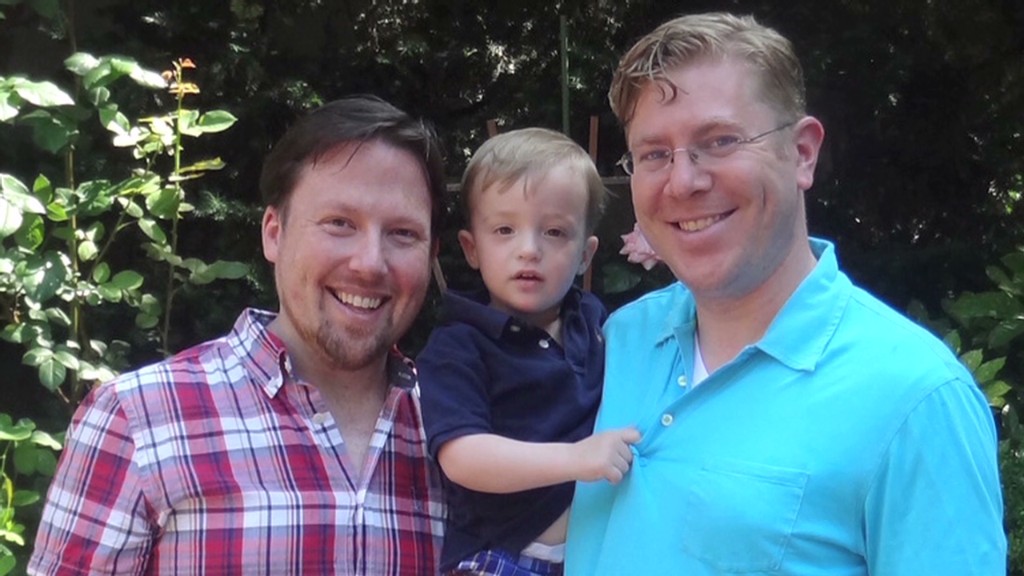 Starbucks CEO Howard Schultz, who publicly told off an investor who complained about the company's support for gay marriage, was not available for comment Wednesday. But company spokesperson Danny Cowan said the company, which has offered benefits for domestic partners -- including same-sex partners -- for more than two decades, was pleased by the ruling.
"Equality and inclusion are core values of our company," he said. "We always put our people first and will continue to advocate for equality and inclusion."
Related: Financial impact of same-sex marriage ruling
Retailers, such as Ben & Jerry's, Gap (GPS) and Marc by Marc Jacobs, also used social media to show support. Travel site Orbitz (OWW) tweeted about a contest to "celebrate DOMA's defeat" that offered flights to places that support marriage equality as prizes, while Kenneth Cole announced a giveaway of the company's "Equalitees" shirts through its Instagram account in honor of the "history-making decision."
"Thrilled about today's #SCOTUS ruling in favor of marriage equality, an issue we've been supporting since 1995," the company said on its Facebook page.
Related: Same-sex ruling: 'A huge relief'
The rush of corporate support comes in stark contrast to 2008, when California's Proposition 8 was on the ballot and only a handful of companies publicly supported marriage equality, said Deena Fidas, deputy director of the Human Right Campaign's workplace project
"Corporate advocacy for marriage equality seemed to be a bright red line that many did not want to cross," she said. "It's absolutely incredible that in such a short period of time we've seen this."