Amid the hugs, tears and celebrations following the Supreme Court's historic ruling on same-sex marriage Wednesday, many couples are trying to figure out how exactly the ruling will impact them.
Here are some of the biggest questions facing same-sex couples now.
1. Can all same-sex couples get legally married now?
No. The Supreme Court's ruling on the Defense of Marriage Act requires the federal government to recognize marriages in states where same-sex marriage is legal. It does not require states to legalize or recognize same-sex marriage.
Currently, same-sex marriage is legal in 12 states and Washington, D.C., and the court's other decision on Wednesday, to strike down California's Prop 8, paves the way for same-sex marriages to resume in California as well. That means the majority of same-sex couples still can't get married.
"Marriage has been governed by various states, and it's going to take a much different kind of case for any future court to say that states [must give] same-sex couples the fundamental right to marry," said Lisa Linsky, a partner at McDermott Will & Emery.
Related: Financial impact of same-sex marriage ruling
Because the court's decision cited the Constitution's "equal protection" guarantee, however, it is likely to become more difficult for states to outright ban same-sex marriage, said Lisa McElroy, an associate professor of law at Drexel University. And any states that have bans or try to introduce them could be legally challenged on the basis of the Supreme Court's ruling.
2. Will federal benefits be available to same-sex couples in civil unions or domestic partnerships?
What we know for sure is that same-sex couples who are married in their respective states are now eligible for the same 1,000-plus federal benefits that opposite-sex married couples receive. But it's unclear whether couples in unions that aren't labeled "marriage" -- like the civil unions and domestic partnerships currently granted in seven states -- will be viewed as married by the federal government.
Related: Same-sex ruling -- 'A huge relief'
Nanette Lee Miller, head of the LGBT practice at accounting firm Marcum LLP, says that couples without the specific marriage designation will likely be out of luck, since DOMA only applied to marriages. Individual government agencies may extend the definition of marriage to civil unions or domestic partnerships on a case-by-case basis, however.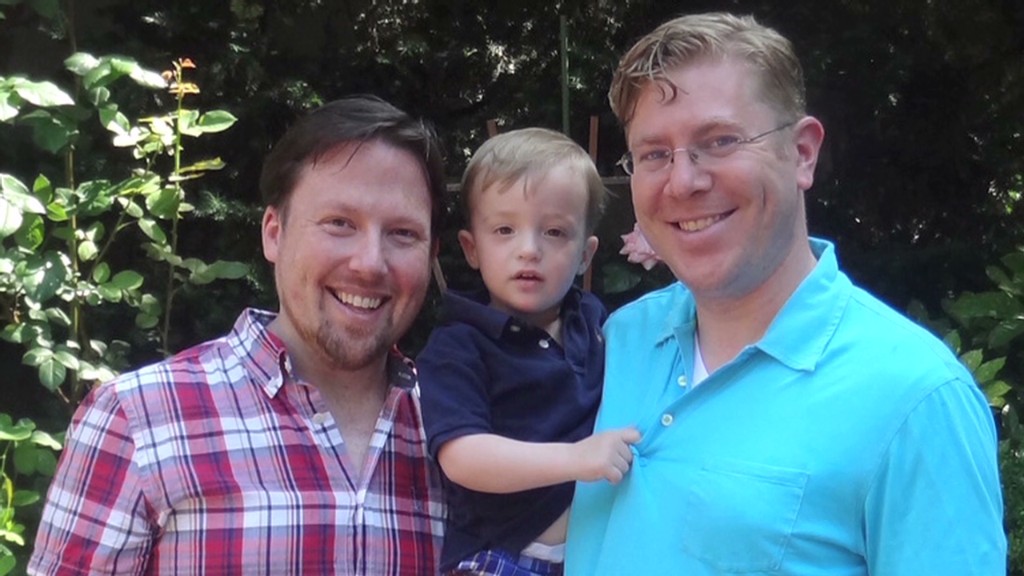 3. What happens if a same-sex couple was legally married in one state but now lives in a state that doesn't recognize same-sex marriage?
Individual federal agencies, like the IRS and the Social Security Administration, will likely issue guidance on this soon. Currently, some benefits are extended based on the state where a couple is currently a resident, while others are based on the state where a couple was married, said Scott Squillace, principal at Squillace and Associates.
"We will be working with the Department of Treasury and Department of Justice, and we will move swiftly to provide revised guidance in the near future," the IRS said in a statement after the Supreme Court announced its decision on DOMA.
The ability to take family medical leave to care for a sick spouse is also up in the air. As it stands now, this benefit is only available for couples who are residents of a state that recognizes same-sex marriage, said Linsky. The Department of Labor would need to issue a regulation or guidance that extends the benefit across the board or bases the eligibility on the state where a marriage was celebrated.
Related: Same-sex couples: Beware the marriage penalty
But given that there are more than 1,000 different benefits at play, it may take some time for the various federal agencies to provide guidance and help same-sex couples understand what they are and aren't eligible for, said Squillace.
4. Will same-sex couples be able to receive any benefits retroactively?
It's still unclear whether couples will be able to receive Social Security payments or other benefits that they missed out on because of DOMA, but same-sex couples are able to file amended tax returns for the past three years to try to recoup any extra income tax or estate tax they paid due to the law, said Miller.
This could result in a windfall of thousands of dollars for some couples. The IRS hasn't commented on whether it will definitely grant refunds to those who amend their returns for this reason, however.
Do you have questions about what DOMA being overturned means for you? E-mail blake.ellis@turner.com.