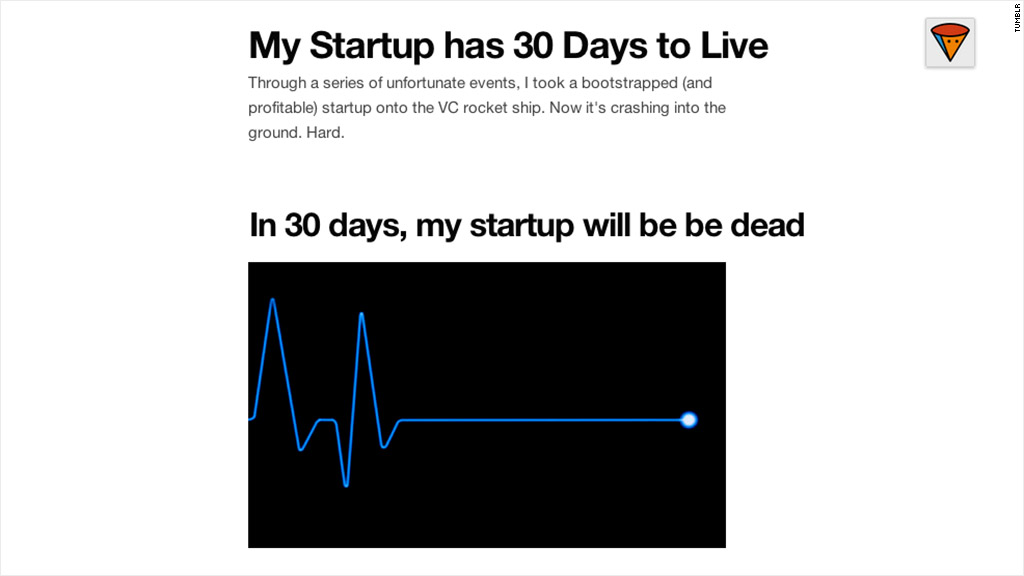 "In 30 days, my startup will be dead."
With those blunt words, an anonymous entrepreneur began chronicling a part of the startup life cycle that almost never gets talked about: the painful, messy demise.
His Tumblr blog, "My Startup Has 30 Days to Live," has become an object of fascination in the startup community. Last week, the author launched his blog and laid bare the depths of his desperation: "I'm overwhelmed, stretched so thin and unable to do a really good job at any of my duties. I don't sleep nearly enough," he wrote. "I'm scared."
On Friday, the blogger ran out of cash to make payroll. The post carried the tag #DeathRattle.
Failure can be a badge of honor in Silicon Valley -- but only as part of a triumphal narrative that culminates in success. Instagram was launched from the ashes of a check-in service called Burbn, then sold to Facebook (FB) for $1 billion. Serial entrepreneur Max Levchin killed four companies before co-founding PayPal. Founders "pivot" away from near-death experiences and go on to greater glory, then recount their war stories in bars and keynote speeches. There's even an annual gathering devoted to disasters: FailCon.
Discussing debacles in real-time, while they're happening, is rare.
"I have never heard anybody talk like this, or even hint at it," said New York entrepreneur Andrew Holmes-Higgin, who tweeted about the blog. "The usual tone in the startup world is, 'The future is so bright I gotta wear shades.'"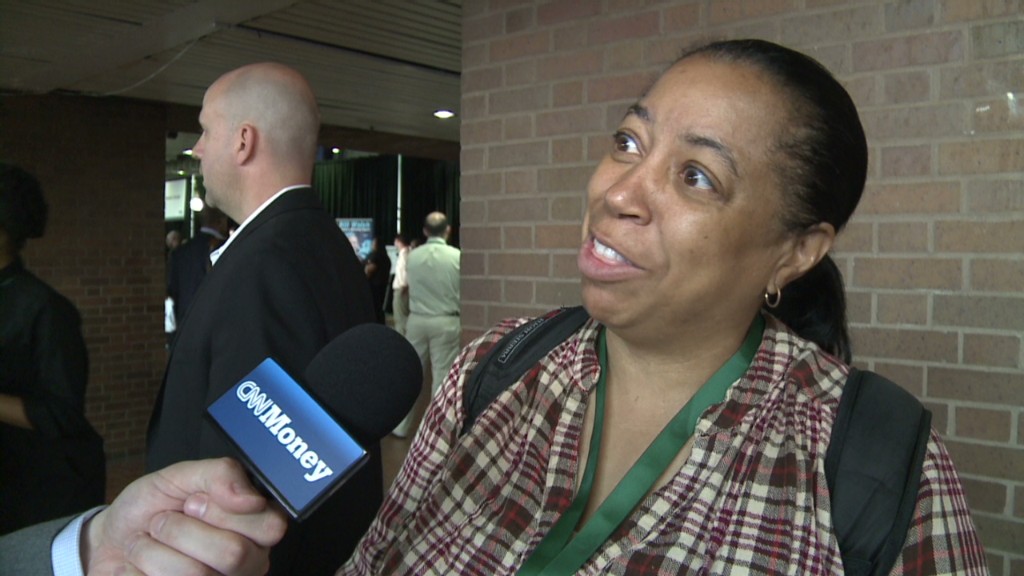 Though the blog author's identity is a secret, the milestones he name-checks are familiar to many of those following along. His company landed a spot in "a very well-known accelerator," took on funding from investors, "hit the top of TechCrunch" and launched a series of products that had some moderate success -- but "not the million-user strong kind of traction that would make us matter."
Now, the coffers are dry, layoffs are looming, and the business doesn't seem salvageable.
"I realized that even if I had a longer runway, and some awesome bridge-loan was on the table, I could not accept it with a clear conscience," the author wrote.
Related: CNN's 10 startups to watch
His last remaining hope is to seal an "acqui-hire" deal, the industry term for a takeover in which the buyer is really after the staff, not the product. They're often used as a graceful exit for a dead-in-the-water business.
As the "30 Days" writer puts it: "How do you fail with dignity when you're responsible for a team? ... You sell them to whoever is kind enough to be the first who takes your company out back and shoots it."
His tale is eliciting both empathy and gratitude. Many of those commenting say they're relieved to finally hear someone speak bluntly about how isolating and scary it is to be in charge of a failing business.
Jerry Colonna, a former venture capitalist who now runs a life-coaching business, says "30 Days" captures the grim reality of what entrepreneurship is like. Many of his clients struggle with depression and other mental heath issues.
"Everybody wants to celebrate the Mark Zuckerbergs or David Karps," he said. "It sends a message that this is the norm, when in fact the norm is incredibly difficult, unlikely to succeed, and emotionally difficult."
The tech community typically talks about those problems only when tragedy hits. Ben Huh, CEO of the Cheezburger humor empire, went public not long ago about his struggles in the wake of his previous startup's collapse.
"I was thoroughly broke, depressed, and feeling the burden of losing hundreds of thousands of dollars of other people's money," he wrote in his blog. "Death was a good option — and it got better by the day."
Entrepreneur Jody Sherman's suicide in January, which came as his e-commerce business went broke, "scared the crap out of people," Colonna said.
Talking about the rotten parts of the startup lifecycle -- including the very strong likelihood that you'll fail, lose the money put up by friends and investors, and have to fire people who took a risk and work hard for you -- helps spread the word that this kind of struggle is normal, he said.
Holmes-Higgin, who left a corporate job last year to launch a music industry software startup, said it's eye-opening to watch the "30 Days" failure unfolding.
"Everyone talks about how their product is the coolest thing ever, how people are chasing them down trying to give them money," he said. "And then suddenly you don't hear any more. They drop out of sight. Eventually, you kind of, sort of know."
The "30 Days" blogger blames himself for his company's imminent demise, but he also has some scathing words for the investors and "mentors" whose advice better served their own interests.
The "accelerator" that was supposed to strengthen his startup simply "sped up our ability to play the startup game," he wrote. The venture capital "rocket ship" reversed his company's trajectory and sent it hurling toward a crash. The speculators now talking with the company about takeover options -- "men who use an abundance of designer hair products" -- are like circling scavengers "waiting until the lights go out before looting."
In the end, his startup's most valuable creation may be this diary of its downfall.
"As much as I've written about accepting the 30-day prognosis, I really don't want to," the entrepreneur wrote in his most recent entry. "We made some bad decisions along the way but there is something here, I just wish we had the time to figure out what it would be."