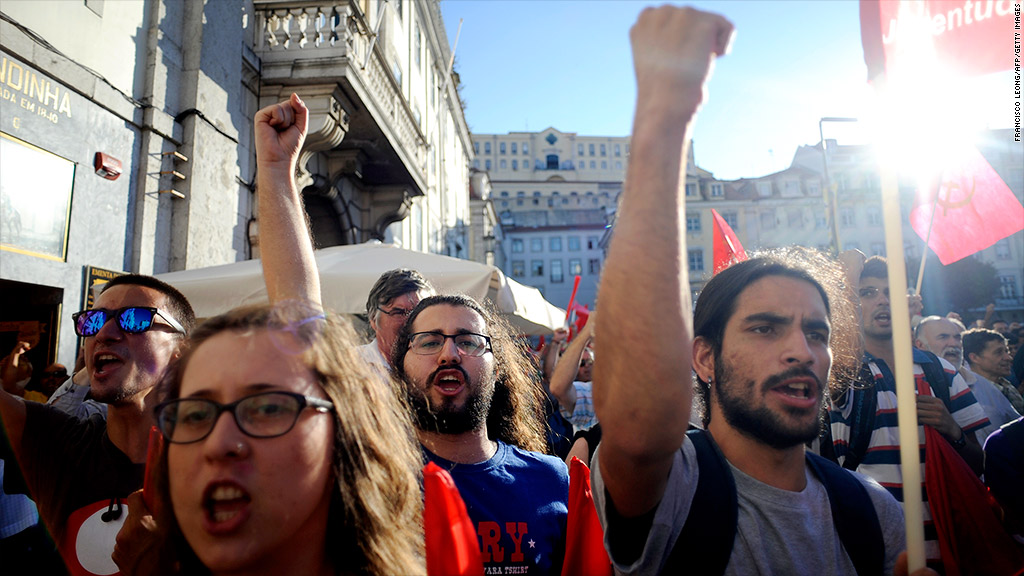 Fears of a new euro zone crisis have receded.
The economies of Portugal and Greece remain ravaged by recession and austerity measures tied to international bailouts. But Portugal has patched up its fraying coalition government, and it looks like Greece will reach a deal with lenders that should ensure its bailout cash keeps flowing.
Earlier in the week, borrowing costs in southern Europe had jumped on concern about the stability of both countries. The Portuguese government was shaken by the resignation of two key ministers. Meanwhile, Greece struggled to convince the EU and International Monetary Fund that it's able to meet the terms of its bailout.
Yields on 10-year government bonds fell back on Friday. The drop was helped along by signs of progress in both countries and the European Central Bank's commitment Thursday to keep rates at current levels or even lower for "an extended period." Portugal's 10-year yield was back below 7% after spiking to 8%.
Prime Minister Pedro Passos Coelho said late Thursday that he had found a "formula" to keep his coalition government together and head off the biggest political crisis the country had faced since it was granted a 78-billion euro bailout in 2011.
"The chances are that the crisis has been nipped in the bud," said Christian Schulz, senior economist at German bank Berenberg. "Pressure from Brussels and the markets was combined with a remarkably calm response by Prime Minister Passos Coelho."
Greece's finance minister Yannis Stournaras said progress was being made on all fronts in talks with the EU and IMF officials. He now expects a deal can be reached so that eurozone finance ministers, who meet on Monday, can sign off on the release of the next chunk of rescue loans.
Related: France wants to delay EU-U.S. trade talks
Now in its sixth year of recession, Greece has fallen behind with reform of the public sector and health care, and privatization receipts will be lower than expected.
EU sources have said that the money -- which Greece needs to redeem bonds maturing in August -- could be withheld or released only in stages if ministers aren't satisfied with Greek efforts to meet the conditions of its 240-billion euro bailout.
Portugal's ministerial resignations were triggered by waning public support for austerity measures. They threatened to trigger fresh elections that could have slowed the pace of economic reform and raised fears that Portugal may need further financial support from its eurozone partners.
And while the threat of early elections has faded for now, popular anger at the painful reforms and rising unemployment could bring renewed instability.
"(G)rowing political uncertainty could derail Portugal's forthcoming debt issuance and its hoped-for exit in 2014 from the (EU-IMF)-sponsored support program," said Standard & Poor's as it cut the outlook on Portugal's BB long-term credit rating to negative from stable.
Portugal's economy has paid a heavy price for the spending cuts and structural reforms demanded in return for the rescue loans. Gross domestic product is forecast to shrink by 2.3% in 2013, a third consecutive year of recession, and unemployment has hit a record high of close to 18%.
The government of Portugal has found it increasingly difficult to meet the terms of its bailout -- some measures have been struck down by the country's constitutional court. The country was given extra time earlier this year to hit EU budget deficit rules.