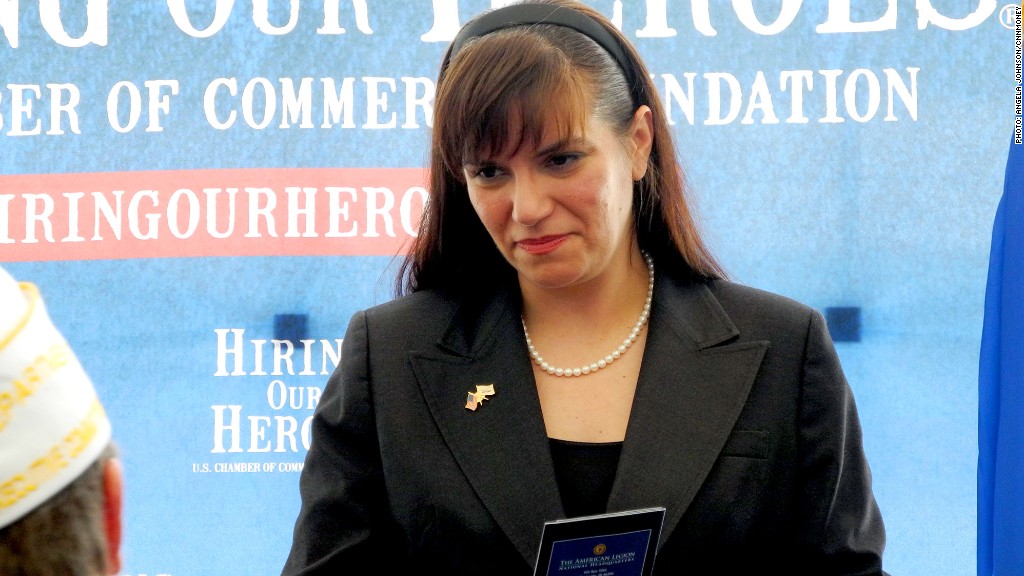 The transition from soldier to civilian is rough. It is even more difficult in a tough job market.
The unemployment rate for veterans who served since the 9/11 attacks peaked at a troubling 15.2% in January 2011. Since then, as the economy has improved and outreach efforts have taken hold, it has fallen by more than half to 7.2%.
But still, an estimated 160,000 men and women who served in Iraq and Afghanistan are currently out of work, and many veterans face daunting challenges in their job hunts.
Some prospective employers look the other way because they think an applicant may be suffering from post-traumatic stress disorder. Many veterans, experts say, have a hard time explaining how their military experience can be valuable for civilian employers.
One of the efforts working to help overcome these obstacles and connect veterans and employers is the U.S. Chamber of Commerce's Hiring Our Heroes program.
Launched in March 2011, Hiring Our Heroes has hosted 560 job fairs and has placed 20,200 veterans and military spouses in jobs.
Rebecca Newman, a retired Air Force data management specialist, knows both sides of the story.
Related: Feds crack down on lenders bilking military members
She had been looking for work for about five months when she attended her second Hiring Our Heroes job fair. She made her case to recruiters for Verizon Wireless: She talked about the skills she learned in the Air Force and made sure to note how the company's organizational structure was much like the military's.
About two weeks later, Verizon Wireless called and offered her a job in the company's network security division.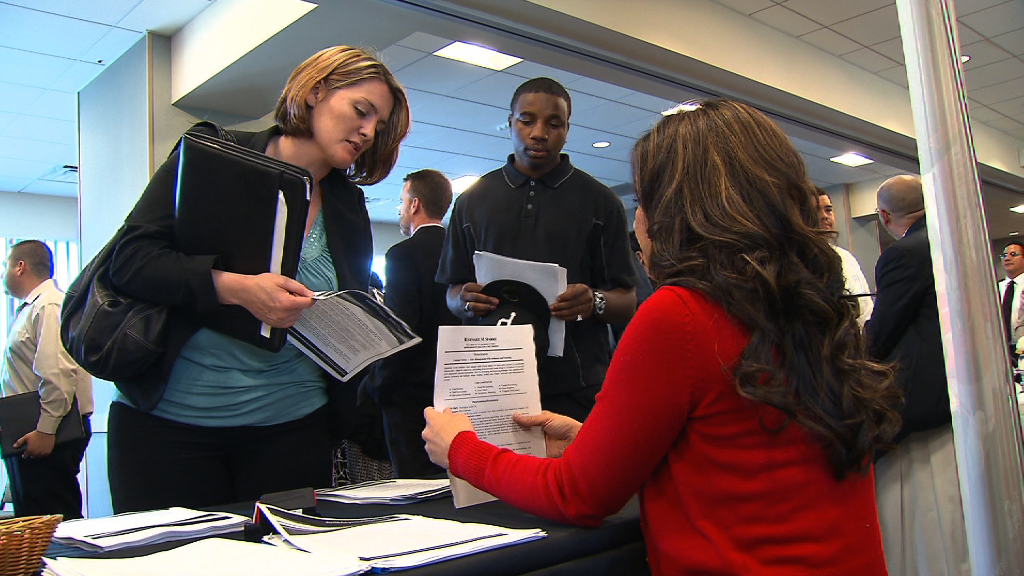 "I spoke with other employers that weren't as supportive in seeing how your skills fit in their organizations," said Newman, who is 38.
At a recent job fair in Rutherford, N.J., Newman worked the recruitment table from the other side.
Not all of the job fair attendees are as successful, however.
Stephen Dotto, who is 34, served in the Navy for five years as an air traffic controller. When he left the military, he didn't want to do the same job. Instead, he wanted a career that allowed him to give back.
"I felt that I would have a lot more to offer people as a counselor," he said.
Related: $275,500 gun hits targets at 1,000 yards
Since he began his job hunt in January, he has applied for 150 jobs and has received no offers. Almost two weeks after he attended the recent Hiring our Heroes job fair, he hasn't heard back from any of the employers he left resumes with and has received no responses from his five follow-up emails.
"It makes me feel a little disappointed that the job search has to continue," said Dotto. "Luckily my wife works, but kids are on hold right now."
Another veteran, Jason Boyle, put in hundreds of applications to no avail, but at the final job fair he planned to attend, he finally met with success.
Boyle is a former infantryman who served two tours in Afghanistan. During his first deployment, he was ejected from his Humvee and sustained injuries that required dental reconstruction. Later, while seeking cover during a fire fight, he shattered his knee. Medically discharged last year, he spent eight months searching for a job.
"I probably put in 300 applications and resumes," Boyle said. He also attended four job fairs and met with at least 75 recruiters.
"I was about to give up on [Hiring our Heroes]," said Boyle. "December 2012 was the last one I was going to."
In fact, Boyle walked right past the recruiters for AJ Telecom Group in December. He knew the likely job he might be offered, climbing cell phone towers, would be hard on his knee. He also had grown skeptical about the motivations of companies at the job fairs.
"I thought they were there for publicity and weren't actually hiring veterans," said Boyle.
As Boyle was leaving, he decided to speak with the AJ Telecom's recruiters anyway. Early the next week, he was offered a job. Now Boyle, a compliance manager, helps recruit other veterans at job fairs.
"I've been in their shoes," he said. "I know what they're going through."