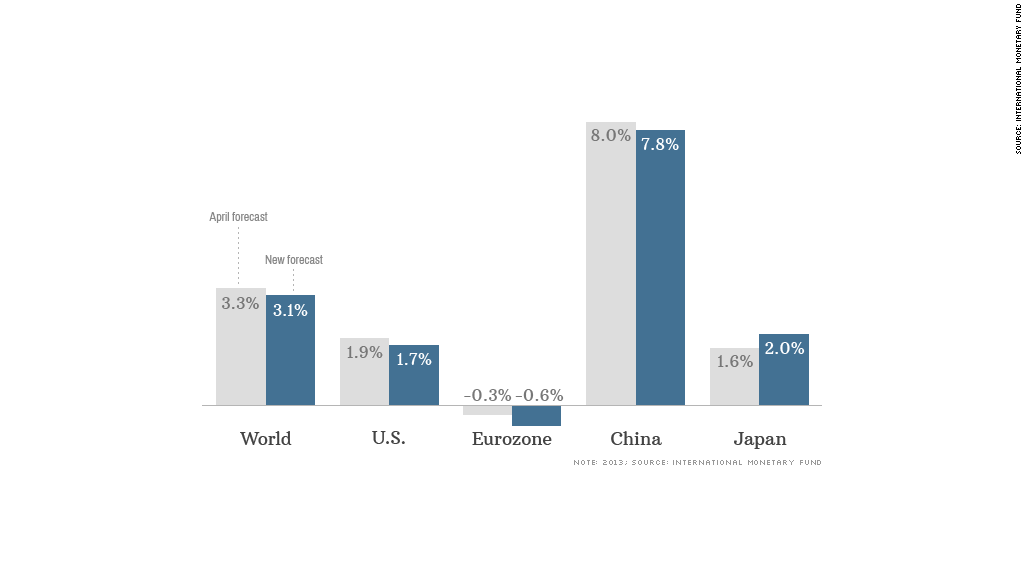 The International Monetary Fund cut its forecast for world economic growth for a third time this year due to slowing emerging markets and a prolonged recession in the eurozone.
In an update to its World Economic Outlook, the IMF said Tuesday that it now expects world output to expand by just 3.1% in 2013, down from 3.3% in April. In January, it was forecasting growth of 3.5%.
The revision means the global economy will have failed to pick up pace over the past two years, although the IMF expects a slight acceleration in growth in 2014 to 3.8%.
Since its last global report in April, the IMF has cut its 2013 growth forecasts for the U.S. and China to 1.7% and 7.8%, respectively. And it now expects the eurozone economy -- mired in its longest recession -- to shrink by 0.6% this year, double the rate of contraction forecast in April.
"While old risks remain, new risks have emerged, including the possibility of a longer growth slowdown in emerging market economies," the IMF said, pointing to slowing credit growth and the possibility that capital will return to the U.S. if the Federal Reserve begins to unwind its policy of buying government bonds to keep interest rates low.
Related: Chinese buyers flood U.S. housing market
Recent data from China point to a slowdown in its huge manufacturing sector. And attempts by Chinese policymakers to control runaway real estate markets and avoid a credit bubble have unnerved investors in recent weeks and prompted private sector economists to cut their growth forecasts.
The knock-on effect of slower growth in China is already being felt in other commodity-rich emerging markets such as Brazil and South Africa. The IMF cuts its forecast for Brazil to 2.5% from 3% and for South Africa to 2% from 2.8%.
Three major economies should buck the trend, however. Japan, basking in the early success of Abenomics, could see growth of 2% this year, up from a previous forecast of 1.6%. The IMF has also revised up its 2013 forecasts for the U.K and Canada by 0.3% and 0.2%, respectively.
Business sentiment surveys have begun to suggest the rate of decline in the eurozone is slowing but there's still considerable risk to official forecasts of a return to growth later this year.
Related: Greece gets deal with bailout lenders
The European Central Bank said last week it had a downward bias on interest rates and would maintain that stance "for an extended period," given the challenge the region faces in balancing the goal of further reducing government borrowing with the need to stimulate activity to bring down record levels of unemployment.
Germany, the region's biggest economy, provided a stark reminder Monday of the mountain Europe still has to climb. Its exports to the eurozone fell by 9.6% in May compared with the same month last year, and by 1.6% to countries outside Europe.
In a separate report on the eurozone last week, the IMF warned that fragmented financial markets and the high cost of borrowing in peripheral nations was depressing activity across the region.
It called on European leaders to do more to repair bank balance sheets, complete work on a banking union, provide further support to the economy via easy monetary policy and show more flexibility on austerity while preserving medium-term debt reduction goals.