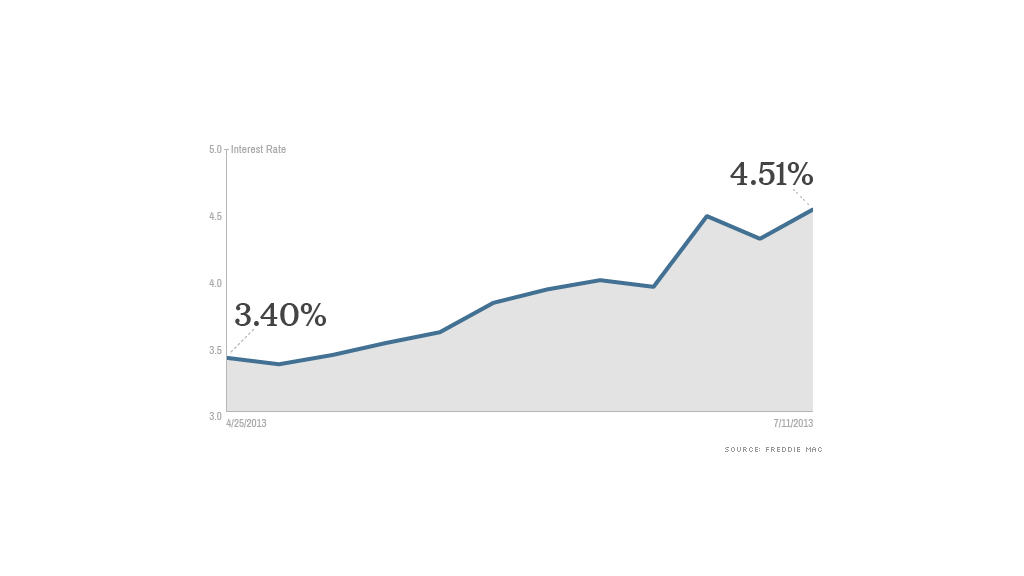 The 30-year mortgage rate rose to its highest level in nearly two years, according to mortgage financing company Freddie Mac.
Rates climbed 0.22 percentage points to 4.51% for a 30-year, fixed-rate loan this week, the highest it has been since July 2011. Meanwhile, the average rate for a 15-year loan hit 3.53%, up 0.14 percentage points.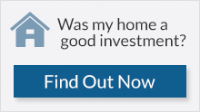 Related: Best advice now for homebuyers and sellers
Two weeks ago, a sharp spike in rates of more than half a percentage point was blamed on hints by chairman Ben Bernanke that the Fed would soon start tapering off its purchases of up to $85 billion a month in bonds and mortgage-backed securities, a stimulus program designed to keep borrowing costs low.
This time, the culprit is the economy, said Keith Gumbinger, vice president of HSH.com, a mortgage information web site.
"Strengthening employment data put the bond and mortgage markets on the defensive again," he said. "The employment report for June, released last Friday, was firmer than expected, and upward revisions to April and May figures showed that hiring is on stronger footing than was previously believed."
It wasn't just the job gains that drove rates higher. Hourly wages also rose 2.2% over the past 12 months, the largest annual increase in nearly two years, according to Frank Nothaft, Freddie's chief economist.
Related: Quiz: How much do you know about mortgages?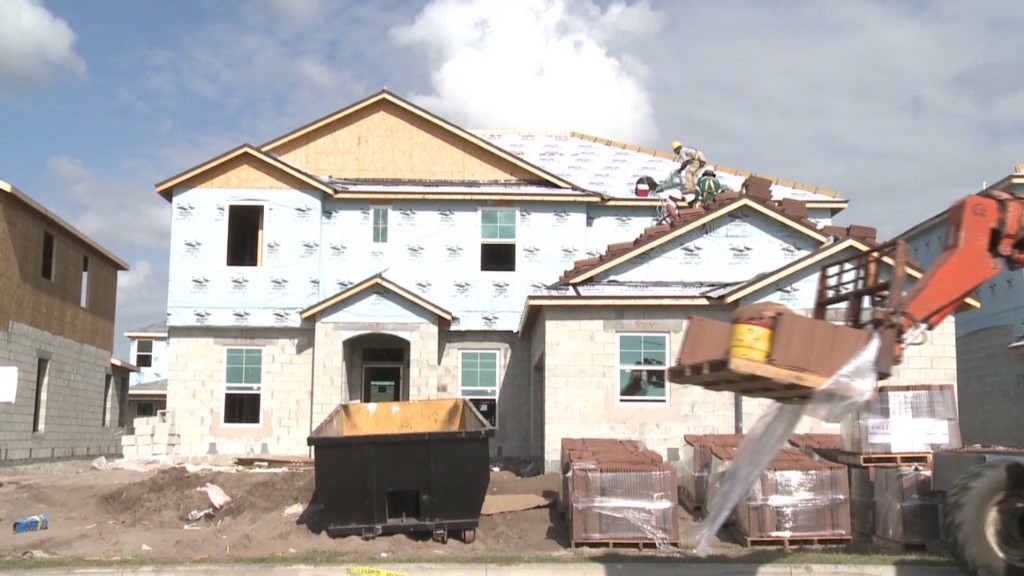 The rate increases signal trouble for house hunters, however. A survey by online real estate company Trulia found that an increase in mortgage rates was the number one worry among 41% of consumers, even ahead of price increases.
Rates have risen more than a percentage point since early May, from 3.35% to 4.5%. That has added about $65 to monthly mortgage bills for every $100,000 a homeowner borrows. Combined with the 12% rise in home prices over the past 12 months, mortgage payments have gone up by about 25% for a typical homebuyer.
Related: Scary times hit mortgage shoppers
So far, however, the biggest impact of the rate increases on the mortgage market has been to discourage existing homeowners from refinancing their loans. Refinances decreased to 64% of all mortgage application activity this week, down from about 75% or more before rates started moving higher, according to the Mortgage Bankers Association.
Earlier this week, the Fed seemed to calm fears about an early end to its bond buying program and, as a result, there was some speculation that mortgage rates would start to drop again. Gumbinger said rates leveled off earlier this week, but it's still too early to tell if they will move lower.
Either way, bond investors seem to have grown accustomed to the reality that the Fed will opt out of its buying program, according to Gumbinger. "What's not known is how quickly that will happen," he said.