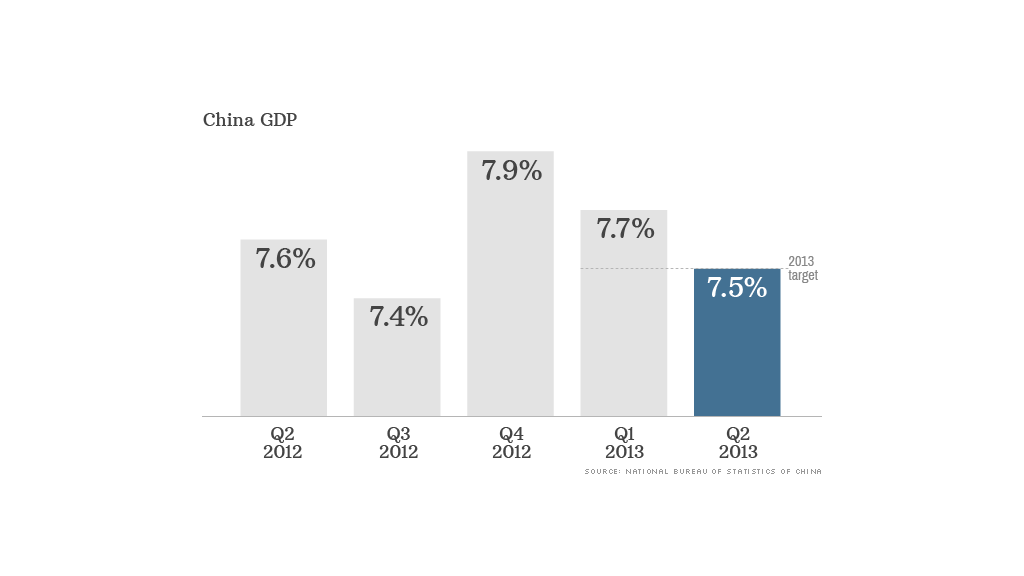 China's economy grew at a slower pace in the second quarter, continuing a trend that will test the country's leaders as they seek to execute painful structural reforms.
Gross domestic product grew 7.5% over the previous year during the second quarter, the National Bureau of Statistics reported Monday. That performance matches the government's target and the consensus estimate from private forecasters. First quarter 2013 growth was 7.7%.
Initial market reaction in Asia was muted, with most indexes in positive territory following the release.
GDP is closely watched in China as it provides the most complete portrait of the world's second largest economy, and government officials use it as a benchmark to gauge performance.
China has averaged growth of around 10% a year in the past three decades, propelling it up the list of biggest economies, generating wealth for its growing middle class and boosting global trade.
But many economists now say that China's economy relies too heavily on investment, a trend that has distorted the country's housing market and placed great emphasis on exports over consumption. In addition, the rules governing the country's equity markets make raising capital difficult for some businesses.
And state-owned enterprises, which dominate entire sectors of China's economy, are too frequently the recipients of favorable loans and treatment from the government.
Related story: Economic slowdown tests China's leaders
China's current leadership is attempting to execute a series of structural economic changes that will help address these challenges and move the country to a more sustainable growth model.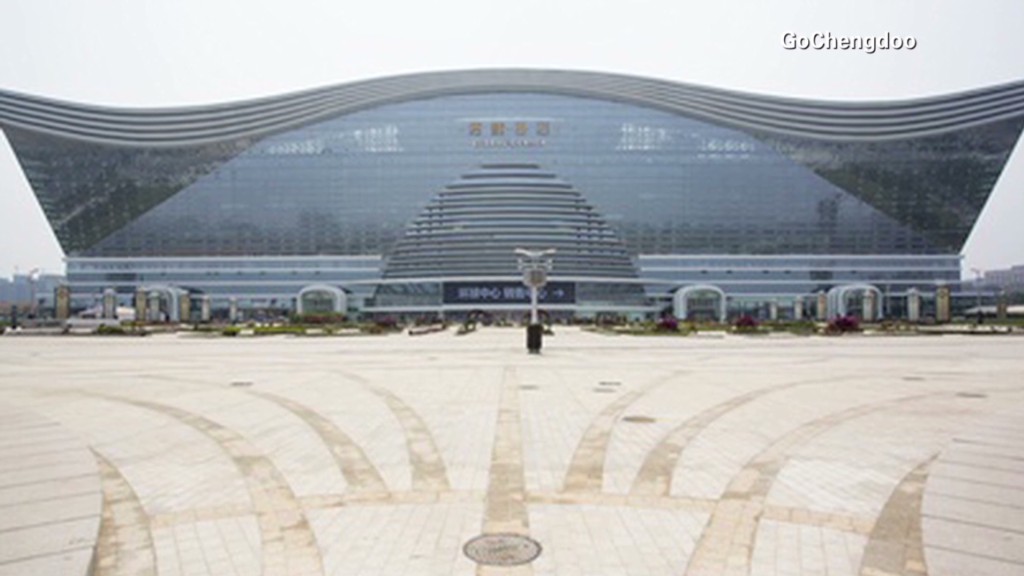 The path forward, most analysts agree, requires China to move toward an economy in which consumption drives growth.
President Xi Jinping and Premier Li Keqiang are by all accounts determined to proceed with the reforms, even if it means tolerating slower growth for now.
Inflation, a problem in 2012, has been tame so far this year.
Related story: Pin the tail on China's growth target
The key question of the moment is just how much the economy can slow before the government intervenes in a bid to support growth.
Wei Yao, an economist at Societe Generale, said Monday that the GDP data is unlikely to draw new stimulus measures from Beijing.
"Signs of any meaningful recovery in China's domestic demand remained limited, but the degree of deceleration is probably still acceptable to the new leadership," Yao said.
Many analysts are not optimistic that economic expansion will regain momentum over the coming months.
Economists at Japan-based bank Nomura, for example, said before the GDP release that there is a 30% chance that growth will fall below 7% in the second half of the year.