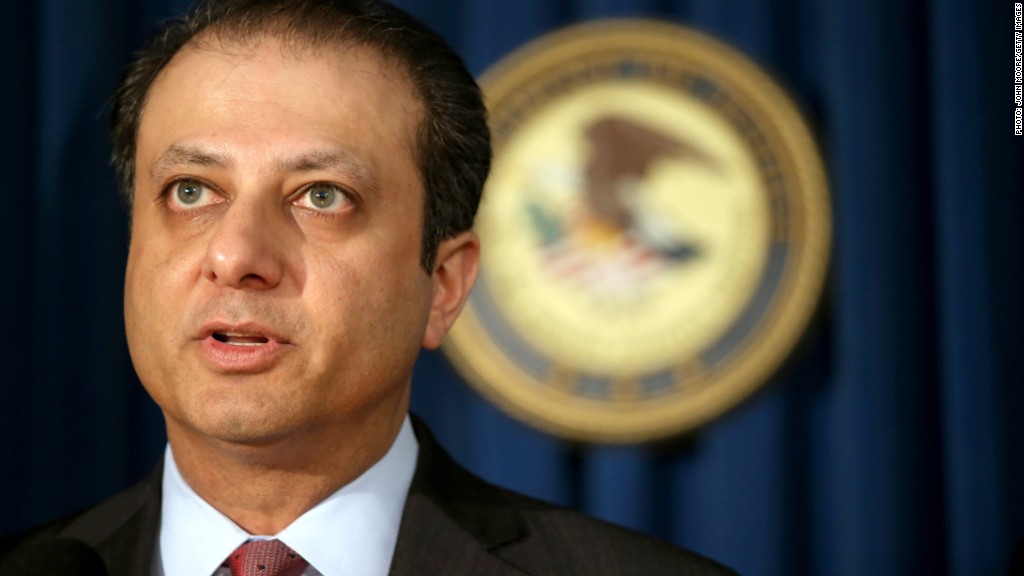 Preet Bharara isn't worried about the clock running out on high-profile investigations. The U.S. attorney for the Southern District of New York doesn't even wear a watch.
Bharara's office has an unblemished record for prosecuting insider trading cases: 73 convictions or guilty pleas out of 73 (8 are still pending).
But he has not managed an indictment against a major hedge fund manager: SAC Capital's billionaire founder, Steven A. Cohen. There's been rampant speculation that Bharara's office must indict Cohen in the next few weeks, before a key statute of limitations runs out.
"A lot of people think they know what we're investigating but they don't," Bharara said. "People think they know the statute of limitations but they don't."
Speaking at CNBC's Delivering Alpha conference in New York Wednesday, Bharara declined to comment directly about SAC or other pending cases, but said his office has more room to maneuver than many people think.
He hinted that his office might consider charging "an institution" for corporate malfeasance.
"If you're an institution that has, on multiple occasions, committed misconduct, you need to be held responsible in a serious way," he said. "In order to have a deterrent effect, there has to be some extraction of a penalty."
He stayed away from mentioning SAC but it was tempting to read between the lines.
Nine former or current SAC employees have been charged with insider trading, and the firm has already paid a record $614 million fine to the SEC.
Bharara noted that for firms that make big profits, even large fines may not be enough of a deterrent.
Going after SAC as a firm rather than indicting Cohen would be difficult. Such indictments can put companies out of business and are notoriously hard to win. Bharara admitted as much. "We rarely bring cases against a company, but with continued malfeasance over time, it can be appropriate."
Related: SAC not closing its doors to investors
He cited accounting firm Arthur Andersen as an example of the challenges these cases face.
The Justice Department ultimately lost its case against the accounting firm for its role in the Enron scandal, but not before pushing Arthur Anderson into bankruptcy. Bharara said he's aware of the "collateral consequences" that such indictments could cause and said his office does take into account the possibility of ending thousands of jobs. SAC currently has roughly 1,000 employees.
Bharara's office is often criticized for failing to prosecute crimes leading up to the financial crisis. Bharara made it clear that there's still time to bring those cases to the courts. The statute of limitation on fraud for financial institutions is 10 years, he noted.
"I don't think anyone is too big to indict or to jail," he said.
The takeaway from the so-called sheriff of Wall Street: if you're engaging in financial fraud or watching it happen, be afraid. Be very afraid. "People shouldn't be waiting for time to run out," said Bharara. "That's not a good way to behave."