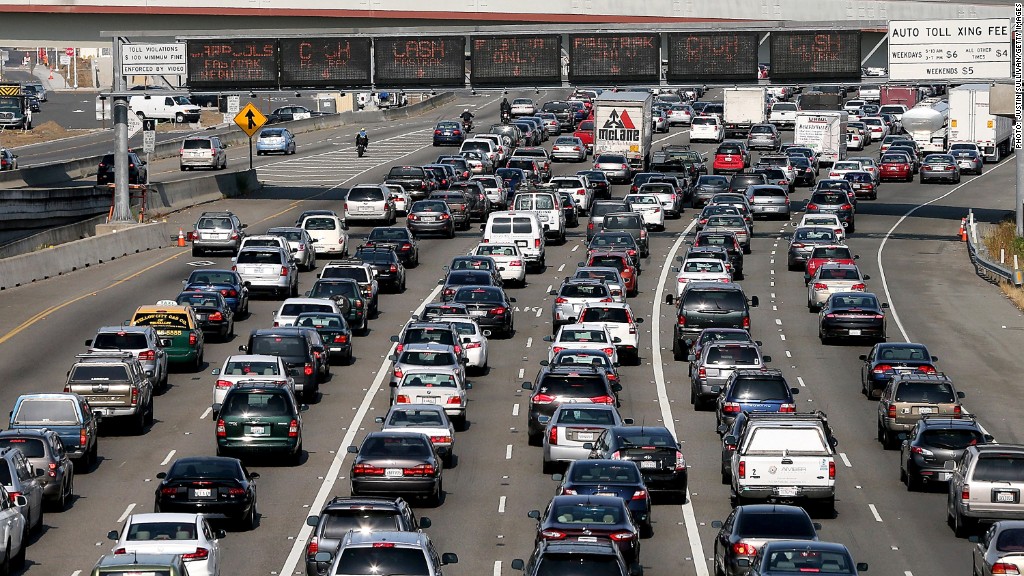 Gas prices are significantly higher and likely to go higher still, which could make this the most expensive summer at the pump in five years.
The average price is now $3.67, and Tom Kloza, chief oil analyst for GasBuddy.com, predicts there's at least a 50% chance gas could top the $3.79 a gallon high for the year reached in February.
The rise in crude oil prices is one of the major factors in the recent gas price run-up, since oil prices end up being passed onto consumers. And while retail gas prices have risen quickly, they haven't kept pace with wholesale prices on the commodities markets -- meaning it's virtually certain you'll pay more at the pump, and soon.
Here's a breakdown of what's driving the recent gas spike, and what drivers should be worried about later this summer:
Political turmoil
The toppling of the government in Egypt and some other political upheaval in North Africa hasn't significantly cut into U.S. oil supplies yet. But it's made oil traders wary, which itself has been enough to raise the price of oil. Oil futures are up $4.72 a barrel, or 5%, to nearly $106, since the protests that toppled Egyptian President Mohammed Morsi started in late June.
"I think that's the biggest factor," said Kloza.
Upheaval in the commodity markets
Since investors started worrying about the Federal Reserve cutting back on stimulus, the prices of safe-haven commodities such as gold have plunged. Much of the money that came out of gold seems to be flowing into oil futures, driving up those prices, Kloza said.
Related: California gets $4-a gallon gas. Who's next?
"Commodity investors have the largest bullish position (in oil) we've ever seen," he said. "It's quite bubbly at the moment."
Americans hitting the roads
Americans are hitting the highway this summer, meaning gasoline consumption is way up. That has taken crude oil inventories down by 24 million barrels since the end of May, which is 24% more than supplies of oil fell in the same period last summer. And a tighter oil supply equals higher prices.
"There's been a real driving surge, whether because of pent-up demand or what, I'm not sure," said Kloza.
Troubles ahead: Refinery problems and storms
Right now, North American refineries are operating at close to peak capacity, as refinery operators try to do every summer. But getting through a summer without problems can be the exception, not the rule.
Related: What's gas cost where you are?
Kloza said there is buzz in the industry that the Irving Oil refinery in St. John, New Brunswick, Canada, might need to shutdown for some unscheduled maintenance. That could send gas prices sharply higher in the Northeast U.S., since the refinery is one of the ten largest in North America. Irving Oil did not return a call requesting a comment on those reports.
And if there are any hurricanes or even hurricane threats to the oil platforms and refineries along the U.S. Gulf Coast, that could quickly cause price spikes across much of the nation.