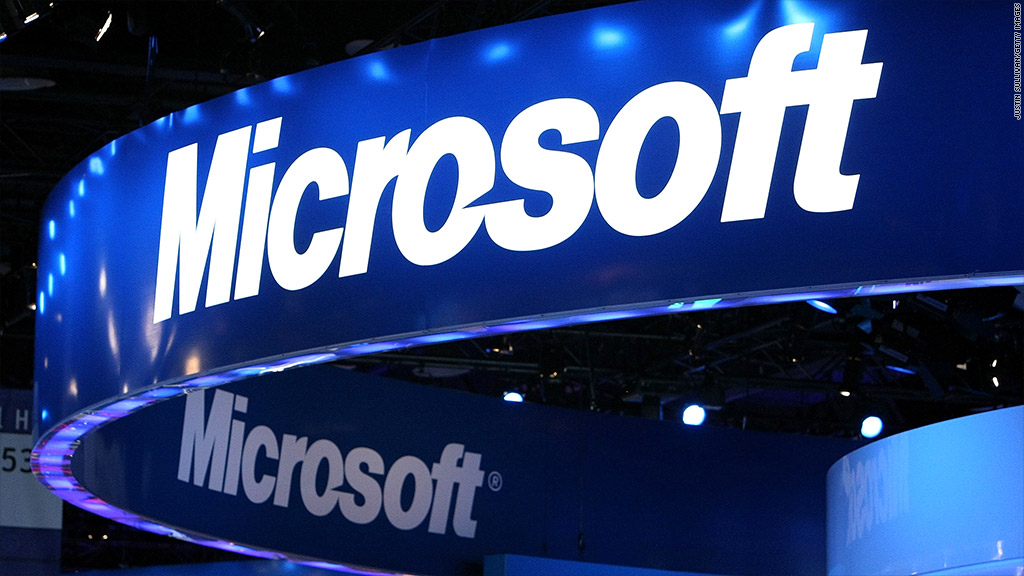 Microsoft took a big write-down on its highly touted but poorly adopted Surface tablet last quarter, causing the company to badly miss Wall Street analysts' profit expectations.
The Redmond, Wash., based software giant said Thursday that its fiscal fourth-quarter net income rose to $5 billion, or 59 cents per share. Analysts polled by Thomson Reuters forecast Microsoft (MSFT) earnings of 75 cents per share.
Sales rose 10% to $19.9 billion, also falling far short of the $20.7 billion analyst had forecast.
Shares of Microsoft fell 11% on Friday.
Results were negatively impacted by a whopping $900 million write-off of Microsoft's Surface RT inventory. Microsoft recently knocked $150 off the price of the tablet, which debuted in October and initially sold for $500. It is the first PC designed by Microsoft, but the company says its own devices will become a big part of the company's strategy going forward.
Following the sweeping reorganization of the company earlier in July, which no longer divides Microsoft's business units according to specific products, the challenge for the company's management will be to strengthen that devices side of its operations.
Devices boss Julie Larson-Green faces a host of challenges to get that job done. First, she'll have to help produce a Surface tablet that can transition Microsoft into the post-PC market amid slumping PC sales. She also must also fix the current public perception of the Xbox One video game console, which has been a PR nightmare for a variety of reasons, ranging from privacy snafus to digital rights management of content.
Related story: Windows 8.1 is as good on small tablets as big ones
With the Surface failing to catch on, software chief Terry Myerson must figure out where the Windows RT platform -- a variant of Windows 8 designed for tablets -- fits into Microsoft's future strategy. In addition to the shortcomings of the Surface RT, few hardware partners supported the platform when it was introduced last year. Lenovo, Samsung and others have since stopped producing RT devices.
Microsoft hasn't helped its cause by failing to properly explain what differentiates Windows RT from Windows 8. As a result, hardware makers have largely settled on Intel-based hybrid devices that are neither great tablets, nor great PCs, which hurts Microsoft's Windows strategy. Acer, for example, recently released the first eight-inch Windows tablet opting to use Windows 8 instead of the RT platform -- a stinging blow to Microsoft's RT hopes.
Still, Microsoft's director of Investor relations Lisa Nelson says that Microsoft is fully committed to Windows RT, pointing out a three-fold increase in the number of markets where Surface RT is available since last year.
Microsoft CEO Steve Ballmer also touched on the importance of devices for Microsoft going forward.
"We are working hard to deliver compelling new devices and high value experiences from Microsoft and our partners in the coming months, including new Windows 8.1 tablets and PCs," said Microsoft CEO Steve Ballmer, in a prepared statement.
Microsoft is placing most of the blame for its performance on slumping PC sales, but is still encouraged by business from its corporate customers and results from many of its services.
Though Microsoft had little to offer on Skype financials, it did mention that usage of the service is higher than ever. Microsoft also said it is still encouraged by Xbox Live subscription sales.
Microsoft says its Office 365 service is growing at a satisfactory rate with 1.5 million subscribers and expects Office to be successful in the long term. But excluding deferred revenue from a recent upgrade offer, Office sales would have plummeted 27% last quarter.
Rival Google (GOOG) also reported disappointing earnings and sales on Thursday.