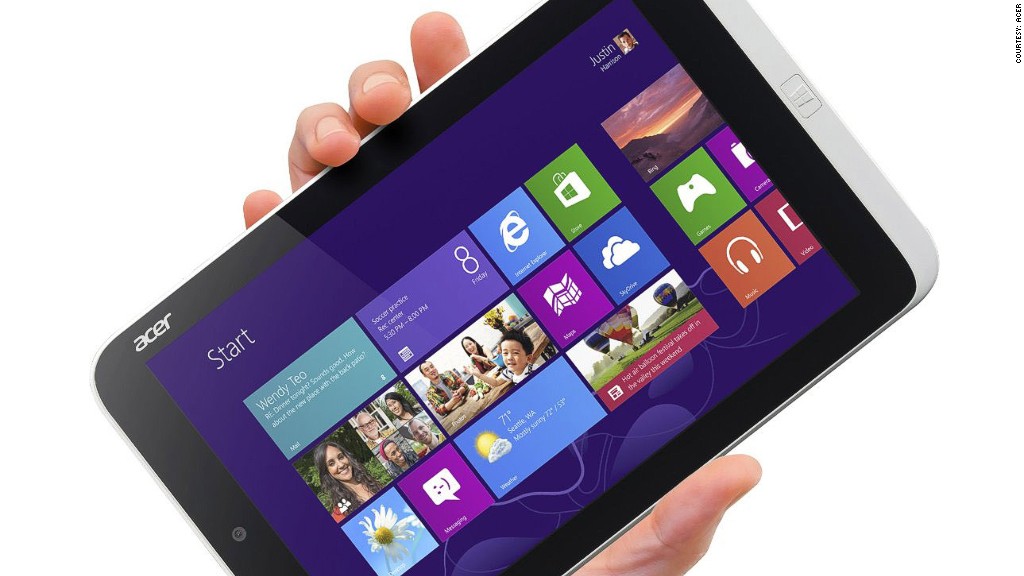 Acer last month released the 8-inch Iconia W3 tablet, which happened to be the first "small tablet" to run Windows 8. Unfortunately, it's a pretty terrible tablet. It's heavy and cumbersome, looks and feels like it was designed for a child, and has a display that will bring tears -- sad tears -- to your eyes.
That would be worth discussing at length except that Acer apparently agrees, and is working on a revamped version of the tablet for release later this year. That makes a review of the hardware itself irrelevant.
The software, though, still matters. As the first small Widows 8 device, Acer's misfire helps answer the question: Does Microsoft's operating system hold up in this form factor?
Windows 8 is built around vector-based text and graphics -- which can shrink and enlarge on the fly without affecting their quality -- and responsive design, which basically allows the software to instantly reconfigure its layout based on a device's screen size, orientation and resolution. Everything fits without being too small, too large, or out of place.
This means that Microsoft (MSFT) and its development partners didn't have to do much to make Windows 8 functional on small tablets. With the Windows 8.1 release, though, it's apparent they put a fair amount of thought into tying up some loose ends.
One of Microsoft's explicit goals for Windows 8.1 on mobile devices is to keep users in its new "Modern" interface as much as possible. The desktop mode is designed for a keyboard and mouse; trying to use it with my finger almost provoked a nervous breakdown.
That makes the little fixes sprinkled throughout Modern meaningful. The Start screen and many of the apps have been tweaked to make more efficient use of the display space in portrait mode. Seven- to 8-inch tablets are the natural choice for those who want a reading device, and that means they're typically handled in portrait orientation.
The local file browser inside Microsoft's SkyDrive app is a nice Windows 8.1 addition regardless of device. But on the Iconia W3, its existence really makes sense. Being able to browse, manipulate and organize files without having to go into the traditional Windows Explorer makes a huge difference, especially when you're only using your finger. The same goes for settings. Windows 8.1 pulls more of the options away from the Control Panel and into the Modern menu, which keeps you better connected to touch controls.
Related story: Ouya is a charming but flawed $100 game console
Improvements to the keyboard have been made with the small screen in mind. Features like auto-suggest are long overdue. Microsoft also introduced a new, ingenious idea: flick upwards on the top row of keys to type numbers. The mechanics still need polishing, but the concept is sound.
Snap View, a feature not supported on displays smaller than 1366 x 768 in Windows 8, will now work on small displays on Windows 8.1. That means two apps can share the screen at the same time and allow a certain degree of multitasking. Having a Web browser open in one window and an app like Twitter open in another is especially useful. It's not as much of a necessity for smaller devices, but it works pretty well for those who want to use it.
That said, there's plenty of room for improvement, and Windows 8.1 needs to address a few small screen issues.
An 8-inch tablet is optimal for reading, but Windows 8.1's addition of baked-in, reading-centric features is scatterbrained at best. There's the Instapaper-esque Reading List app, which will take any link you send over and stash it away for later reading. Yet it doesn't reformat webpages and articles into a more-reading friendly format, and it doesn't allow for offline viewing, which strips away much of its utility.
There's also a separate Windows Reader app that only supports PDFs. No e-books. No HTML files. Just PDFs. Yes there are Kindle and Nook reader apps, but if Microsoft is serious about supporting smaller devices, offering better features for readers is crucial. Combining Reading List and Reader into a single app and expanding their overall functionality would make a huge difference.
Internet Explorer is also an area that needs work. Technically speaking, it's mostly fine. It renders pages as well and as quickly as any other browser. But its interface has always felt a little chaotic, and within the more claustrophobic confines of the 8-inch screen, that feeling is amplified. In Snap Mode, the browser is unable to detect webpages that employ a responsive design. Instead of reconfiguring the webpage as you allocate screen space to IE, it simply shrinks the standard page template, which doesn't make it all that usable as a secondary window.
And while it's understandable that Microsoft is letting users run the classic "desktop" mode, it's also so pointless that Microsoft might be better off only allowing access to it when the tablet is connected to an external monitor. It's not a huge issue, but people with unrealistic expectations are bound to be frustrated.
No one should go buy an Acer Iconia W3 -- not with better hardware promised in the near future. But the one valuable thing it did is prove that, conceptually speaking, Windows 8.1 will work almost as well on a 7- or 8-inch screen as it will on a 10- or 20-inch screen. If you don't like Windows 8 to begin with, using it on a smaller device won't provide any epiphanies. But for those already on board, it's worth investing in.
It's just a matter of the right device hitting store shelves.