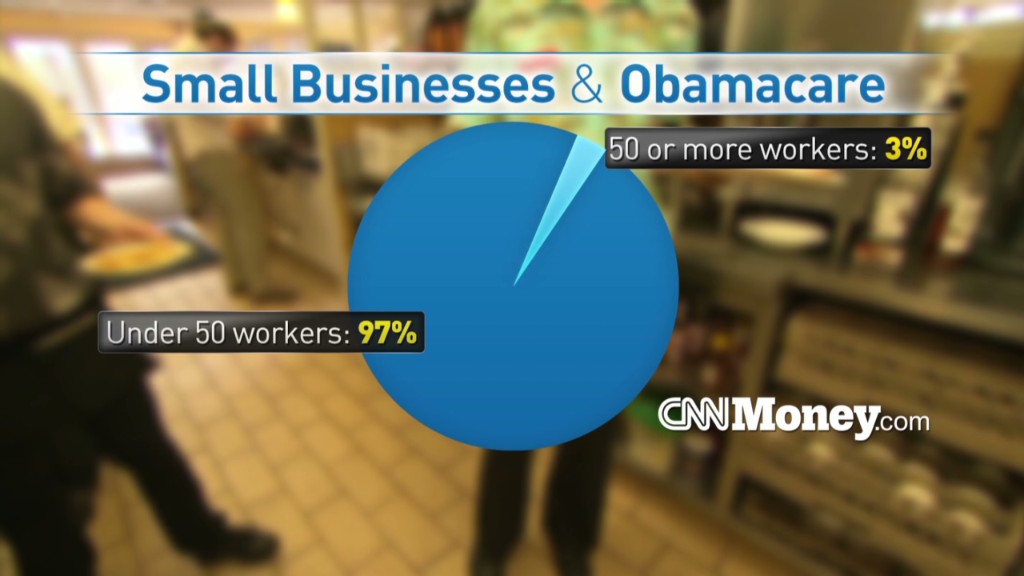 Employers got a one year reprieve from having to offer health insurance. But workers at these companies still have to get coverage or pay a penalty.
That will leave about a million people scrambling to get covered to meet the Obamacare requirements, according to new estimates from the Urban Institute. About 700,000 of them will move into the individual exchange, shift to Medicaid or find insurance elsewhere.
But 300,000 would be left uninsured, the think tank projects. Many would be subject to penalties -- $95 per adult or 1% of family income, whichever is greater, next year -- unless they are very low-income.
The intent of the employer mandate is to ensure that employers don't stop offering coverage and dump their employees into the state-based insurance exchanges, according to Linda Blumberg, senior fellow at the institute. But that's exactly what's happening in 2014, now that the employer mandate has been delayed by one year.
This section of the Affordable Care Act also aims to prevent employees with good work-based options from jumping to state exchanges in search of premium subsidies.
And it provides the federal government with extra revenue, estimated at about $3.7 billion in 2014, from penalties levied on employers who don't provide decent coverage. Companies are subject to fines of up to $3,000 per person left without affordable corporate coverage.
Related: Delay in Obamacare - what you need to know
Some 95% of firms with 50 or more workers -- the ones subject to the employer mandate -- already provide health insurance, according to the Kaiser Family Foundation. And 98% of workers are employed by these firms.
For some workers who don't have employer-sponsored coverage, however, the delay in enforcing the mandate could prove a good thing.
If they work at companies that offer no insurance or continue to provide only lousy, expensive plans in 2014, they can opt to go their state exchange. There, they can obtain more comprehensive policies and, if they are low- or moderate-income, federal subsidies to pay for the monthly cost. The very low-income could qualify for Medicaid, depending on where they live.
"Many people will be better off buying good subsidized coverage on the exchanges rather than sharing the cost of pretty skimpy coverage from employers," said Jay Angoff, a partner at Mehri & Skalet law firm who worked on health reform in the Obama administration.
For instance, many people who work at chain restaurants that provide "terrible coverage" would do better enrolling in a plan through the exchange, he said.