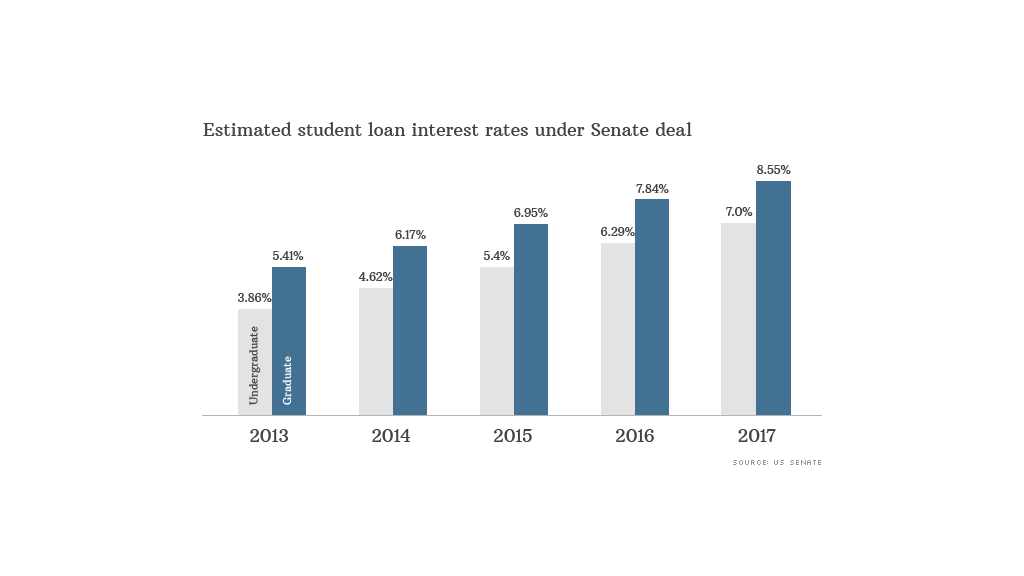 A bipartisan deal on student loans announced by a group of senators Thursday will help students, but only in the short-term.
According to the deal, undergraduates taking out loans this fall will pay just 3.86% in interest on new loans for this school year -- cheaper than the 6.8% interest rate that kicked in on July 1. The new rates would apply for loans taken out after July 1.
But student advocates don't like the deal, because rates are expected to rise in coming years.
"It's a missed opportunity, because this is going to cost students more than leaving current rates in place," said Lauren Asher, president of the Institute for College Access & Success, a nonprofit that advocates for more affordable higher education.
Related: Senators announce deal on student loans
Under the deal, a high school senior who takes out college loans in 2017 would see interest rates as high as 7%, higher than current law. And by 2015, graduate students would pay more in interest than is set by current law.
On July 1, the rate for unsubsidized loans doubled from 3.4% to 6.8% affecting 7.4 million students. Unsubsidized loans are awarded based on financial need and account for about 26% of all college loans made by the government, according to the Congressional Budget Office.
Far more loans are unsubsidized and others are lent to graduate students who were already paying 6.8% interest rates. Their rates were unchanged on July 1.
Senators from both political parties said Thursday's deal will help all students this year - those getting subsidized and those getting unsubsidized Stafford loans.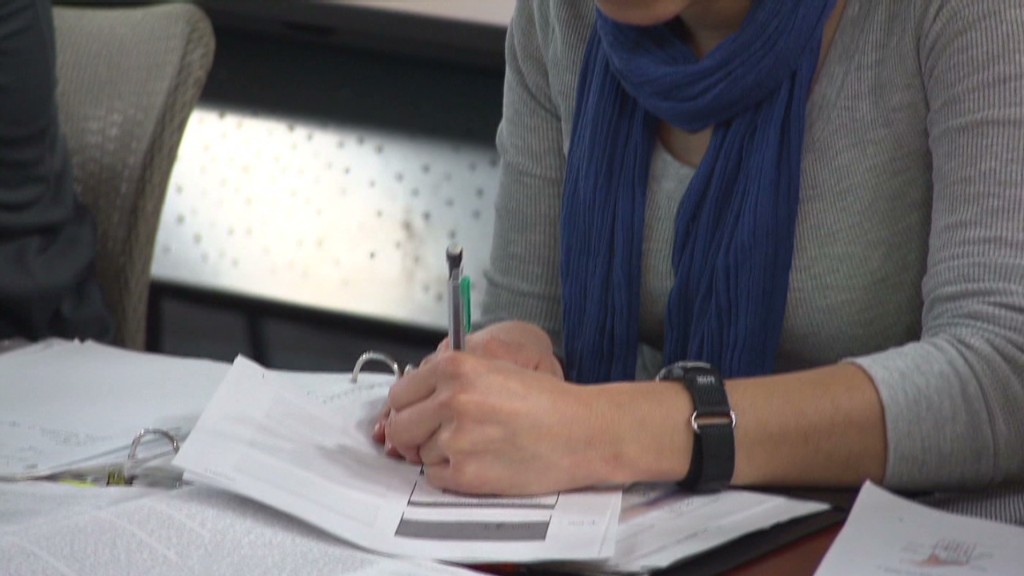 "It would give all undergraduate students the same interest rate," said Sen. Dick Durbin, the no. 2 Democrat in the Senate. "Most students borrow from both (loan programs) and many of them face much higher interest rates on the unsubsidized loans. We're going to help those students."
For loans this fall, undergraduate students would pay an overall interest rate of 3.86%, comprised of the June 1 yield on the 10-year Treasury note plus 2.05% extra. Graduate students will have to pay 5.41% on loans this fall, which is 3.6% over Treasury notes auctioned on June 1.
Every year that the economy improves and interest rates rise, the Treasury notes will rise. And so would student loan rates under the new deal. However, loans for undergraduates will be capped at 8.25% and for graduates at 9.5%.
Over 10 years, the bill will raise $715 million that will go toward reducing deficits, all from students paying higher interest rates than current law allows.
Related: I risked my life to pay off my student loans
The deal resembles a measure the House passed in May, tying student loan interest rates to market rates.
Student loan debt has skyrocketed in recent years, as have delinquencies, making it a pressing political and financial issue for millions of Americans. Many students graduate from college deep in debt and without jobs. It is second only to mortgages as the largest debt that consumers carry. In 2011, students on average owed nearly $27,000 in loans.
With the fall semester and the Senate's August recess quickly approaching, lawmakers have limited to take up the bill.