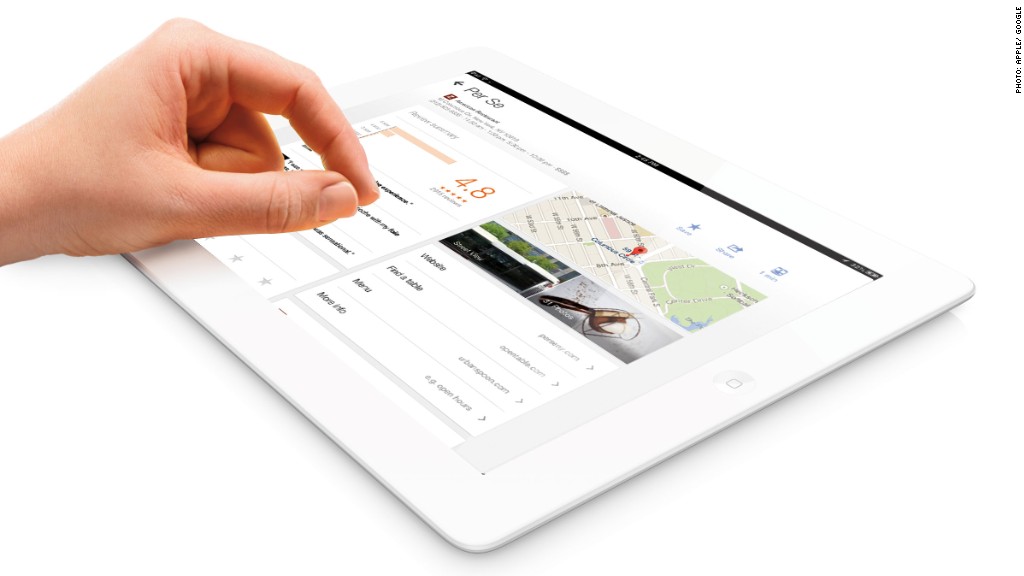 The best part of the new Google Maps app has nothing to do with a map.
The new secret weapon of Google Maps for smartphones and tablets is a new feature called Explore, a Yelp-like tool that allows users to find, rate and see reviews of local establishments.
It's more than just rattling off names, numbers and addresses like the white pages. Explore is a highly visual part of Google Maps that gives you a quick survey of the best options around you across five categories: Eat, Drink, Shop, Play, Sleep. The tool incorporates all the reviews Google (GOOG) acquired when it bought Zagat, and it combines those with Google's own user-generated ratings.
Perhaps it's not coincidental that the Explore feature launched at the same time that Google Maps became available on the iPad, because it's perfectly suited for tablets. The iPad and other tablets offer just enough physical screen space to deliver the loads of information about various locations that Explore cooks up. Smartphones only allow you to view so much on the screen at once.
Related story: Google buys social mapping service Waze
Going back to Yelp (YELP) after using Explore is a little painful. Explore is Google's next big move towards conquering its rival, and this is only the first of many Google Maps innovations that should give the recommendation site pause.
For example, Google says it eventually plans to bake more social features into Maps, which will include plotting your favorite locations for posterity, and hopefully will allow you to share with friends or the greater public. Yelp has its forums, but being able to just take a map full of notable locations and make it public is much more simple and powerful.
The new Maps app has some other friendly feature improvements as well, such as on-the-fly navigation rerouting that helps direct you around traffic without the need to interact with the app. Google also now offers offline maps in the iOS version. (Pro tip: type 'ok maps' for any region you want offline access to, but know that there are no visual notifiers or shortcuts for any area you've cached.)
In this latest version, the Android app received a complete visual overhaul, making it nearly identical to the excellent app for Apple's iPhone and iPad. In fact, Google has made the experience of using Maps consistent on practically all devices, including PCs. That has helped Google to push forward with some new features that could radically change how people interact with the app.
Google's latest Maps update is good enough that it could eventually transform the entire idea of what Google Maps fundamentally is.