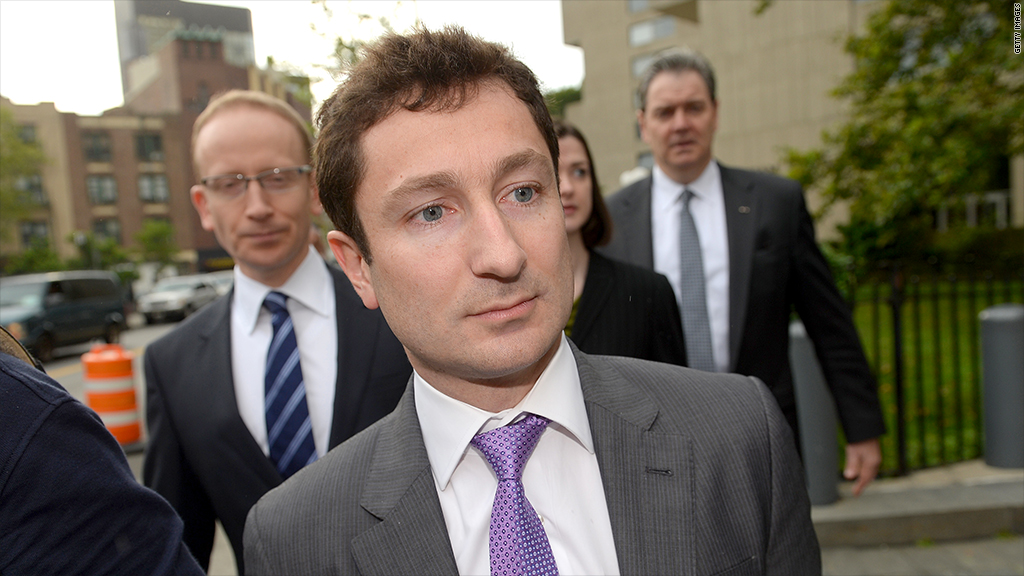 A federal jury in New York found former Goldman Sachs trader Fabrice Tourre liable for fraud on Thursday for misleading investors in a complex financial product tied to mortgages.
Tourre -- perhaps better known by his nickname, "Fabulous Fab" -- is one of the few individuals from Wall Street to stand trial in the aftermath of the financial crisis. The Securities and Exchange Commission said Tourre misled investors in 2007 by selling them an investment product tied to mortgage-backed securities that he knew were likely to fall in value.
The securities were selected in consultation with hedge fund Paulson & Co., which then bet against them. Tourre and Goldman, the SEC says, did not disclose Paulson's role to investors.
The mass failure of mortgage-related securities as the housing market collapsed has long been seen as a key cause of the 2008 financial crisis.
"We will continue to vigorously seek to hold accountable, and bring to trial when necessary, those who commit fraud on Wall Street," Andrew Ceresney, the SEC's co-director of enforcement, said in a statement.
"As shown by this verdict, we proved that Mr. Tourre, as a Goldman Sachs Vice President, put together a complicated financial product that was secretly designed to maximize the likelihood that it would fail, and marketed and sold it to investors without appropriate disclosure."
The SEC also charged Goldman Sachs (GS) with fraud as part of the same court case. Goldman settled for $550 million in 2010 without admitting or denying the allegations.
"As a firm, we remain focused on being more transparent, more accountable, and more responsive to the needs of our clients," Goldman spokesman Michael DuVally said in a statement Thursday.
A spokesman for Tourre declined to comment.
The SEC's lawyers argued that Tourre was deliberately peddling a bad investment -- that he knew that the subprime mortgages underlying it were likely to fail. Investors in the product, known as Abacus, lost $1 billion when the housing market fell apart.
But defense lawyer Pamela Chepiga rejected the SEC's portrayal of Abacus investors as innocent, unknowing victims.
She said that Tourre was being used as a "scapegoat" and that he "never lied to anyone."
The SEC must now submit a brief, which it will likely do in the next few weeks, regarding the specific penalties it will seek for Tourre.
Tourre was never in danger of going to prison because he did not face criminal charges. The SEC's power is limited to civil charges. But the agency can levy considerable financial penalties as well as ban Tourre from the U.S. securities industry.
Jacob Frenkel, a former SEC enforcement lawyer, said it was hard to say how significant a penalty Tourre will receive.
"The SEC will for certain ask for a sizable number and go after whatever bonuses he received from Goldman," Frenkel said. "The defense is going to argue that Goldman already has paid an extremely large sum, so there really is no reason to impose a substantial penalty on Mr. Tourre individually."
Tourre earned his "Fabulous Fab" nickname thanks to an e-mail message that he allegedly wrote to a friend in 2007, boasting of his Wall Street prowess.
"More and more leverage in the system, The whole building is about to collapse anytime now ... Only potential survivor, the fabulous Fab[rice Tourre] ... standing in the middle of all these complex, highly leveraged, exotic trades he created without necessarily understanding all of the implications of those moustruosities[sic]!!!" Tourre wrote, according to the SEC.