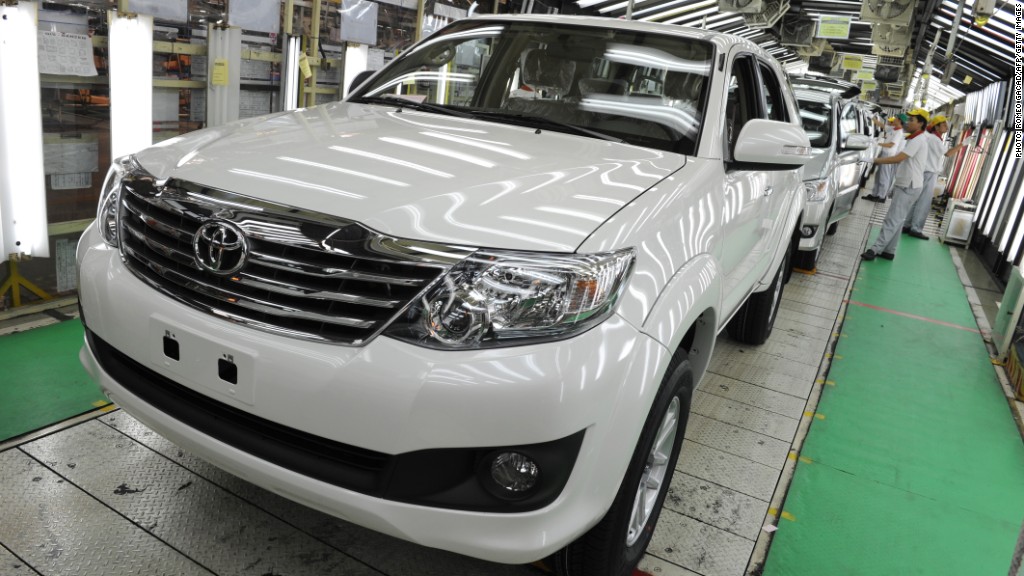 Toyota's profits surged 94% in its fiscal first quarter, getting a big boost from a weaker Japanese yen.
Even though the company sold slightly fewer cars in the quarter compared with the same period last year, the weak currency meant that the money Toyota (TM) made from its overseas operations was worth significantly more once it was converted into yen.
The company reported a 14% jump in overall revenue and net profit of ¥562 billion ($5.6 billion) as it sold 2.2 billion cars around the world.
Toyota also benefited from cost-cutting measures.
Related: U.S. car sales continue strong run
The automaker is also expecting to make a bigger profit for fiscal 2014, forecasting net income of ¥1.48 trillion ($14.8 billion), up from an earlier projection of ¥1.37 trillion ($13.7 billion).
Toyota's shares rose after the announcement, though the jump was roughly in line with a general market rally in Japan.
Toyota is among a slew of Japanese exporters that are benefiting from government policies -- dubbed Abenomics -- that have weakened the yen and led to a massive stock market rally. The Nikkei is up nearly 40% this year.
Abenomics, named after Prime Minister Shinzo Abe, is a mix of coordinated government spending, central bank stimulus and structural economic reforms designed to push up Japanese prices and end 15 years of deflation.