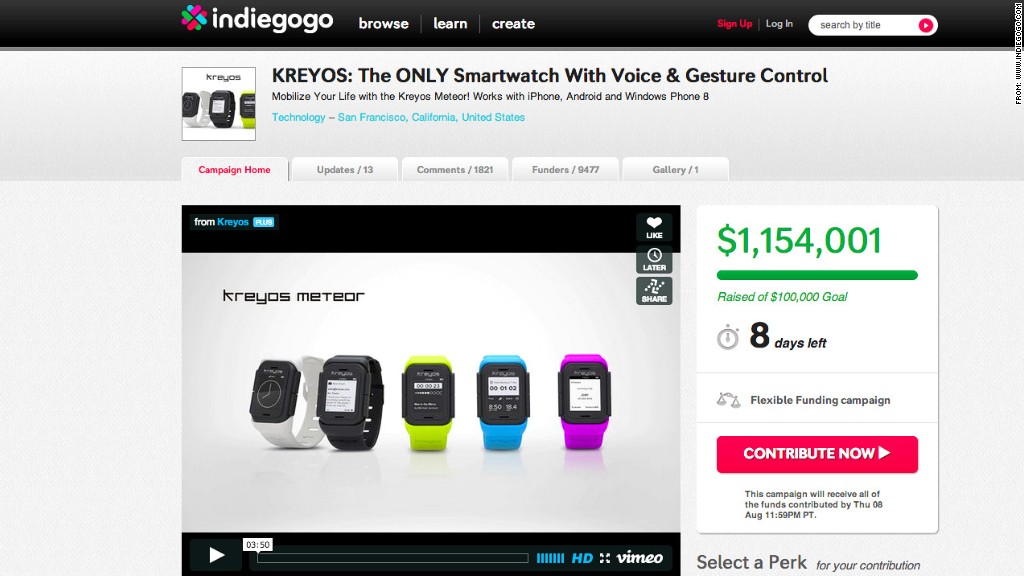 A lot of people are talking about it, but no one knows much about the Kreyos company.
The company, which says it's making a pioneering new smartwatch, doesn't have a finished product or even a website. Kreyos doesn't have a store you can visit, and until one of its founders held a Reddit exchange last week, its executives were largely anonymous.
But it has raised more than $1.1 million through a crowdfunding campaign on Indiegogo. Thousands of people have contributed $100 or more, and in exchange Kreyos says it will provide its "Meteor" smartwatch.
Just about all we know about Kreyos' smartwatch comes from the company's Indiegogo page, which details some very impressive features. The company says the watch includes voice and gesture control and compatibility with the Apple (AAPL) iPhone, Google (GOOG) Android devices and Microsoft (MSFT) Windows. It can monitor your heart and your golf swing. It connects to social networks like Facebook (FB), and it's waterproof.
If it accomplishes all that the promotional material says it will, it could disrupt the burgeoning wearable tech field that includes devices like Google Glass, Pebble and a host of other smart devices.
But for such a promising gizmo, the company is acting strangely secretive.
Kreyos says on its Indiegogo profile page that it is an international team founded in the United States, and its team members have worked for companies including Hewlett-Packard (HPQ), Microsoft, Acer, Lenovo, Hitachi, Toshiba, Amazon and others.
When I met with Kreyos spokeswoman Patricia Roché on July 24, she would not tell me the name of the company's CEO, or any other team member, on the record. (Some hunting turns up one press release with a quote from co-founder Steve Tan.)
"We don't think, in the end, you buy it because so-and-so created it; you buy it because it does what you want it to do," Roché said.
The founders, she said, want to focus on shipping the smartwatch to backers on time, so they only wish to communicate with the public through her.
Unlike other crowdfunding campaigns, Kreyos does not post photos or bios of team members -- or even name them. Finally, after the campaign had been raising money for more than a month, Tan came briefly into the spotlight last week to hold a public forum on Reddit where he answered questions about the smartwatch.
Roché did have a few prototypes to show me in July. She said they were fully operational, but that's just about where the demonstration ended -- she had not yet figured out how to sync it with her new phone.
Indiegogo advises those running campaigns on its site to "be thorough, communicative, and transparent" and "introduce yourself and your team," and other campaigns post pictures and bios of their founders.
Yet experts in the industry say it is not all that uncommon for a crowdfunding campaign to post little about the company.
"Too many of them are like that," said Sara Hanks, the CEO of CrowdCheck, which advises investors and entrepreneurs on crowdfunding. "Failure to identify the person is really omitting the one thing you're supposed to be able to see on the crowdfunding sites."
For Kreyos, shipping the Meteor on time is likely to be a tall order: it has promised to ship smartwatches to its Indiegogo backers in November. But the company claims the gadget is still being tweaked and hasn't been manufactured yet.
Crowdfunding campaigns do not have a stellar track record of shipping on time. In fact, a CNNMoney survey of 50 projects on the cowdfunding site Kickstarter found that 84% miss their target delivery dates.
Related story: Why 84% of Kickstarter's top projects shipped late
Yet crowdfunding sites like Indigogo provide no clear, legal obligation for companies to ultimately deliver the product they raise money for. The transaction is more like making an investment and less like buying a good in a store.
Even with loose rules, there is very little outright fraud in crowdfunding, according to Ethan Mollick, a researcher at the University of Pennsylvania.
"The lack in regulation means there's a funding source accessible to a lot more people," Mollick said. "There's something risky about that, but there's something very nice about it, too."
Almost 10,000 people have faith in the Kreyos smartwatch. Time will tell whether or not it was misplaced.