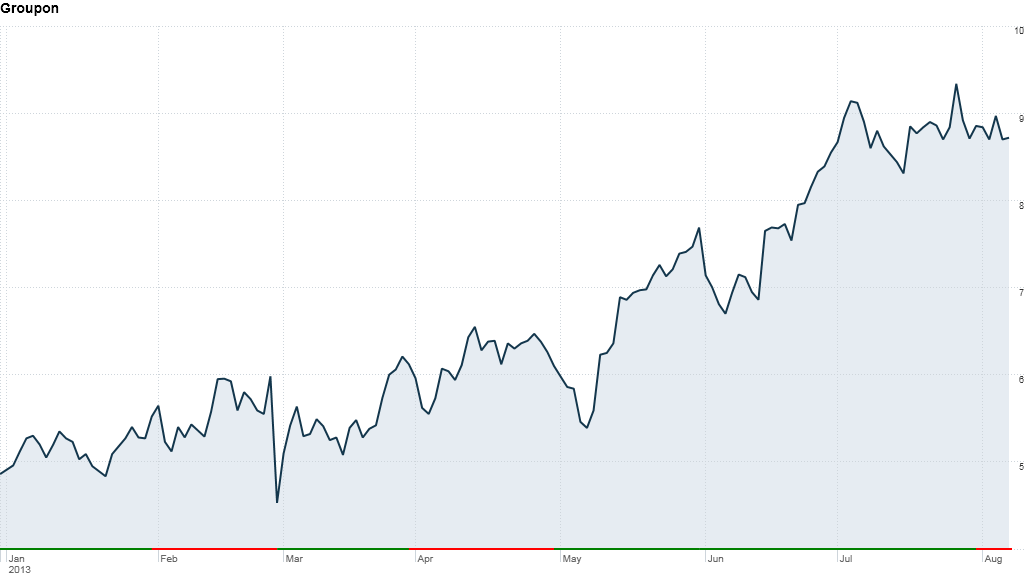 Don't completely write off the daily deals website Groupon just yet.
Shares of Groupon (GRPN) soared more than 27% Thursday after the company reported better-than-expected quarterly sales. The company's board also officially offered Eric Lefkofsky the CEO job after he filled in for ousted founder Andrew Mason on an interim basis since February.
Also boosting the stock was Groupon's announcement that it will repurchase $300 million of its own shares over the next two years.
The company had its "strongest quarter ever in North America," said Lefkofsky in a prepared statement. This was due, in part, to a 30% increase in the total value of purchases of goods and services made by customers in North America -- a closely analyzed figure.
The deals site also performed well in mobile. Nearly 50% of North American transactions were completed on mobile devices in June, up from 30% during the same month last year.
Groupon's giant stock rally has bumped its market valuation to $7.3 billion -- well above the benchmark $6 billion figure that Google (GOOG) reportedly offered for the daily deals company in 2011. Groupon rallied far above that valuation at one point last year, only to sink far below it by the end of 2012.
Overall, Groupon said it brought in $608.7 million in sales during the second quarter, a 7% increase year-over-year. That beat the $606.2 million median forecast of Wall Street analysts surveyed by Thomson Reuters.
The company said it lost $7.6 million in the quarter, but excluding one-time charges totaling 3 cents per share, Groupon said it earned 2 cents per share. That's in line with the median forecasts of analysts surveyed by Thomson Reuters, who typically exclude one-time items from their estimates.
Although the stock has been on the upswing during the past year, rising 79% in 2013, shares of Groupon have lost nearly a third of their value since November 2012, when the company announced dismal quarterly earnings. Months after that, the company fired Mason as its CEO.