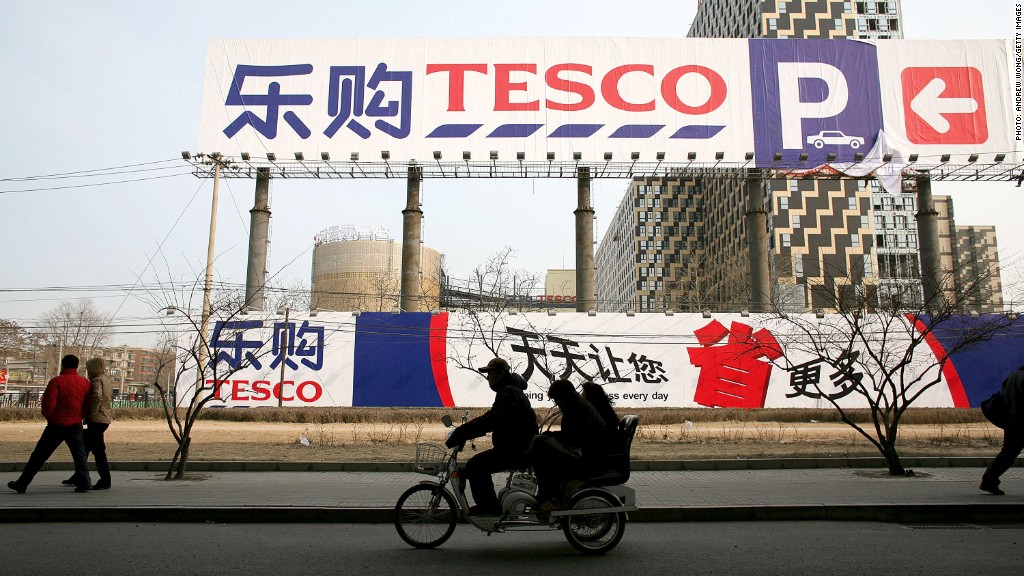 Even the biggest companies are finding China's retail market a tough nut to crack.
After admitting defeat earlier this year in the United States, Britain's leading retailer Tesco now looks set to abandon a 10-year bid to build an independent business in the world's biggest market for food and groceries.
Tesco (TESO), the world's third largest retailer after Wal-Mart (WMT)and France's Carrefour (CRERF), said it was planning to transfer its 131 stores and shopping mall business in China to a joint venture with state-run China Resources Enterprise (CRHKY)-- one of the country's biggest operators of big-box stores.
The joint venture would have combined sales of about £10 billion. Tesco revenues in China, where it first opened in 2004, total about £1.4 billion annually.
Slowing economic growth and fierce competition in a highly-fragmented market have made it difficult for some big international retailers to make money, despite the promise of higher consumer spending by China's growing middle class.
If the Tesco deal goes through, it will hold a 20% stake in the new company, with CRE taking 80% in return for its 3,000 Vanguard stores across China and Hong Kong.
Earlier this year, German retail giant Metro (MTRAF) said it was closing its consumer electronics business in China -- operated as a joint venture with Foxconn Technology Group -- to focus on developing its wholesale business in the country.
That followed Home Depot (HD)'s decision last year to close its seven big box stores in China.
Related: China's hottest companies
Tesco said the plan was consistent with its strategy of focusing on turning a profit in fast-growing markets. In Asia it has been giving priority to countries such as Thailand and Malaysia.
Analysts estimate that the company invested £2 billion in building up its money-losing China business. Same-store sales sales fell 1% last year, a decline that accelerated in the first quarter of Tesco's 2013-2014 fiscal year.
"If confirmed, Tesco would exchange full ownership in a sub-scale, heavily loss-making operation with an investment into a profitable vehicle," noted analysts at Jeffries International.
The market leader in Chinese big box stores is Sun Art, which is rapidly becoming known as the Wal-Mart of China. Sun Art is a Taiwanese-French joint venture, providing a powerful combination of local market knowledge with international expertise - an approach Tesco and CRE will hope to replicate.