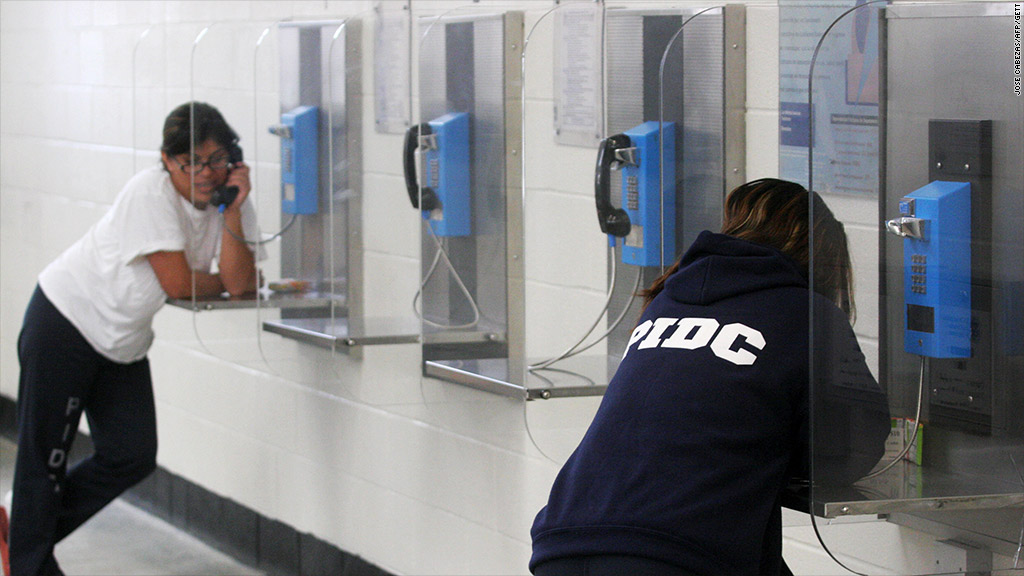 For millions of prisoners, placing a call home means paying exorbitant rates that can exceed $1 a minute. Now, federal regulators have moved to ease the burden.
Three commissioners with the Federal Communications Commission voted 2 to 1 Friday to reduce the rates inmates and their families pay for interstate calls from prison, a measure long demanded by civil rights groups. It will take about 120 days for the new rates to take affect.
A typical 15-minute, state-to-state call costs $17 in some states, compared to about $1 in New York, where prison phone rates have already been reformed. That can make communication with family members prohibitively expensive for many inmates.
The commissioners voted to impose a cap of 25 cents a minute for a collect call, and 21 cents a minute for a debit or prepaid call. That is less than one-fourth the current rate in some locations.
"This is a means to help strengthen families," FCC Acting Chairwoman Mignon Clyburn told CNNMoney before the vote took place. "Communication is key, particularly when families are separated."
The changes would apply to interstate calls at all incarceration facilities, including federal and state prisons, county jails, and juvenile detention centers.
In the months to come, Clyburn said the FCC could issue new regulations on whether caps should be applied to calls made within state boundaries.
Related: Prison exclusive: Bernie Madoff can't sleep
Many prisons offer exclusive deals to phone service providers in exchange for astronomical commissions that can add up to 88% to the cost of a call. The proposed regulations would prevent providers from recovering the cost of these commissions for long-distance, interstate calls.
The proposed changes have been in the making for months, as the FCC moves to break up what it refers to as a monopoly of prison phone service companies charging exorbitant rates. The reforms would still allow service providers to make a profit, according to the FCC. The top providers are GTL, Secururs, Pay-Tel, Telmate and CenturyLink (CTL).
Jeff Hansen, chief marketing officer at Telmate, declined to comment immediately after the vote but in an interview prior to the vote, he said rates should be "accessible for inmates and their families, [but] the question is what level is fair is reasonable."
"It's not realistic to compare normal, everyday call rates to what happens with an inmate call," Hansen said. "They're just not typical phone services -- we have to monitor and save and track every communication that's done by an inmate, and that requires pretty advanced systems."
Given the variation in facilities around the country, Hansen said Telmate would prefer to see regulation of rates handled at the state and local level.
The other companies did not respond to requests for comment.
Clyburn said that in crafting the proposed regulations, regulators "took everything into consideration, from security to cost structure to the impact on families and the impact on companies."
Multiple studies, she said, affirm that keeping in touch with families and friends helps lower recidivism among inmates. Beyond the inmates, she added, the lofty rates are a burden for the 2.7 million children with parents behind bars.
"These are children who still want to keep in touch with their parents, but currently the regime for those in 42 states is unaffordable," she said.
Related: Enron's Skilling gets decade lopped off prison sentence
The FCC's vote comes more than a decade after a U.S. District Court dismissed a class action lawsuit led by Martha Wright of Washington, who said that she paid $1,000 per year to cover the costs of her grandson's phone calls from various state prisons. The judge referred Wright to the FCC.
-- CNNMoney's David Goldman and James O'Toole contributed reporting.