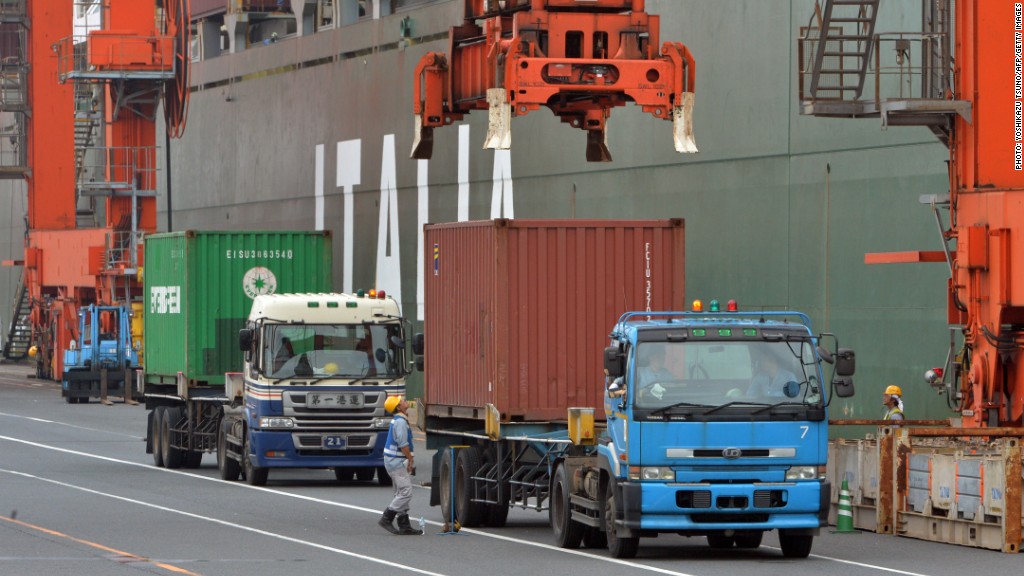 The pace of economic growth has slowed in Japan, casting doubt over the country's ambitious stimulus plan and a planned tax hike.
Japan's economy grew at an annual rate of 2.6% in the second quarter of 2013, the Cabinet Office said Monday. The expansion was slower than the 3.6% increase expected by analysts.
The government also said growth in the first quarter was at a lower rate than previously reported, with GDP at 3.8% instead of 4.1%.
Japan's benchmark Nikkei index dropped more than 1% on the news.
The results should raise market expectations that policymakers will delay or suspend an unpopular tax increase that could take a bite out of growth just as a bold economic stimulus plan appears to be bearing fruit.
The government had planned to double consumption tax to 10% by 2015. Paid by consumers when they buy goods or services, the tax will be increased in two stages, rising first to 8% in April 2014.
Related story: Japan's tough choice on tax hike
Should the government follow through with the tax hike, it would help raise revenue and prove that Japan is committed to fiscal reforms. But the measure, as planned, could also slow the economy.
Japan has been mired in a malaise brought on by falling prices and a strong yen for years. The economy's prospects have brightened significantly since Prime Minister Shinzo Abe announced fresh spending by the government and encouraged the central bank to unleash a tidal wave of asset purchases.
Growth has picked up, the yen has fallen sharply and stocks have hit multi-year highs.
But the third pillar of Abenomics -- structural reforms -- has been tougher to implement. If the government bails on the tax hike, some economists see little hope that Japan's parliament will follow through with other reforms.
Related story Japan debt tops 1 quadrillion yen
The tax hike would be a first step toward arresting Japan's rising government debt, which topped 1 quadrillion yen for the first time, according to data released Friday by the finance ministry.
Tokyo has now issued 830 trillion yen in government bonds, and the country's revenue collection has never kept pace. Japan's gross public debt is projected to hit 230% of GDP by 2014 after years of sustained deficits.
The Organization for Economic Cooperation and Development and other debt watchers have cautioned that Japan must do more to pare rising debt. "Stopping and reversing the rise in the debt-to-GDP ratio is crucial," the OECD has said.