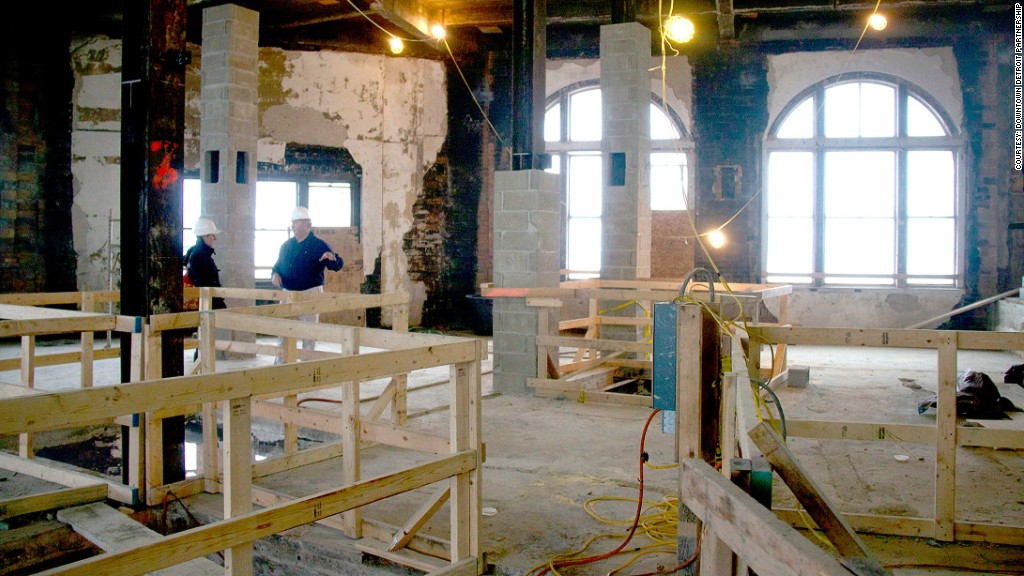 The nation's hottest downtown is in America's most troubled city -- bankrupt Detroit.
Detroit is struggling with the largest municipal bankruptcy in the nation's history, which was brought on in part by the flight of both residents and businesses in recent decades. But Detroit's downtown area is enjoying rapid growth. The busy, 7.2-square-mile area stands in sharp contrast to the stretches of abandoned homes, closed factories and urban decay that dominate most of the city.
"It seems like a paradox -- services are so bad but the demand for space keeps going up up up," said John DeGroot, vice president of research for Newmark Grubb Knight Frank, which tracks office vacancy rates nationwide. He said the office vacancy rate in Detroit is still high by national standards - about 27.1% in the second quarter, but that's down from 33% two years ago.
"Usually you see a percentage point drop here or there," he said. "It's phenomenal."
Affordable office space is driving the trend - downtown rents can be 7% to 25% lower than rates in some nearby suburbs.
And so jobs from the suburbs are are returning to the city, and it's not the resurgent auto industry leading the charge.
Quicken Loans, Michigan Blue Cross/Blue Shield and utility DTE Energy (DTE) have all moved locations from the suburbs to downtown.
"One reason we believe this [revival] will have legs is it goes across multiple industries," said Cindy Pasky, president of the firm Strategic Staffing Solutions and the chairman of the Downtown Detroit Partnership.
Related: Detroit entrepreneurs make a case for their city
Detroit native Dan Gilbert, the founder and chairman of Quicken Loans, has been one high-profile business person leading the charge. He's spent about $1.2 billion purchasing and renovating 35 downtown properties in just over the past two years. Much of the space is being used by his family of 57 companies, and all told he's now employing about 10,000 in the downtown area. About 3,500 of those jobs were moved to downtown from the suburbs. Gilbert's group expects to break ground on a new office building next year.
Eric Larson, managing partner of Gilbert's real estate arm, says that while some of Gilbert's investment is about reviving his native city, a lot of it is just good business sense, given the area's low real estate prices and availability of workers.
But the surge of investment in the downtown has surprised even him. "No one imagined it would be as successful as it has been," Larson said.
And the bankruptcy has done little to slow the downtown boom.
Even as bankruptcy loomed in March, advertising and marketing firm Campbell-Ewald announced plans to move 600 employees to a downtown office, which should open in January 2014.