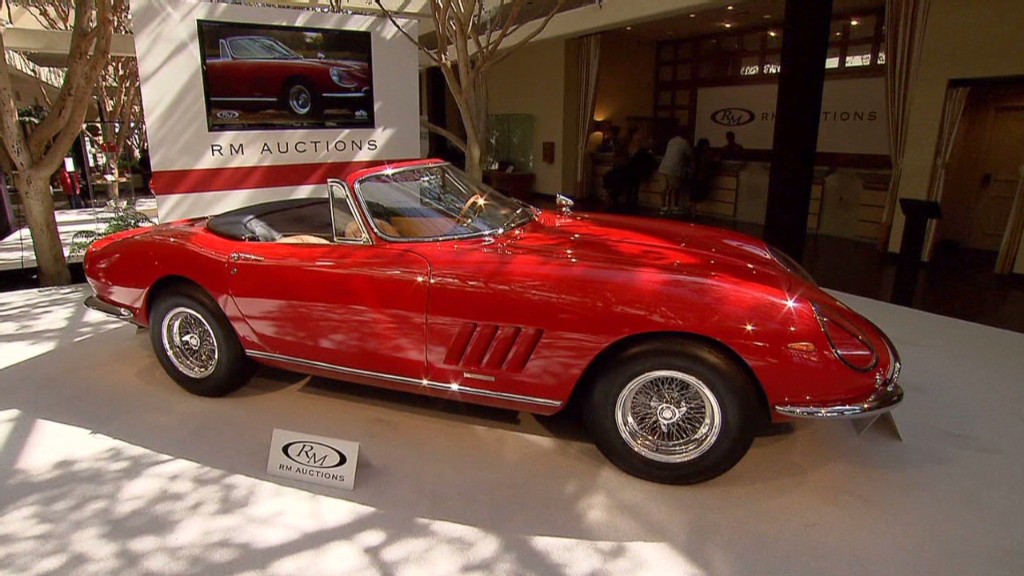 A 1967 Ferrari convertible sold for $27.5 million at an auction in Monterey, Calif., the highest price ever paid for a Ferrari at auction. In fact, it's the highest price ever paid for any road car at auction.
The car sold Saturday was a Ferrari 275 GTB/4 NART Spider. Powered by a 300-horsepower V12, this Ferrari is one of only ten such cars ever made. The buyer's identity was not revealed.
The Italian supercar-maker's U.S. importer, Luigi Chinetti, wanted a street-drivable open-top car that his customers could race successfully at the track. The cars he requested were named after the hugely successful North American Racing Team.
When it was first introduced, Road & Track magazine referred to the NART Spider as "the most satisfying sports car in the world."
This particular car was originally painted metallic blue. The car had remained in the family of its original owner, Eddie Smith, a founder of National Wholesale Company, a mail-order hosiery firm.
Related: Coolest million-dollars for sale at Pebble Beach
The highest price ever paid for any car at auction was almost $30 million paid for a 1954 Mercedes-Benz race car in a British auction just last month. Both the Ferrari and the Mercedes sales included a 10% commission for the auctioneer.
The Ferrari was sold at an RM Auctions event, one of several collector car auctions held to coincide with the annual Pebble Beach Concours d'Elegance classic car show.
All of the proceeds from the Ferrari sale will go to charity, according to former owner Eddie Smith Jr. He has not yet announced what charities would be receiving the proceeds.
Related: Which car is faster? Take the CNNMoney drag race quiz
Smith said he decided to sell the Ferrari because he wanted it to go someplace where it could be seen and enjoyed. Since his father's death six years ago, Smith said, the car has been kept in an airplane hangar.
"In my mind it's sort of been imprisoned for those six years." he said.
He decided to sell the car after seeing the reactions it received when it was taken out and displayed at a recent event for Ferrari owners in Georgia.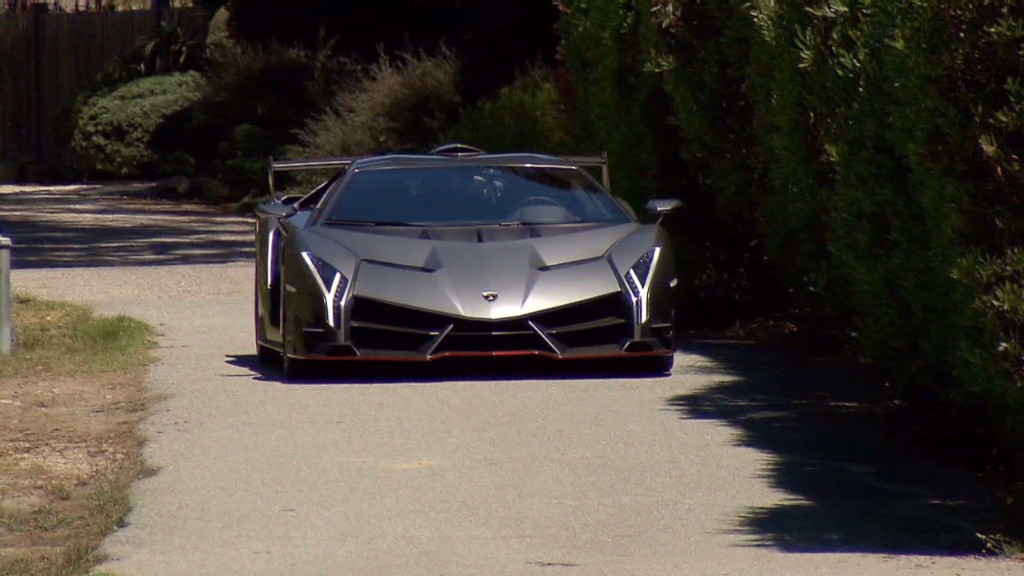 "What really moved me was seeing people walk up to the car -- Ferrari owners even, who had never seen one -- and be moved almost to tears." Smith said.
Related: Chevrolet Corvette, a legit Porsche killer from Detroit
Sometimes charity auctions can result in higher selling prices because of the goodwill they generate and because a portion of the selling price beyond the actual worth of the car is tax deductible.
With ultra-high-value cars such as these though, it's unlikely the charity connection had any impact, said McKeel Hagerty, head of the collector car insurer Hagerty Insurance. With a car like this, bidders are focused on the car.
But Keith Martin, publisher of Sports Car Market magazine, disagreed saying that the charity connection allowed wealthy buyers to feel better about such an extreme purchase.
"You can stand tall with your friends," he said.
But, in its own right, this car does "tick all the boxes," Martin added. It's an attractive, desirable car that's in very good shape. There are rarer Ferraris than the NART spider, he said, but none more beautiful.
"It's the sexiest of the sexy," he said.