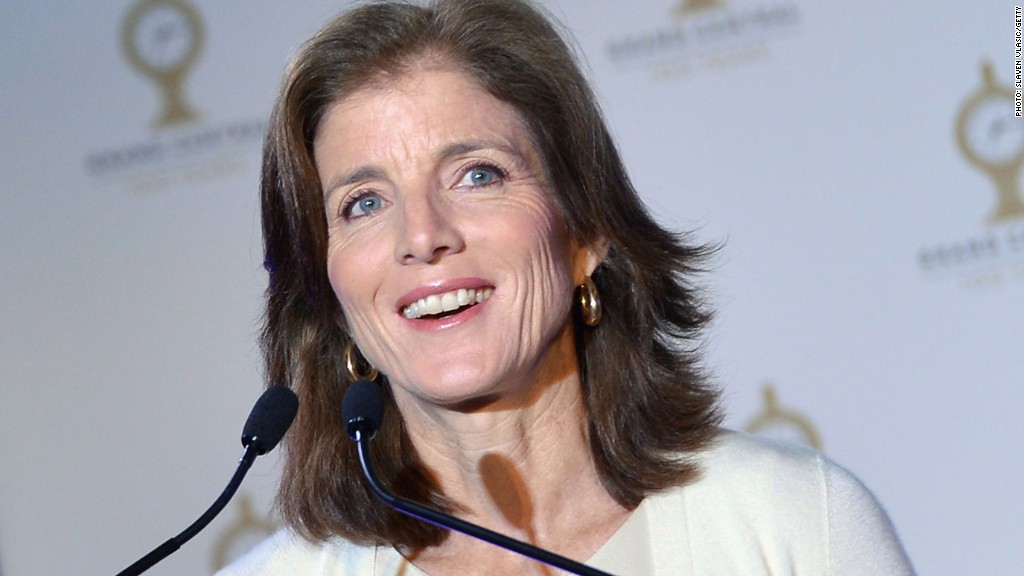 Disclosure forms filed by Caroline Kennedy, nominated to become U.S. ambassador to Japan, give a rare glimpse at the vast wealth of one of the most high-profile players in Democratic politics.
The forms tally her net worth as high as about $280 million, according to CNNMoney's analysis of the documents. It's hard to get a more precise figure because the forms require nominees to disclose their money in broad categories.
But the documents outline details about her riches.
For example, they show that Kennedy, the daughter of former President John F. Kennedy, earned $225,000 making speeches this year, up from $100,000 in 2012.
And in June, Hyperion Books paid Kennedy $437,500 for "participating" in the book Jacqueline Kennedy: Historic Conversations on Life with John F. Kennedy, according to the documents, which were filed last month but got widespread notice on Monday after a report in the New York Post.
Related: America's 400 richest
In addition, Kennedy draws income from dividends and interest from financial holdings that span the gambit from bank stocks to pharmaceuticals to real estate.
She has invested in funds with Goldman Sachs (FADXX), Blackstone (BGB), Vornado Realty Trust (VNO). She listed between $5 million and $25 million with Park Holdings Group, which holds oil and gas assets.
She acknowledged that her wealth puts her at risk for potential conflicts if she is confirmed.
"I understand that a heightened prospect of a conflict of interest could exist as to the companies that maintain a presence in Japan, because they may be more likely than other companies to seek official assistance from or make other contact with the embassy," she wrote in a letter to the Office of Government Ethics.
A request for comment from Kennedy was not returned.
Related: Why the rich vote more
The Senate has yet to hold a confirmation hearing on her nomination. Kennedy is set to become the first woman to hold the post. She was a top supporter of Obama and served as the co-chair of his vice presidential search committee in 2008.
After receiving degrees at Harvard and Columbia, Kennedy served in a variety of roles at nonprofits, including the John F. Kennedy Library and the American Ballet Theatre.
In the disclosure letter, Kennedy said she would resign from various nonprofits including the John F. Kennedy Center for the Performing Arts.
--CNN's Jamie Crawford and Adam Aigner-Treworgy contributed to this report.