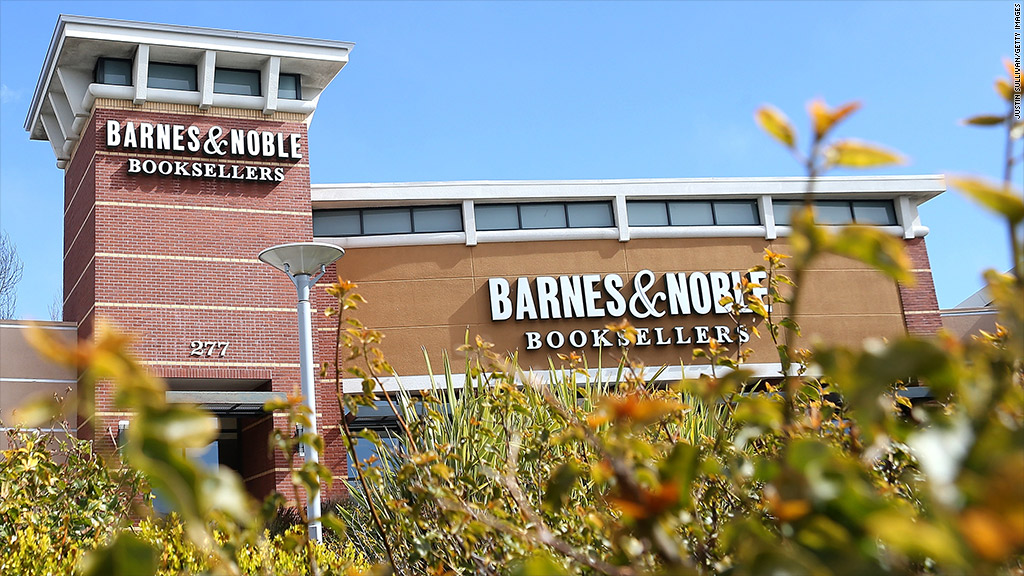 The quarters just keep getting tougher for Barnes & Noble.
Shares plummeted 16% on Tuesday after the bookseller reported a big loss, and its chairman dropped his bid to buy the retail part of the business.
Leonard Riggio, Barnes & Noble's chairman and largest shareholder, expressed interest in buying the company's bookstores in February. But in a filing with the Securities and Exchange Commission on Tuesday, Riggio said he now believes "it is in the company's best interests to focus on the business at hand."
That business is rough going. Last quarter, Barnes & Noble lost $87 million -- more than double the loss the company reported in the same quarter a year ago. Sales fell 8.5% over the year to $1.3 billion, and revenue from its Nook e-readers fell more than 20%.
Barnes & Noble has been spinning out of control for months, mostly because of disappointing sales of its Nook e-reader and tablet line. Like many traditional booksellers, the company is struggling both to compete with behemoth Amazon (AMZN) and to adjust to the world of digital media.
Former CEO William Lynch made the Nook his main focus during his three-year tenure, but he resigned last month after sales failed to improve this year. ales of the e-readers and tablets have sorely disappointed for several quarters, despite major device upgrades like the Nook HD release in September.
Barnes & Noble (BKS) appears to be lost on what to do about the Nook. The Nook business has technically been up for sale since January 2012, but Barnes & Noble hasn't yet found a buyer.
In June 2013, the company said it would pursue a partnership to help it make Nook HD tablets, and that future devices might be co-branded with the new manufacturer's name as well as the Barnes & Noble logo.
Related story: Apple's proposed punishment: Amazon gets its iPad bookstore back
But the head of the Nook unit seemed to backpedal on that plan already, saying in Tuesday's earnings announcement that the company "intends to continue to design and develop cutting-edge Nook" products itself, including at least one new device for the holiday 2013 season.
Meanwhile, Barnes & Noble has also experimented with price cuts on its various Nook devices in an apparent bid to spark sales. The latest discount came on Sunday, when the company slashed the price of its Nook SimpleTouch to $99 from $119.