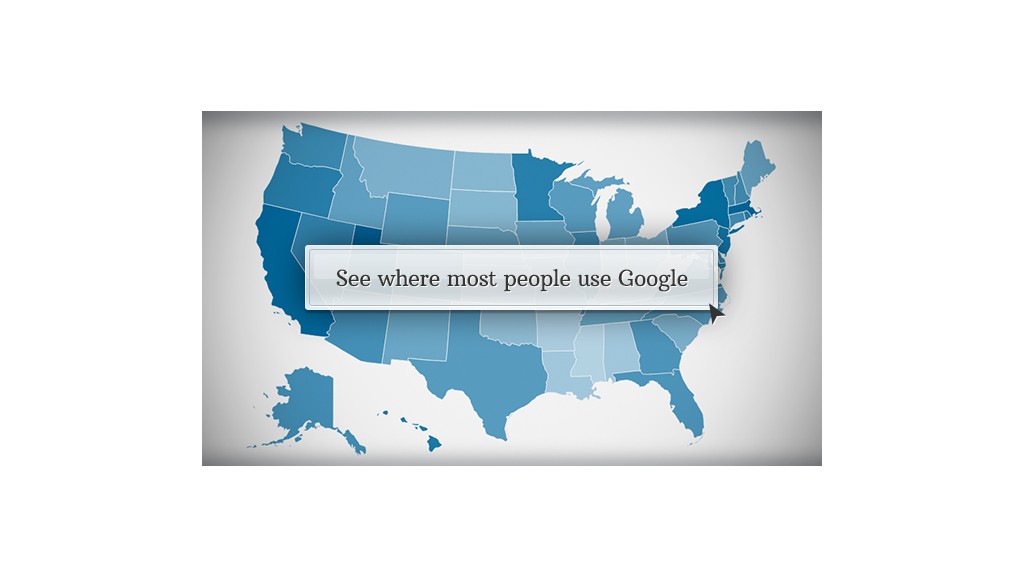 If you're smart and rich, there's a good chance you use Google.
A study released this month by online advertising company Chitika found that people who use Google's search engine tend to live in states with above-average median household incomes and college graduation rates. States where people Google (GOOG) a lot also tend to be those that have older populations and higher job growth rates.
Using data collected from Internet users across the country, the ad company found that residents of Utah, California and Massachusetts Google the most. People in Mississippi, Arkansas and West Virginia Google the least.
A spokesman from Google declined to comment for this story.
Bradley Strauss, Chitika's data scientist and lead author of the study, is quick to point out that the statistics provide only descriptive results. The study never sought out to explain why the correlation occurs, or how these variables impact or are affected by Google use.
Related story: Larry Ellison says Apple's best days are behind it
"When we spur job growth does it spur Google usage?" asked Andrew Waber, a Chitika spokesman, "We can't prove causation, but we can make the case it correlates."
To be sure, Google is popular everywhere: The population of all 50 states uses Google at least 50% of the time when searching the Web.
But analyzing the numbers on a state level could help advertisers better target their audiences, Strauss explained.
Google controls a 67% share of the U.S. search market, according to data tracker comScore (SCOR), so advertising companies tend to post ads on search giant. But if advertisers are targeting lower-income or younger audiences, the Chitika study suggests that it is worth considering Google alternatives.
Microsoft's (MSFT) Bing search engine controls about 18% of the U.S. search market. Yahoo (YHOO), which uses Bing for its search results, has an 11% share.