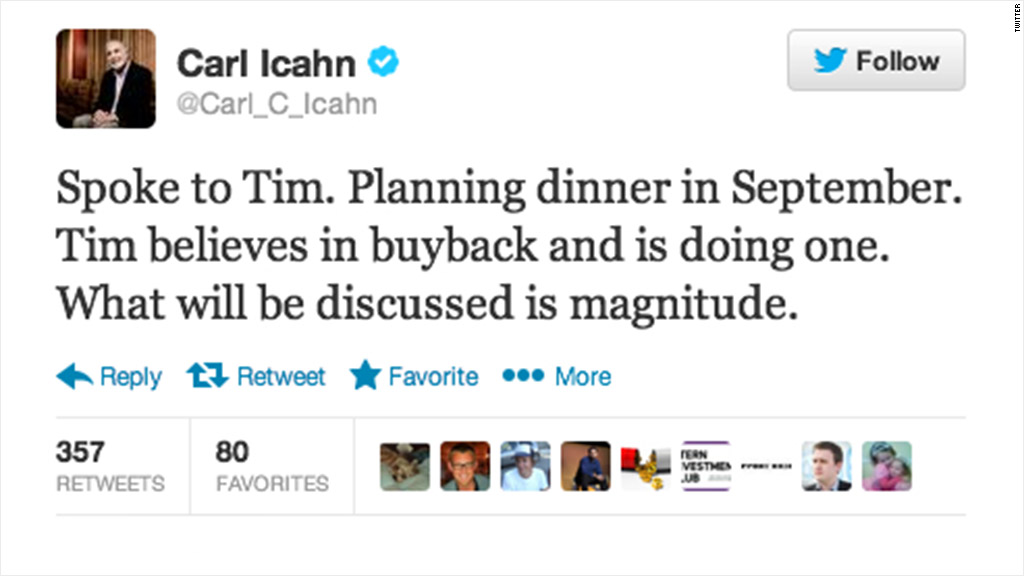 He's baaaa-aaaack! Carl Icahn tweeted again on Thursday about pushing Apple to increase its stock buyback, and he claims CEO Tim Cook is on board with the idea.
The activist investor said the pair plans to have dinner in September, and that Cook "believes in buyback and is doing one. What will be discussed is magnitude."
Icahn's tweet helped Apple shares pare their earlier losses and close the trading day slightly higher. Apple's stock was halted when when Icahn sent the tweet due to a rare prolonged outage of Nasdaq exchange.
His post added about $4 billion to Apple's market cap in the mere half-hour left in the trading day after the exchange reopened.
That post came a week after Icahn announced, also via Twitter, that he has taken a "large" stake in Apple (AAPL) and that he's pushing the company to use even more of its cash to reward shareholders.
In May, Apple announced it will return $100 billion to shareholders over the next three years through a combination of stock buybacks and a quarterly dividend of $3.05 per share. Apple's decision came shortly after David Einhorn of Greenlight Capital publicly slammed the company for "hoarding" billions in cash.
Clearly, Icahn doesn't think that existing buyback is enough action from Apple, which had an impressive $147 billion in cash at the end of last quarter. Apple has confirmed only that the company is in talks with Icahn.
Related story: Carl Icahn is having an amazing year
Icahn's words have weight -- his tweet last week added nearly $12.5 billion to Apple's market cap in just 100 minutes after he disclosed his stake -- and he's used to getting his way.
Icahn has made a name for himself by buying up shares and influence at dozens of companies. He masterminded a hostile takeover of the airline TWA in 1985, tried and failed to win a board seat at Motorola, pushed BEA Systems to sell to Oracle (ORCL), attempted to take over Lionsgate (LGF), and advocated for CNNMoney parent Time Warner (TWX)to break into four companies.
Meanwhile, Icahn has also been embroiled in a lawsuit against Dell (DELL) to keep the company public, while founder Michael Dell is trying to take the struggling PC maker private.