A Nasdaq glitch, and Facebook wasn't part of it? Woo-hoo!
Shares of Facebook (FB) cracked $40 a share Friday for the first time since they made their public debut during a botched IPO in May 2012 on the Nasdaq. The social media giant's stock finished at a record closing high of $40.55 per share.
There was no concrete news driving Facebook's ride higher. Some traders cited a positive report from investment research firm ITG.
But the stock has been rallying ever since it reported strong second-quarter earnings in July.
Facebook shares are up more than 50% in the past month.
Related: Mark Zuckerberg's '5 billion' dream - it won't be easy
Investors and analysts have been pleasantly surprised by Facebook's growing power in mobile advertising.
Just a year ago, Facebook lacked a clear strategy for generating mobile revenue despite the rapidly growing number of people using Facebook on their mobile phones and tablets.
But that has clearly changed. During the second quarter, Facebook generated 41% of its total advertising sales from mobile. A year ago, that figure was zero.
Related: What does NASDAQ meltdown mean for future IPOs?
JPMorgan analyst Doug Anmuth said last month that Facebook booked its "its strongest quarter yet as a public company" and boosted his price target on the company to $44 a share.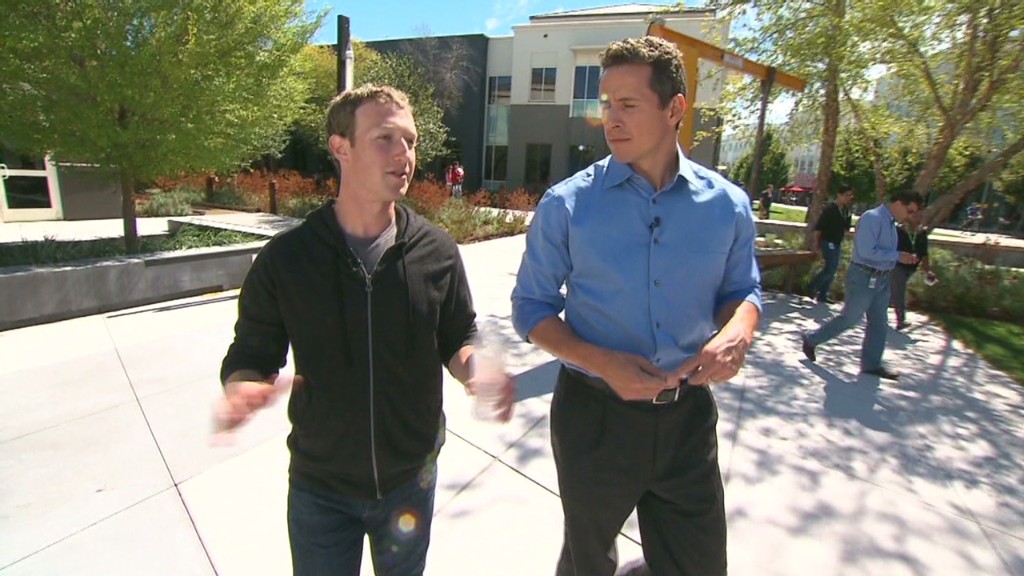 Thanks to the big move upward, Facebook investors may now be able to look forward to another important milestone. The stock is only about 10% below the all-time high of $45, which Facebook hit during its first minute of trading on the Nasdaq.