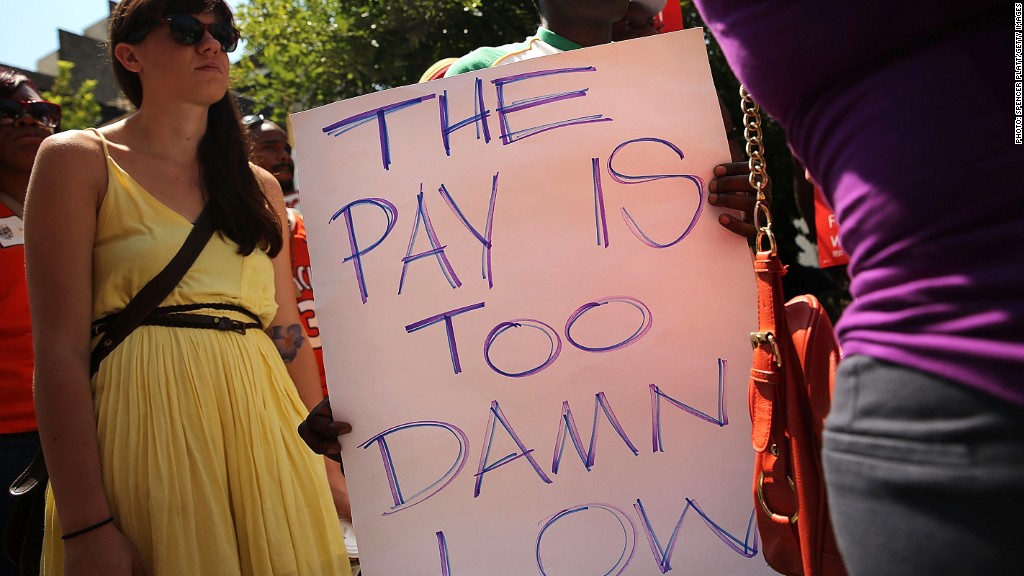 Fast food workers in the south are joining the fight against low wages for the first time since the campaign began last fall.
On August 29, workers will gather in cities across the nation, including half a dozen southern cities such as Memphis, Raleigh, N.C., and Tampa.
They will be asking to be paid a minimum of $15 an hour and for the right to organize without retaliation.
Currently, the median pay for the fast food workers across the country is just over $9 an hour, or about $18,500 a year. That's roughly $4,500 lower than Census Bureau's poverty income threshold level of $23,000 for a family of four.
Related: Worker wages: Wendy's vs. Wal-Mart vs. Costco
Latoya Jemes, who's been working at a Memphis McDonald's for the past year, plans to join next week's protests.
She makes $7.45 an hour, and has to work overnights because she can't afford childcare during the day. Her mother watches her children during the night.
"I'm a single parent of three, and I'm living check to check," said Jemes, 24. "I only have enough to pay my rent, and I might be able to squeeze out the things that my kids need, but I'm not making enough."
The move south is a historic one, according to Dorian Warren, associate professor of political science at Columbia University. He said the region rarely sees strikes like this, because the Southern culture is not one that encourages this kind of collective action.
"There are higher barriers to collective action, because most states are 'right to work' states, which makes it hard to form unions," he said. "The fact that workers are going to strike is a sign of a significant turning point in the movement. It's really gone national."
Just last month, the strikes did go national.
Workers from fast food giants McDonald's (MCD), Wendy's (WEN) and Yum Brands (YUM)-owned KFC walked off the job in seven cities, from Chicago to New York to St. Louis, Detroit, Milwaukee, and Flint, Mich.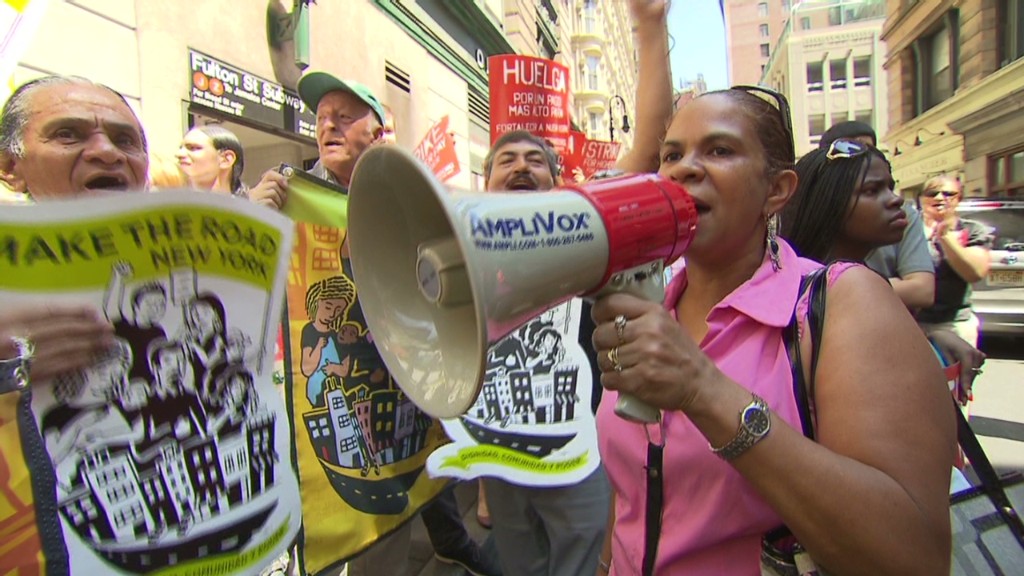 Jemes said she was inspired by the other protesters, and hopes the next round will spur the fast food companies into action.
"I hope I can make a change," she said. "With all of the work that we do, they can give us $15 an hour."
The campaign, organized by a coalition of labor, community and clergy groups called Fast Food Forward, has been building momentum since last November, when the protests first hit the national spotlight.
It's even caught the attention of the White House. Earlier this summer, the "low-wage worker" protests were mentioned in a blog post written by National Economic Council director Gene Sperling and chairman of the Council of Economic Advisers Alan Kruege. They said that raising the minimum wage was part of President Obama's economic vision.